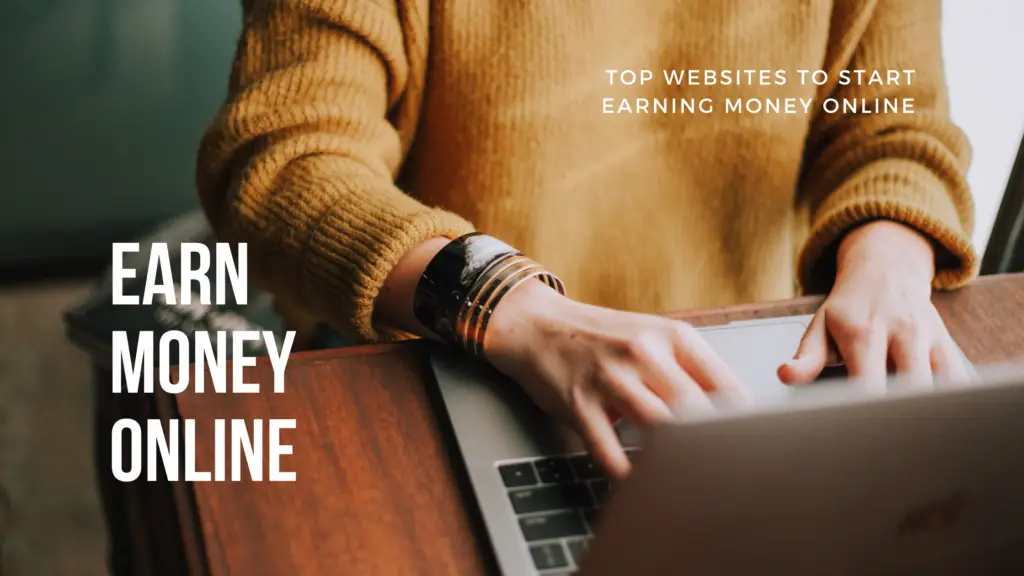 People use the internet to check emails, watch movies, and use social media to connect with friends. But you can use the same internet to go online and make some extra money. It is possible and I will show you the different ways for earning money online.
Apart from the cashback apps to make money, there are things you can do every day or once in a while to earn some extra money.
27 ways for earning money online
From my research, I will find that there are lots and lots of ways. But I will gather the top 30 ways to make money online. Pick the one that interests you the most and start from there.
1. Paid surveys: Sign up for online surveys and get paid for your opinions.
There are online surveys that companies send out to you and you give your opinions. You get paid anywhere from 0.4$ to 3$ per survey.
Online income from paid surveys is common and simple. Online surveys are a common way for businesses and research institutions to gather input from their target market on a variety of subjects, including goods, services, and market trends. When you share your ideas and thoughts, you get compensated for your time and work by taking part in paid surveys.
It is easy to register with a reliable survey website or panel and build a profile with your demographic and personal data. You will be sent invitations to take part in surveys that fit your interests and qualifications based on your profile. You will get paid a specific amount of money or reward points for finishing each survey, which normally takes 10 to 30 minutes.
Some of the legit survey sites that you join today and start earning money are as follows.
Swagbucks – Swagbucks gives you a lot of ways to earn rewards, including surveys, watching videos, and shopping online. I have personally used it to earn rewards money and you should read my review post.
Vindale Research – Another legit survey site that offers you high-paying surveys. Also, you get paid for testing products and referring friends.
InboxDollars – InboxDollars offers users the chance to earn money by taking surveys, reading emails, and participating in offers and promotions.
Survey Junkie – Survey Junkie is a platform that offers a straightforward survey-taking experience, with surveys available on a variety of topics.
Toluna – Toluna is a global survey platform that gives consumers the option to take surveys on a variety of subjects, as well as to test products and engage in community forums.
Pinecone Research – Pinecone Research is a highly respected survey site that pays users for their opinions on a range of products and services.
2. Freelancing:
You can offer your talents/skills and services online as a freelancer and make some money online. For example, graphic design, writing, or programming skill you might have can be used for earning you money online.
Outsourcing has ended up being a prevalent way for numerous individuals to gain a living within the present-day advanced age. With the development of the gig economy, consultants have more openings than ever to work with clients over a wide extend of businesses and disciplines. In case you're considering outsourcing, it's important to choose the proper stage to assist you to accomplish victory.
Here are some of the leading outsourcing locales to induce begin with:
Upwork – Upwork may be a driving outsourcing stage, interfacing consultants with clients from all over the world in different businesses, such as marketing, design, programming, and writing.
Fiverr – Fiverr is another prevalent stage where consultants can offer their administrations in categories extending from realistic planning and composing to video editing and voiceovers.
Freelancer – Specialist may be a worldwide stage that interfaces specialists with clients in an assortment of businesses, from programming and web advancement to composing and design.
3. Virtual assistance: Help others with administrative tasks and support them online.
People are looking for flexible work arrangements that allow them to work from home or anywhere else more and more in the digital age. A common technique to make money online is through virtual assistance, which includes giving administrative or technical support remotely. Here are some virtual assistance websites for you to explore.
Upwork – Upwork pays for a virtual assistance that connects freelancers with clients all over the globe.
Fiverr – With Fiverr, you can create a profile and offer your services to clients across different industries. You as a freelancer have the option to set your own rates. You can also customize your workload according to your schedule.
Freelancer.com – Freelancer.com is another freelancing platform for virtual assistance services. You can bid on projects in various categories. These include data entry, email handling, and customer service. Freelancer.com offers a secure payment system and many tools to assist freelancers to manage their work. With its vast network of clients, it provides freelancers with numerous job opportunities.
TaskVirtual – TaskVirtual is a virtual assistance platform that provides a range of services, including administrative support, social media management, and digital marketing. It offers flexible work arrangements and competitive pay rates. TaskVirtual allows freelancers to work with clients from different industries and provides resources to help them improve their skills and knowledge.
Time Etc. – Time Etc. is another virtual assistance company that provides competitive pay rates and flexible working arrangements. Choose your own work hours to fit your lifestyle. The company also offers training and resources to help you hone your skills and knowledge.
Some of the other top ways for earning money online are as follows:
Online tutoring: Share your knowledge and expertise with others by teaching online.
Affiliate marketing: Promote other people's products and earn a commission for every sale.
Online marketplaces: Sell your goods or services on online marketplaces such as eBay, Amazon, or Etsy.
Online courses: Create and sell your own online courses on platforms such as Udemy or Skillshare.
Stock photography: Sell your photos on stock photography websites such as Shutterstock or iStock.
Content creation: Create and sell your own content, such as e-books, videos, or music.
Blogging: Start a blog and monetize it through advertising or affiliate marketing.
Social media management: Help businesses manage their social media accounts and content.
Website flipping: Buy and sell websites for a profit.
Translation: Offer your language skills to translate documents or websites.
Dropshipping: Sell products without holding inventory by using a third-party supplier.
Online surveys: Participate in online surveys and earn rewards.
Online research: Get paid for researching and collecting data online.
Website testing: Test and review websites for usability and functionality.
Voice-over work: Record voice-overs for videos, advertisements, or audiobooks.
Podcasting: Create your own podcast and monetize it through advertising or sponsorships.
Paid writing: Get paid for writing articles, blog posts, or product reviews.
Data entry: Enter data for businesses or organizations online.
Online coaching: Offer coaching and mentorship services online.
Online advertising: Create and manage online advertising campaigns for businesses.
Online focus groups: Participate in online focus groups and get paid for your opinions.
Online investing: Invest in stocks, cryptocurrency, or other assets online.
Website design: Offer website design services to businesses or individuals.
Online event planning: Plan and manage events online, such as webinars or virtual conferences.
Online bookkeeping: Offer bookkeeping and accounting services online.
Paid app testing: Test and review apps for developers and earn money.
Online fundraising: Raise money for a cause or project through online fundraising platforms.
Conclusion on earning money online
These are just a few of the many ways you can earn money online. With a bit of creativity, persistence, and hard work, you can turn your skills and passions into a lucrative online business or side hustle.