In this Ezoic Access Now review, I will share my personal journey with Ezoic. We will see the pros and cons of the Ezoic Access Now program. I will share how your site can benefit from this program.
Whether you are a new or an experienced blogger, your site's performance is critical to its ranking. Website hosting plays a key role especially when lof of ads load on the site. The ad revenue you get is probably one of the reasons you started a blog.
Beginners especially want more search traffic to get approved by ad companies. In recent years, Ezoic has started a new program called Access Now which accepts a new site that is only a few months or years old.
Taking about a months-old site, getting traffic is tough. That is where the Ezoic Access Now program comes to the rescue.
Let's see how this Access Now can benefit you and what you should do to get accepted into this program
Ezoic Access Now program review
Let's review the basic requirement of the Access Now program. This program accepts sites that get low traffic like in the thousands every month. Especially if your site has less than 10,000 page views per month, you can still join Access Now from Ezoic.
When I started my blog, I was getting around 5000 pageviews a month. As a beginner, I struggled with getting more traffic trying to figure out things like SEO, performance, and so on. I heard about Ezoic but at that time the Access Now program was very new. I then gave it a try.
Things to know before you join the Access Now program
Ideally, you should have a WordPress site that allows you to change your nameservers. You can have any other hosting company that allows you to modify your nameservers.
I first joined Wix which did not allow me to change my nameservers to point to Ezoic name serves.
So, my advice is to avoid Wix. Transfer your hosting to other good hosting companies. Join Bluehost or Hostgator for your website hosting. They always give a big discount for new users when you sign-u p for a 1 or 2-year contract.
Once you have your site up and running and have some posts, you can start thinking of joining the Access Now program. One mistake that new bloggers make is that they hurry up and submit their for Access Now approval within months of creating their site.
A site takes months or a year o two to get enough traffic of at least 2000 to 3000 page views per month.
But I would recommend you wait until you have at least 30 posts and are getting anywhere between 1000 to 3000 page views per month. Then you are ready to start the process as explained in flowing sections.
Ezoic has put together an approval checklist that tells you what you should do to get approved by Google Ads Manager.
Getting started with the Access Now program
Now that your site is looking good after you have checked the checklist and done your part, you can go ahead and sign-up for Access Now.
Go to the Access Now sign-up page and enter your email to get started. You then provide your blog or site URL.
Integrate your site with Ezoic nameservers.
The Ezoic team will review your site and send an email once your site if approved for integration.
Now that your site is integrated with Ezoic, you will now wait for Google to approve your site for the Google Ad Manager account. This looks complex process but Ezoic has a very good tutorial. It walks you through step-by-step instructions together with videos to help you understand the onboarding process.
Once you are approved by Google Ads, Ezoic will start placing ads on your site and go through a testing period.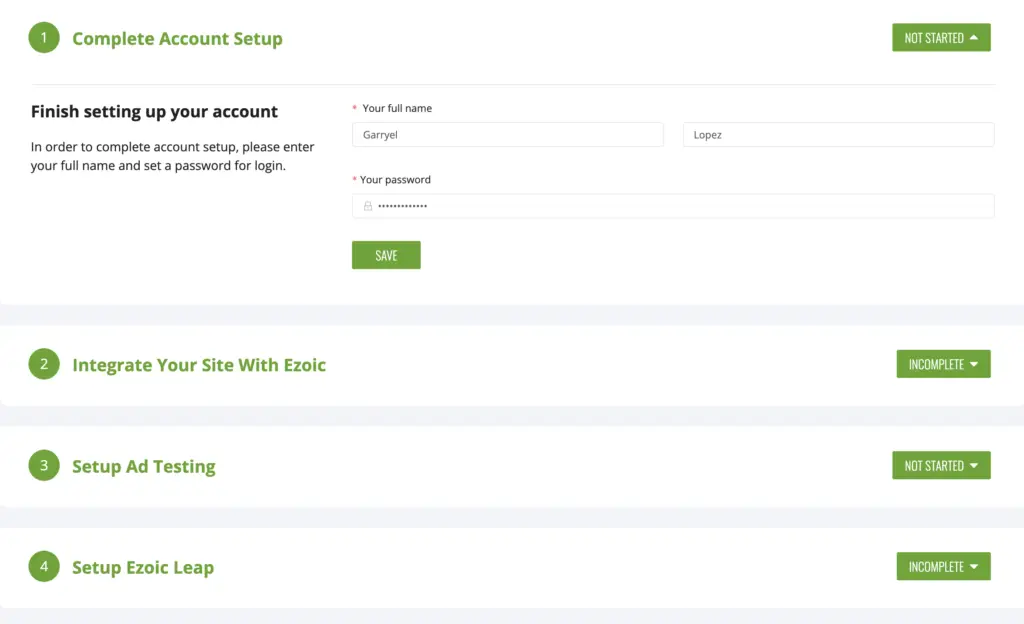 What happens after your site is approved by Google Ads
During this period Ezoic's AI-based ad placement algorithm studies your site and its user behavior.r It intelligibly decides when to put ads to get the maximum performance and revenue for you.
You can set up Ads and place them wherever you want on your site. Don't worry. This does not mean Ezoic ads will use all those ads on your site and slow it down. In this initial learning process, the AI algorithm tests the ads that you set up and places them in different places to find the ideal spot for maximum ad revenue and the best site performance.
Review of Core vital score with the Ezoic Access Now
Ezoic offers free tools and services to improve the performance of your site. As it places ads on your site, you can be sure that your site's performance will only improve over time.
If you see the core vitals are not green and the numbers are low, be patient, it takes a few weeks up to 3 months for the Ezoic AI to place optimum ads. It takes time for Ezoic also to propagate your site to all edge locations across the east and west coast of Us for example.


Access Now SEO tools
Ezoic offers a pretty good SEO tool called NicheIQ for on-page SEO. It can also give topic suggestions for your next post. All of this is for free as part of the Access Now program.
Review of Ezoic Access Now revenue
When my site got approved for the Access Now program, I saw the revenue slowly increase from $1 a day to $2 a day in the first 2 weeks.
Of course, this depends on how many page views you get per month for your site. This also depends on what your site niche is. Is your about finance or health or is it about poems and arts?
Your mileage will vary based on your niche. Fiance and health niche site has high paid ad revenue compared to a site that focuses on arts or spirituality.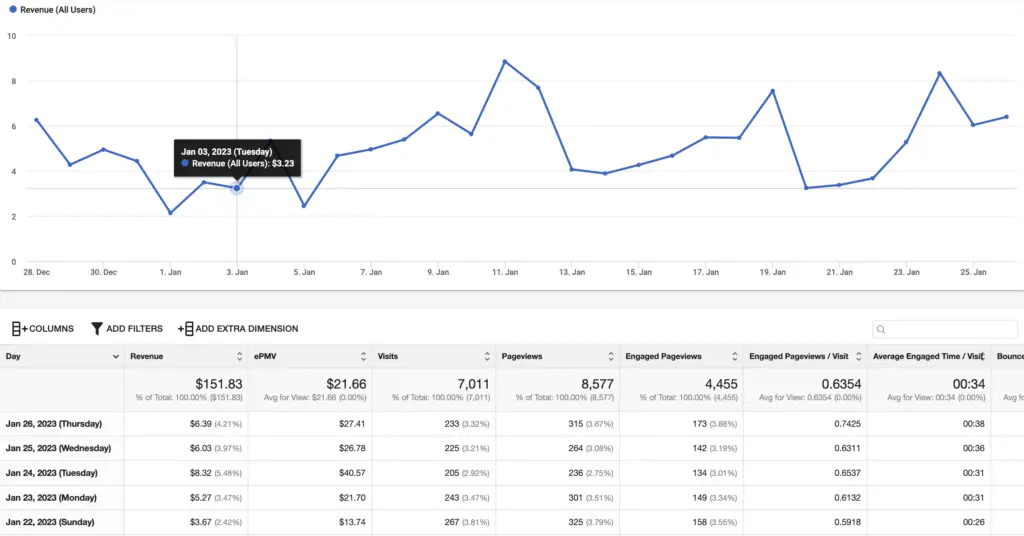 Conclusion of Access Now review
I strongly recommend the Access Now program offered by Ezoic. This is easy to integrate a program that new bloggers will benefit from. Your ad revenue will surely be the same or better than Google Ads. The setup is easy and the customer support is very good. Try the Ezoic Access program today!