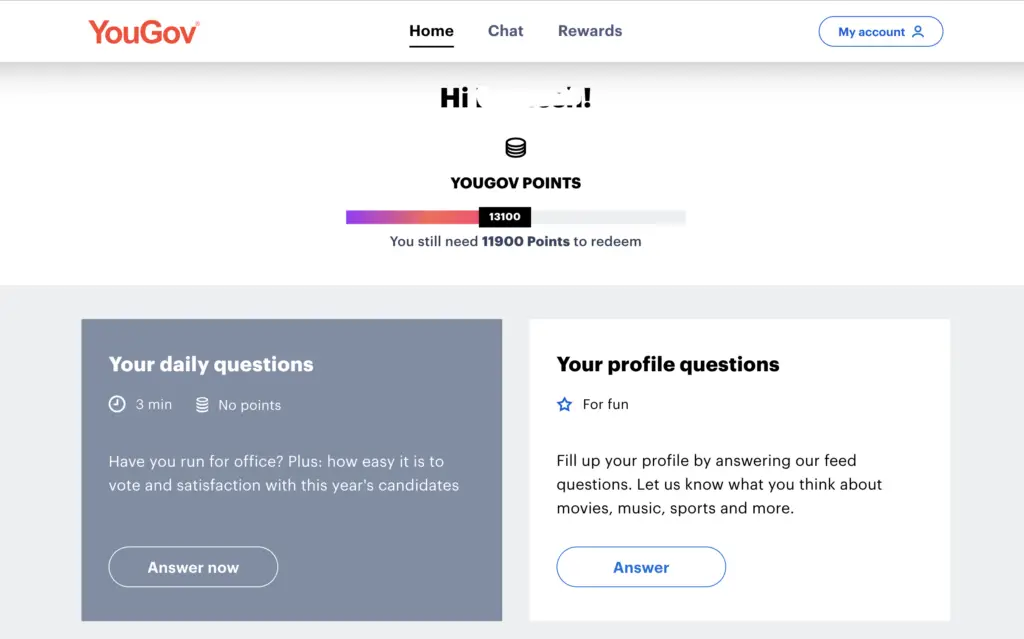 Taking surveys is always a great way to earn free money in your spare time. YouGov a legitimate company, especially is worth your time because you are not only earning rewards but also voicing your opinions on things that matter today. Let me explain why YouGov is legit and it is good compared to my MyPoints Review surveys or Survey Junkie surveys.
When it comes to YouGov, I can say that it has its own pros and cons. But after reading the pros I listed in this post, you can understand why it is worth your time and they pay legit money as paid gift cards.
Is YouGov legitimate?
YouGov is a legit global data company which means that this company is all about data. How users spend money and where they spend. Will you buy a home and what do you think about the current economic situation? These are all the questions YouGov wants to know and collect from thousands of users like you and me. YouGov then uses this data for research insights.
They don't collect personal collection no they store it anywhere on the web. This is what their privacy policy says and you can read more about this. They explicitly say what data they collect when you take surveys and answer the questions
YouGov pros and cons
The pros of using YouGov are that the surveys are really interesting because they focus on a variety of topics. The topics include TV programs you watch, politics, home, shopping, and pretty much everything you do routinely.
Of course, you can fill out the profile to eliminate topics that don't interest you. YouGov will not send surveys on topics that you have excluded from your profile settings.
Another good thing about YouGov is that the surveys don't end abruptly and disqualify you for unknown reasons. Some survey companies do this but YouGov let you complete the full survey and guaranty the rewards for that survey.
The only cons of YouGov are that it takes some time to accumulate points enough to get a reward. It is not a big drawback because the points indeed grow quickly if you take every survey that YouGov sends you through email. Make sure you take every survey which is worth anywhere from 500 to 4000 points and in some cases even more.
YouGov email surveys are legitimate
To get the surveys via email from YouGov, make sure you have the emails and notifications enabled. You can check this on the YouGov settings page. Also, make sure you check the spam folder to see if YouGov went there by any chance. If so, make these emails legit and move them to your inbox so you get future emails properly to your inbox.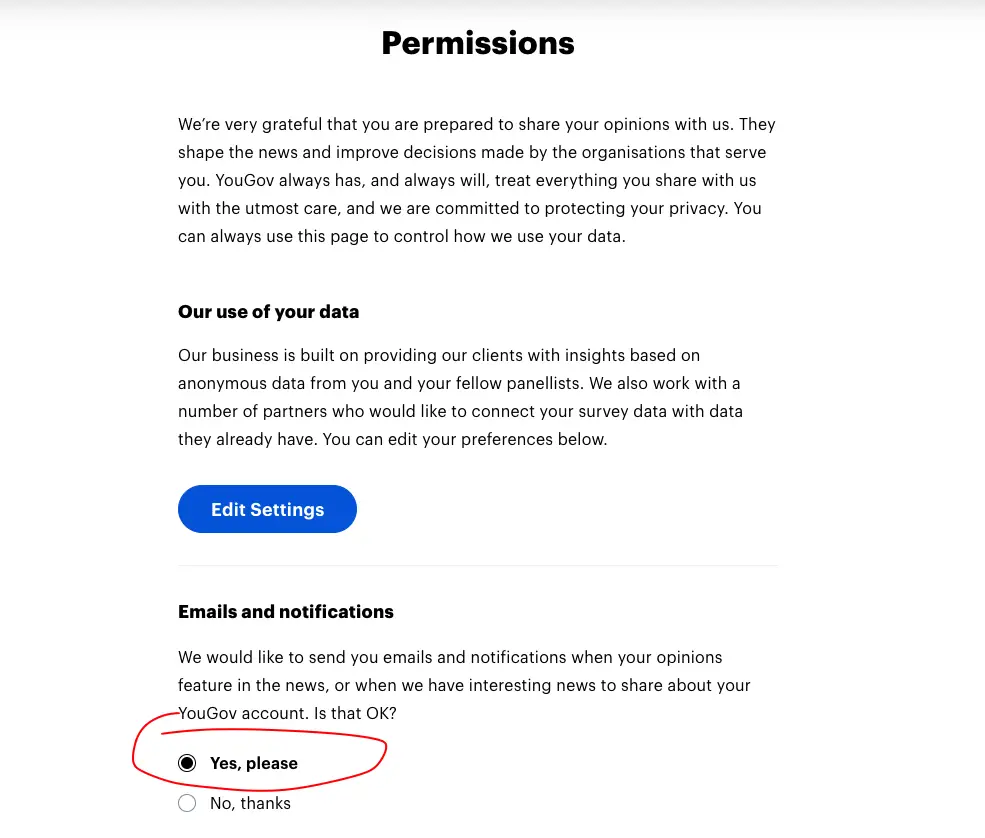 Are YouGov rewards real? What are the reward options for redeeming points?
When you have enough points you can either redeem your points as real cash or as gift cards. As you can see, you can redeem $50 cash for 550000 points or a $15 Amazon e-gift card for 25000 points.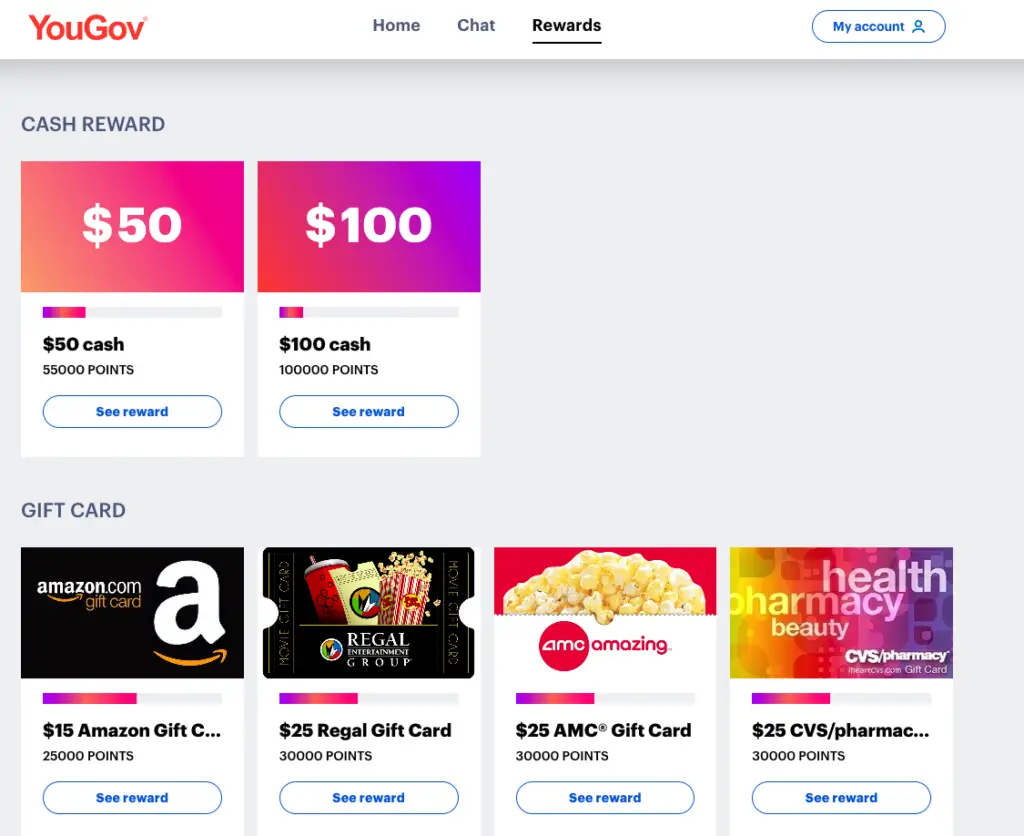 YouGov Pulse is also legitimate
YouGov Pulses is their mobile app which you can download for free. You can log in to this app and then take part as a panelist and earn points. Read more about this Pulse panelist program here.
Conclusion – Yougov is real and legit
YouGov is indeed a legitimate service that gives your points for taking surveys. Take surveys and earn points. These surveys are always something new and new and talk about current events and ask your points. Sometimes I learn new things from the survey. So enjoy earning points for surveys with YouGov and get your voice heard too. It is a win-win for sure and that was my experience with YouGov.