In this post, I will do a complete Swagbucks review and share some helpful tips. Also, I will show you the ways to earn points in Swagbucks. Also, the proof that Swagbucks really works.
For the past few years, I have used Swagbucks and I consistently earned Swagbucks points and redeemed gift cards. Yes, it really works, and now let's dive into this review of Swagbucks.
Swagbucks Review
Earn Swag Bucks when you shop, take surveys, or just search the web. Once you have enough Swag Bucks say 1000 SB, you can redeem it for $10 and get paid as a gift card or PayPal or a check mailed to your address.
READ: How To Enter A Referral Code On Fetch Rewards App
I hear many ask, "Is the Swagbucks app worth it? Does it really work? Is it legit?" This answer is that this app is legit. You will find yourself earning SB points for doing easy surveys, shopping, doing fun quizzes and so much more. Right now you can join Swagbucks using this promotional link and get a 10-dollar sign-up bonus!
Thousands of users of Swagbucks have given a five-star review. Swagbucks has paid out $400 million in rewards to its members.
If you are new to SwagBucks, check this YouTube video to learn about it in under 1 minute!
SwagBucks is totally free and it pays you in cash or in gift cards whichever way you want to redeem your SB (SwagBucks) points. Earn points by doing simple things like searching the web, watching videos, taking surveys, and playing games online. I have proof that Swagbucks really gives you enough points for you to redeem gift cards or PayPal payments.
There are many places to find swag buck codes such as SwagButton, Swagbucks Mobile App, social media, and Swagbucks LIVE. You see many opportunities to earn SB points. Spend 5 to 10 minutes and you will definitely earn 20 points. You get SB points for doing surveys, watching videos, and shopping online.
What is the SwagBucks promo code sign-up link?
Join SwagBucks by clicking this promotional link and earn a $10 sign-up bonus!
Follow these 3 steps to start earning free gift cards with SwagBucks right away! Earn more today!
Join SwagBucks and earn a $10 sign-up bonus
Then, install the SwagButton which is a browser extension, and get 100 SB points instantly!
Now, activate your Daily Goal and earn a daily bonus for completing daily activities. Once you complete the daily goal, you will get Daily Bonus points anywhere between 5 and 100 SB points depending on how much you complete in a day.
How much is 400 Swagbucks?
Every Swagbucks is 1 cent. 1 SB or Swagbucks point is 1 cent. For 400 Swagbucks, you can redeem $4. So, that's not bad at all!
How much is each 1 SwagBuck SB code worth the value?
Each Swag Buck (SB) point is worth one cent. If you earn 500 SwagBucks, you can redeem a $5 Amazon gift card or any other gift card or even as cash deposited to your PayPal account.
Is SwagBucks legit and do users earn real money?
Actually Yes, Swagbucks is legit! Users have reported good experiences with this app. You can also read the reviews of Swagbucks in the app store by real people like you and me is quite straightforward making me truly believe that this app is legit. I have used it and seen that it works and pays me for the Swagbucks I earn by doing a variety of fun activities.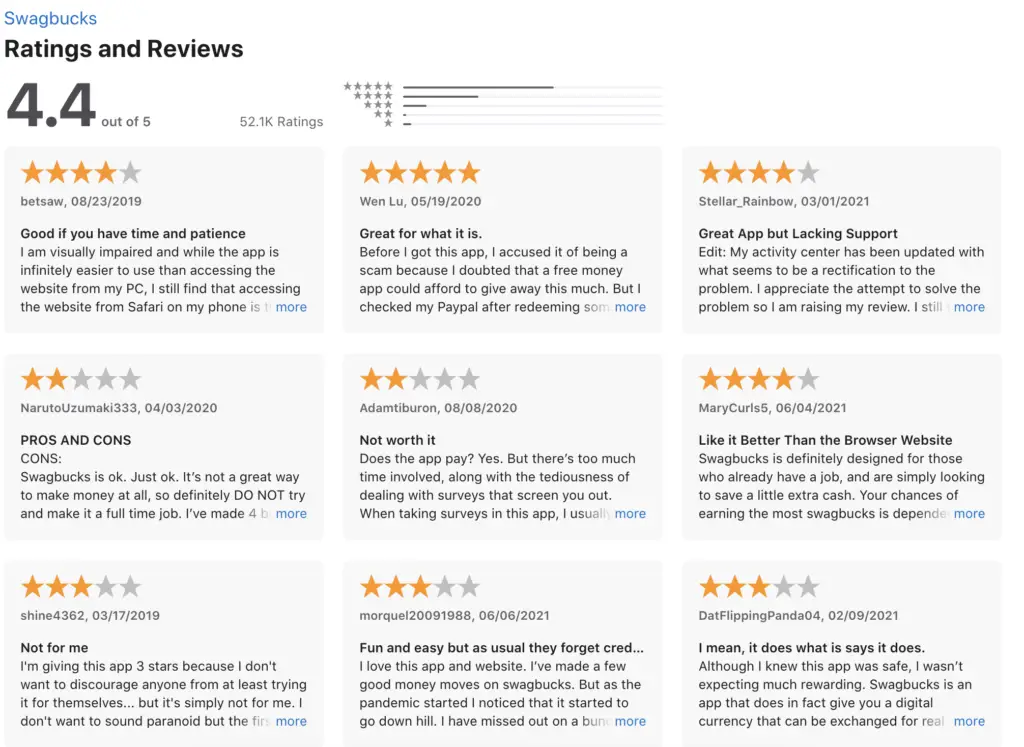 Within a few days of using this SwagBucks, you will feel the same since the points earned are real and the rewards are real. SwagBucks points are real cash that you redeem as Paypal money or gift card.
6 ways you can earn Swagbucks – feature review
Look at these easy and fun ways to earn little but here and there, adding up Swagbucks overtime. Do them little by little few minutes every day. The secret to earning points is to do it consistently for a few minutes every day and not give up.
Don't like TV Ads, open your phone and do a survey for a minute and earn 5o points for example. More ways and see what are they.
1. Swagbucks Surveys
First, you can earn SwagBucks by completing surveys on their site. Some surveys are shorter and earn you less Swag Bucks compared to longer surveys which could take 20 to 45 minutes. So, keep in mind how much time you have to dedicate and complete the longer surveys. Nevertheless, if you complete longer surveys you will be rewarded with huge Swag Bucks!
2. Special Offers
Earn points by completing special offers or registering as a member with some websites. Check out their NOSO (No Obligation Special Offer) which can get you points and it is totally free (no cost to you!).
3. Shop
When you shop you can earn 1 SB per dollar spent there. They have major retailers like BestBuy, SamsClub, Walmart, and many others.
4. Trade-In Program
You can also trade in your old cell phone or your old video game console in exchange for Swag Bucks.
5. Swagbucks Polls
Check out their daily polls where you can earn Swag Bucks. Just answer a few questions and you get the points -it's that easy!
6. Invite Friends
Also, you can invite friends and get 1000 SBs for each friend who joins Swag Bucks.
Click here to go to the Swagbucks website register as a new user and start earning Swag Bucks.
Join now and get` a $10 sign-up bonus!
Swagbucks points and payment proof review
As a SwagBucks user, there were limited options for earning points. Today there are a lot more ways to earn points and redeem gift cards. You can do many things which I will explain. The first and easiest thing to do are to watch videos. The next easier thing to do is surveys. Also, the surveys are fun and you can earn 25 to 50 points for each survey. Just spend 30 minutes doing 10 surveys and see your points grow rapidly.
Also, you can do online shopping at Macy's, Walmart, Best Buy, KHOLS, and so many popular stores just like you usually do! Earn anywhere from 1 to 5 SB points or more for every dollar you spend at these stores.
Do you love playing games? If so, you must download this free app called SwagBucks Live from Swag Bucks of course where can you log in using your SwagBucks account and then participate in a live quiz game where you can earn SB points for every right answer? Also, if you answer all 10 questions, you can get a share of the daily $1000 award!
How can you get $100 (10,000 Swagbucks) instantly? – A quick review
If you have a few hours a day, you can very well earn your $100 (10,000 SB points) in one day using SwagBucks!
First, sign up for SwagBucks and get a $10 sign-up bonus!
Install SwagButton (browser extension) and earn 100 SB points
Login to SwagBucks and earn 1000 SB by completing 10 surveys
Now upload your grocery receipts and earn 1,500 SB points
Earn 5,000 SB by completing some free offers in Swagbucks Discover, for example, signing up for newsletters/text alerts, installing apps, or printing coupons
Refer 5 friends and ask them to install SwagButton too. This will earn you 2,000 SB points. Share on social media or just message your friends – any way you like!
You can also, visit their SwagBucks Twitter page and you can get surprise swag buck codes. Get swag buck code in many other places such as SwagButton, Swagbucks Mobile App, social media, and Swagbucks LIVE.
Conclusion of my Swagbucks review
In conclusion, SwagBucks is a legit program. Join SwagBucks today and start earning free gift cards! If you are a fan of earning points, you should check other points-based cash-back programs such as Fetch Rewards and MyPoints.
​