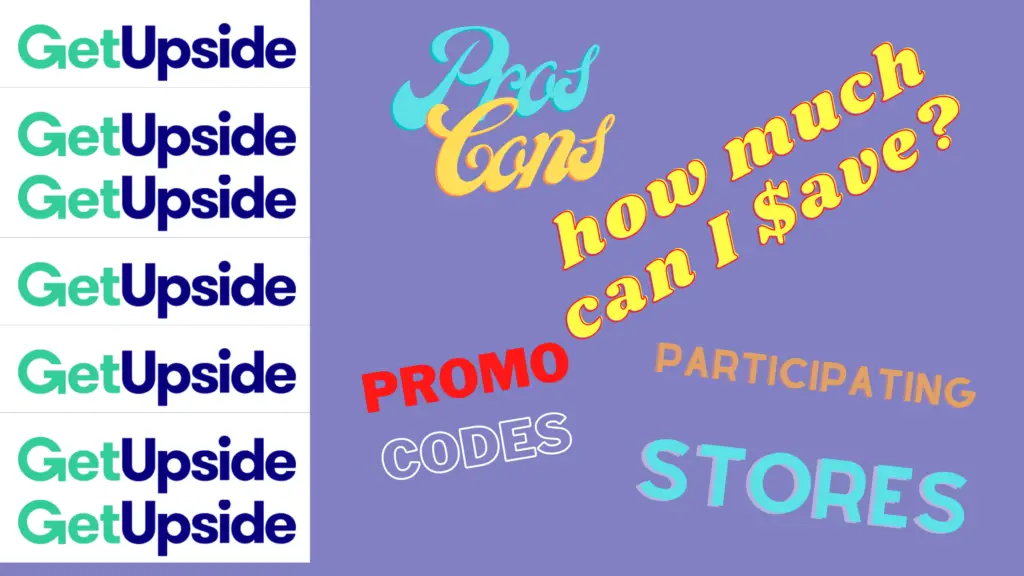 If you own a gasoline vehicle, the Upside fuel app will get you cashback on your gas purchases. In this post, I am going to go over the review of this free gas cashback app called Upside which will let you find cheap fuel near you.
You will get to know all about Upside and its features. I will also list the pros and cons of Upside based on my personal experience of using this app for many years.
I will break it down for you on how to use it and how to save on gas, groceries, and food.
Upside review – Things to watch out for
In this review of the Upside app, I will point out some of my own observations when using this app.
The upside is one of the best cashback apps ever and it really pays you cashback on your gas, grocery, and restaurant purchases. But there are some important things you need to know before you start using this Upside.
When I used Upside, a free cashback app, it gave me cash back on gas and I was able to save up to 25¢/gal of gas at most of the gas stations. You can also use this app to get savings of up to 35% at restaurants, and that's not all! You can also 15% at grocery stores near you.
After using the Upside app for many years now, I have learned many things about this app that are certainly worth your time and I have earned hundreds every year in cashback on gas.
Overall, it is a great app but there are minor things that you need to note down. Let's get into the details of this app and how to get the most savings and earnings out of it.
1) Download the Upside fuel app
Some call this app "Upside" and others call it the "GetUpside". If you are a new user, you can download the Upside app using this promotional link and get 20 cents per gallon as a new user sign-up bonus.
Please read my post on Upside Vs GasBuddy
2) Search for a gas station near you
You have to enable location services on your smartphone for this app to automatically show you the participating gas stations near your place. Check my post on the Upside participating gas stations. I really like the fact that there are so many gas stations across the US that are participating in the Upside cashback program.
Most states in the US have participating gas stations and they keep growing. You can see the complete list of Upside participating gas stations near your area.
Top cash-back apps that are worth using.
3) Claim a cashback offer
Before you make your purchase, you need to pick and claim an offer. This is because Upside starts a timer, which is usually for 4 hours, on your claimed cashback offer at that gas station.
Pick the best deal and once you are done picking a deal, click the claim button to activate the cashback offer and start the countdown timer. My opinion is that this time could be made a bit longer like 5 hours or even 10 hours. Nevertheless, 4 hours should be good for most users on any given day for getting cashback in the Upside app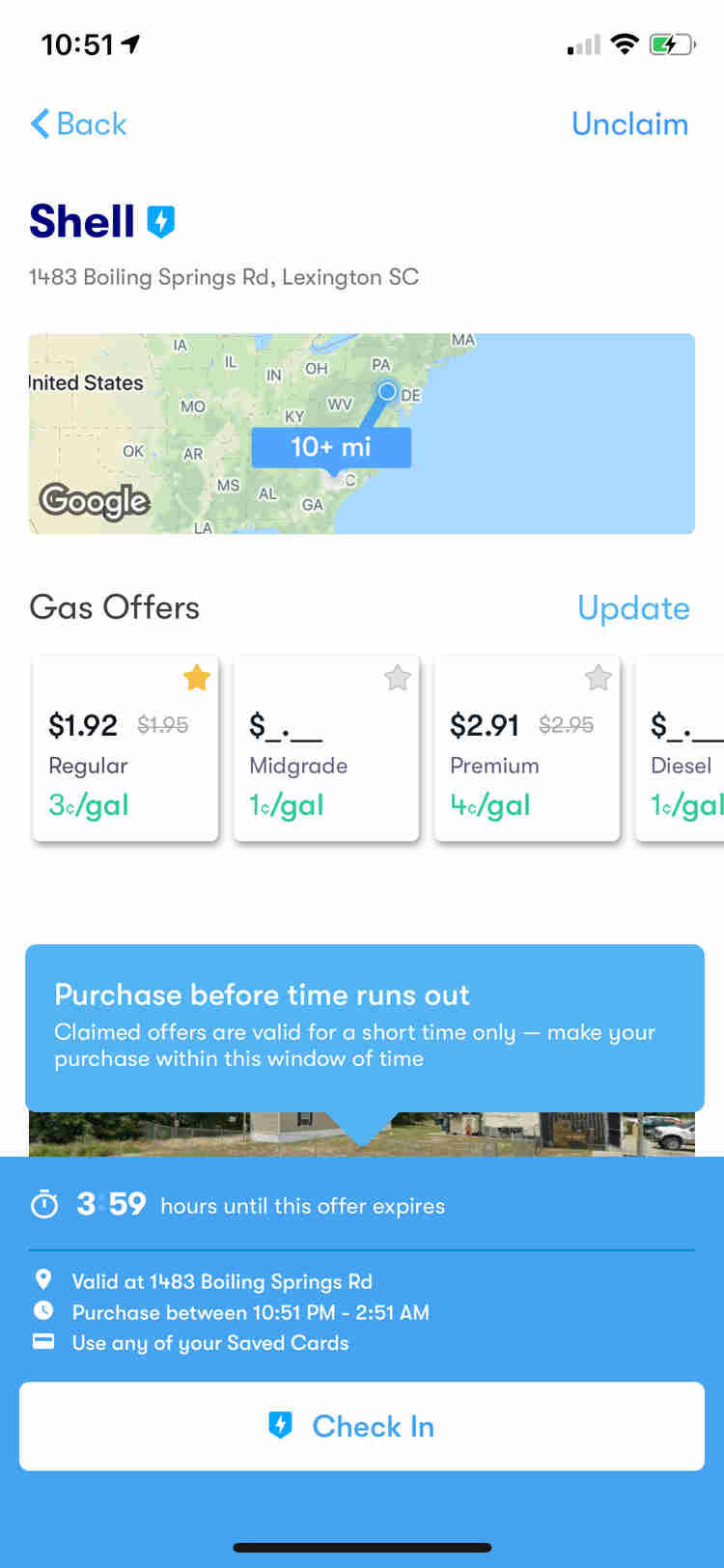 4) Review of the Upside app cashback redemption experience
Open the Upside app and Go to the "Claimed Offers" section of the menu in the upper left-hand corner and you will see offers that you have claimed.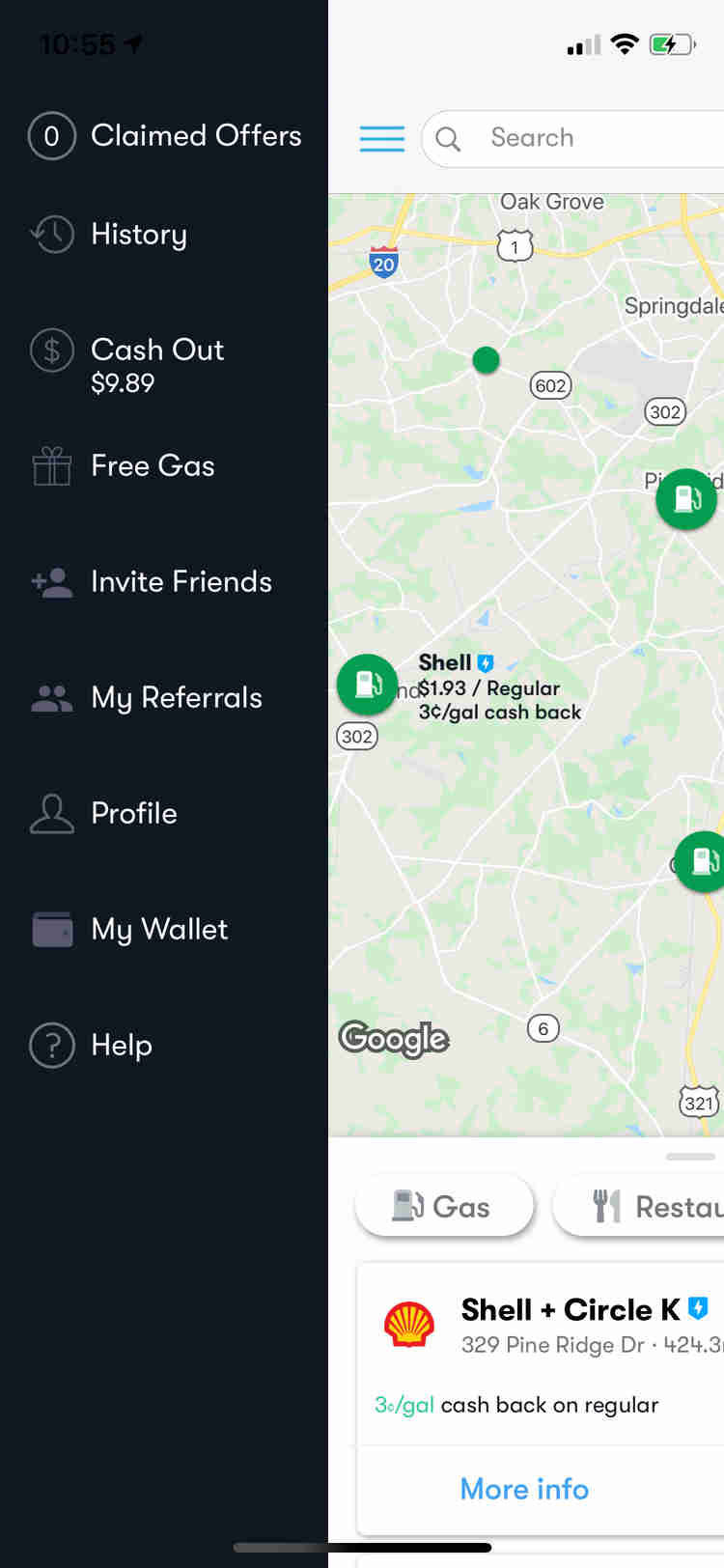 This will tell you how much time is left for you to claim each offer. In order to successfully complete the deal, you need to make your purchase within the set time frame and use a credit card (most credit cards are accepted).
If you think you won't be able to complete the deal within 4 hours or whatever time is left in the countdown timer, click the "unclaim" button in the upper right-hand corner of the offer page.
5) Upload the Receipt or Check-In
After you filled the gas, upload your gas receipt using the app and it will say that you will receive the cashback within 4 to 24 hours.
Very rarely does it take 2 or 3 days to see cashback in your app but again that is very rare in my experience using this app. So you will see the cashback. In my opinion, this is a pretty decent turnaround time for a cashback app like Upside.
Recently, Upside app added a feature where you don't have to upload receipts. Upside side app automatically scans your credit card gas purchases and cashback is credited to your account once your gas purchase is verified. This feature is my favorite as it saves time when using the Upside app.
6) Review of Upside cashback earnings
When you want to cash out your earnings, click on the amount shown in the top right-hand corner. The app will then present you with redeeming options. You can redeem cash back as a gift card or PayPal payment. You can even redeem your cashback payment as a check that will be mailed to your address.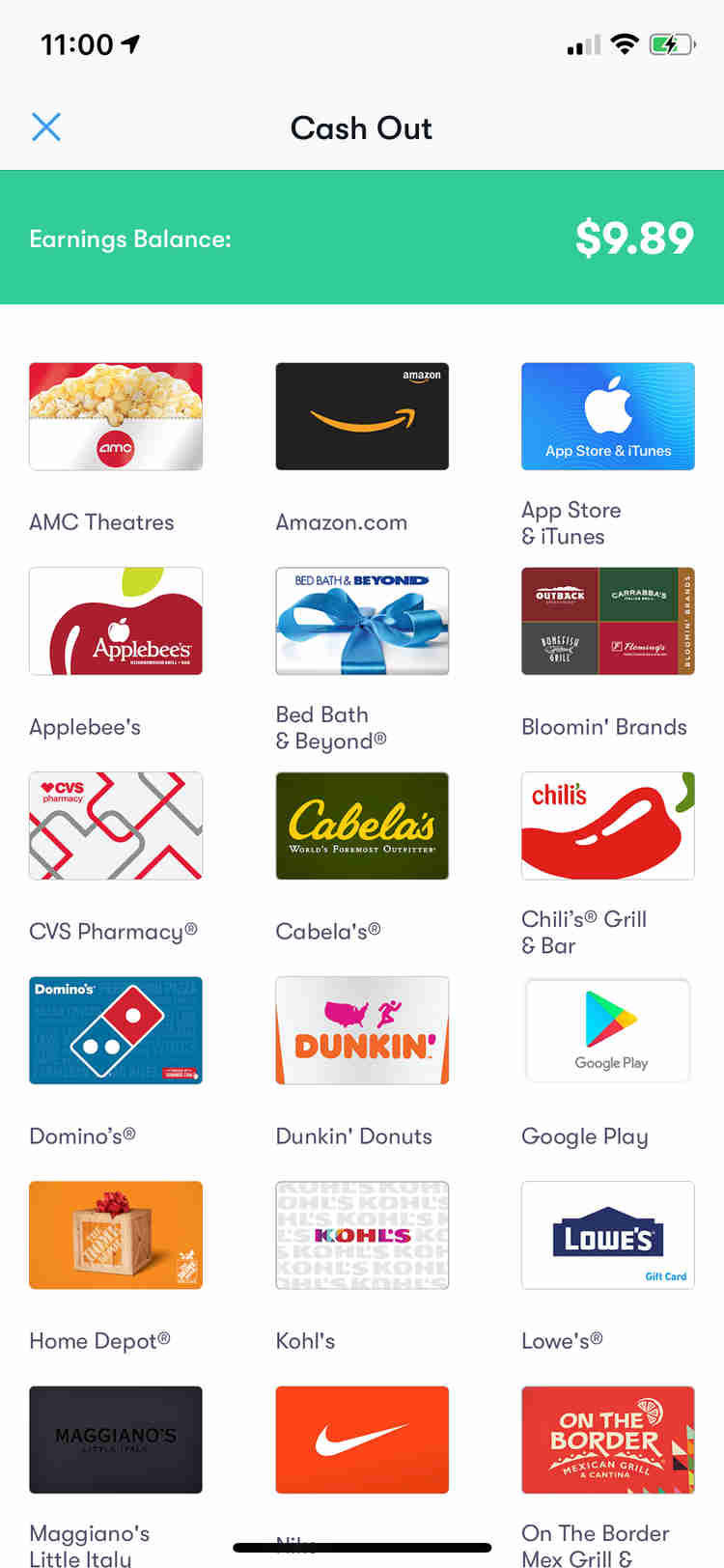 7) Follow the rules
Make sure that you use the app on only one smartphone and that you are using only one account to login into the Upside app. If you install the Upside app on many smartphones and try to log in with the same email address, your account will get banned or locked for misuse.
You can of course install Upside on your smartphone and your wife's smartphone for example. But make sure you use a different email address to manage your and your wife's cashback earnings and redemption.
Don't try to create fake email addresses to create multiple accounts just to get a referral bonus. That will also cause your account to be banned. So be mindful o these rules. You can read more on their Terms of Service page.
Pros, and Cons of the Upside app
Before you sign-up for Upside, there are certain things you should be aware of. This app is very good and has a good rating. I give it a 4 star based on my personal experience which you can read in this post.
First and foremost in this review, let's see the pros and cons of this Upside app. It has a lot of pros and one or two cons. But for the most part, it is an excellent money saver app if you drive a vehicle. Who gives money just for scanning as receipts? Only Upside and I say that because it is the same if not better than other gas-saving apps.
Pros
No need to apply for a gas debit card. You can use any credit/debit card.
Good referral program
Free app
Thousands of participating gas stations across the US
Cashback offers are better than GasBuddy
Cons
Customer service is sometimes slow to respond
The app is somewhat slow to load and not 100% user-friendly. Can do better.
Is Upside Legit? Let's see the proof with screenshots here.
Review of how much Upside cashback you actually can earn
Upside is a must-have cash-back fuel app! Save up to 45¢ per gallon cash back on gas on your first gas fill-up. After that earn 10¢ to 20¢ per gallon on your future purchases! That is saving anywhere from $350 to $500 every year depending on how much you drive around.
The more you drive the more you save and get benefits from using the Upside cashback app. Upside is better than GasBuddy. Read my Upside Vs GasBuddy and see the difference!
I have saved $300 to $400 every year with my Sedan car that fills up with gas every week. You too can earn cashback every time you fill up with gasoline. Customer support is good and the cashback redemption option is very nice. You can redeem cashback earnings as a gift card from major retailers such as Kohls, Lowes, and so many more. You can redeem real cash using the "mail check" or the "Paypal" option.
Review of Upside app customer support
Their customer service is pretty quick to respond in my personal experience. You can read my post on Upside customer service on what is the best way to contact their support and all the relevant email and phone contact details.
Sometimes, if you see delays redeeming your cashback or you don't cash back posted as earnings in your Upside app, contact them using several ways explained here. Click here to see the several ways you can contact them to get the issue resolved or your questions answered.
Upside is legit and you should try it today. Upside has been trusted by millions of users across the US when it comes to earning cashback on gas, groceries, and food. Check out this post for my take on why this app is a huge money saver.
Upside is good for groceries and restaurants too. Upside is more than just a gas cash-back app. You can also use it to earn cash back on groceries and restaurants.
Upside app gas stations in the US
So you have Upside on your phone. Now, what are the gas stations near you that participate in this gas cashback program? Click here to read my post on which gas station stores participate.
Conclusion of my review of Upside app
Use this great money-saving app called Upside a.k.a GetUpside. Using the Upside fuel app, you will be earning cashback of at least 400 to 500 dollars every year just only for gas. Imagine how much more can you earn cashback when you use it for groceries and food too! Go ahead, you are good with the Upside. Download it today by clicking here and saving more!
I have used other apps like Gas Buddy but I found that Get Upside is better than this and any other gas cashback app. Read my comparison of Upside and Gas Buddy here.
I bet you now like the Upside fuel app from reading these reviews. You should download and try it if you drive any vehicle (Car, SUV, Truck, or any gasoline vehicle) Alright, hope you enjoy reading this.