Let's see the ways you can contact Upside customer service when you are unable to log in or facing some difficulty in using the app or claiming a cashback reward, or having trouble with the Upside login. If the Upside app is down, we will see how to handle that also by using the Upside phone number to contact the care team.
Let's look at the many other ways you can contact Upside app customer service for things like Login Issues, etc… If you don't have to log in to their website or in your app, you can simply submit a ticket. Read more for other options you can try.
How can I contact Upside customer service
You can cnotact Upside customer service in several ways. I will explain each of these ways. If your Upside app is not working or you are having problems like login issues or not receiving your cashback payments, don't panic.
There are four ways you can contact Upside customer service.
Option 1: Visit their Facebook page
Use their Facebook messenger system. You can visit their Facebook page and then click Send Message to contact Upside customer care.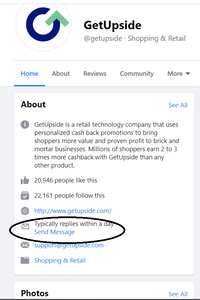 Option 2: Contact Upside through email
To contact Upside customer service, use their email address which is [email protected].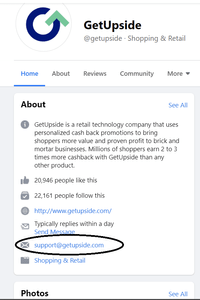 Option 3 (My personal best): Contact Upside customer service on your app
First, open the Upside app and go to the main menu. Then, click on Help and you can now start a conversation with customer service. This option is this very useful since it is like a chat where you know you will get a reply. This way, when you do get a reply, the app will show a dot indicating that you have received a response from customer service. More details on how these works are provided at their Upside contact site.
Option 4: Fill out a form
The final option to resolve any login issues or anything else, you can try is to go to the Upside request website where you can fill out a form. Attach a screenshot of your app to show the issue or concern you have. This is good if you have to upload a screenshot to show proof. You will get a response in the email within 1 or 2 days.
You can resolve your Upside login and account problems by simply contacting their customer service site There you can find the Upside contact details.
Quick customer service links for Upside login issues
Here are the contact number, email, and website to report Upside login issues.
Support Email: [email protected]
Telephone Number: There is no Upside customer service telephone number as they don't offer phone support. But here's what you can do instead.
Open Ticket: https://support.upside.com/hc/en-us/requests/new
Upside login
If you are a partner with Upside, you can log in to the Upside dashboard and go to your account page. This sign-in to the dashboard is for business owners who want to manage their Upside partner account.
For Upside cashback users, you can log in to the Upside mobile app only and see your profile and account information.
To log in to the Upside app, first, download the app if you don't have one. Then, simply click the log-in via Google or Facebook icon on the main screen.
Upside app is not opening. Here's what you can try.
If your Upside app is not working properly and it. not opening, you can try one of the following to fix it.
Check your phone's wireless data connection is ON
Check the Upside app server status for reports of any problem
Uninstall and reinstall the app
Restart your smartphone
Wait for the next version of the app to be available in the app store.
Report it to the developers in the app store. Write a review and they might fix it for your specific phone (Android or iOS)
If nothing else works, just uninstall and install a similar app like Mudflap (this app is good for diesel only)
Your last bet is to contact Upside customer support. Read this post to find several ways to contact them.
Upside App Customer Service FAQs
How to sign in to the Upside app login screen?
If you are a new user, once you download the Upside app and then you need to sign up. Simply use your Apple ID to sign up. It is safer since your email ID is kept private. You can read more about Apple's Hide My Email Feature before heading to their customer service for login issues. You can also sign in using your Gmail or FaceBook.
Want even more savings? You should try the Mudflap app especially for saving on diesel (up to 60 cents per gallon cash back!!)
Join today and get $10 in free diesel
As shown below you will see the buttons for login. Click on the Google button if you want to sign in using Gmail for example.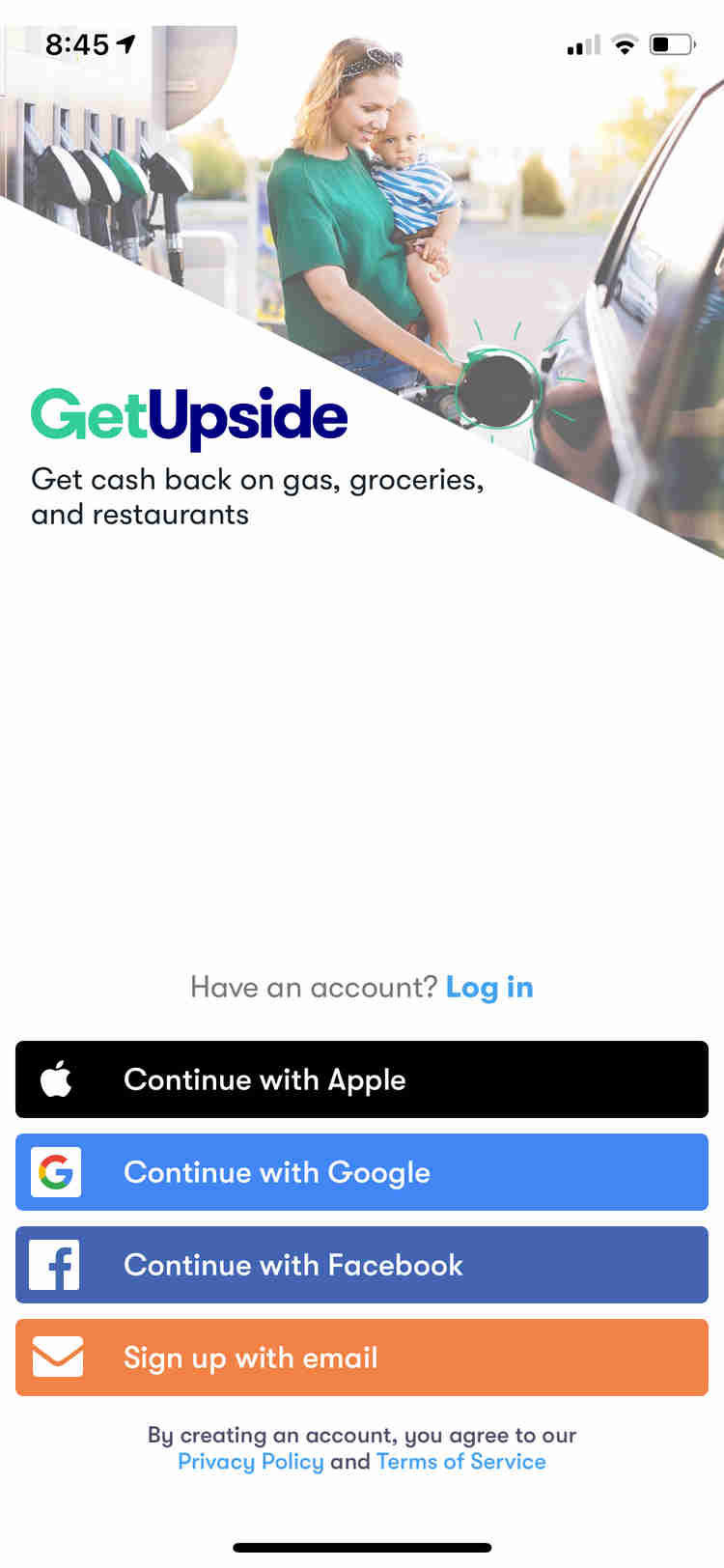 Why am I not able to log in to the Upside app?
If you are unable to log in to the Upside app, make sure your email account is not locked. Most users shouldn't get their accounts locked. Before contacting their customer service you can do a simple check as listed below. Your account might have been locked due to one of the following reasons.
Use different email addresses to log in to your Upside app. For example, you might have your email and your spouse's email all in the same smartphone Upside app. Do not use the Upside app with more than 1 account. Use a separate phone for each account. Using multiple email addresses in the same app will trigger a fraud alert and your account might be locked automatically.
Make sure your account is not stolen by someone else. Request a password reset in the app and change your password.
If both of the scenarios do not apply to you, contact Upside via email. You should get a response in 3 days max.
Why my Upside app won't open?
When you turn on your Upside app, sometimes it does not open. Sometimes I have seen that the app opens and then closes immediately, especially on my Android phone.
Try the following to fix the Upside app issues:
First, log out of the upside app.  Uninstall the app and install it again from the App Store.  Now try opening the app and it should work fine.
Restart your phone
Check your internet connection.  If you don't have a reliable internet connection, go to a place where you can get a strong cellular or Wi-Fi signal.
Go to the App Store and check for any app updates for the Upside app. Upgrading to a newer version will certainly help fix this down issue.
Log out of the upside app and log back in again.  This you can do if you see the login screen. 
If the upset app totally doesn't open at all and it crashes as soon as it opens you can try to uninstall the app.  Then restart your phone. 
If you still don't see the Upside app coming up and working fine you can always contact customer service.
Is Upside app down?
If your Upside app is down and not working, here is what you can do. You should try these steps to see if there is something on your side that is causing this down issue or if the app itself is really down.
First, check your internet connection. You might get out of your home and go to gas stations. Sometimes the gas station roof might affect the Wi-Fi or your cellular internet connection strength. If so, you better claim the cashback offer at home and then go to the gas station. You have 4 hours to claim your cashback so you have plenty of time.
Restart your phone
Check if any app update pending and Upside app update is in progress.
Delete and reinstall the app
When the wif-fi/cell phone data is low in your phone, you might see the log-in to Upside taking too long. If so, I would recommend you claim any offer at home to avoid these issues.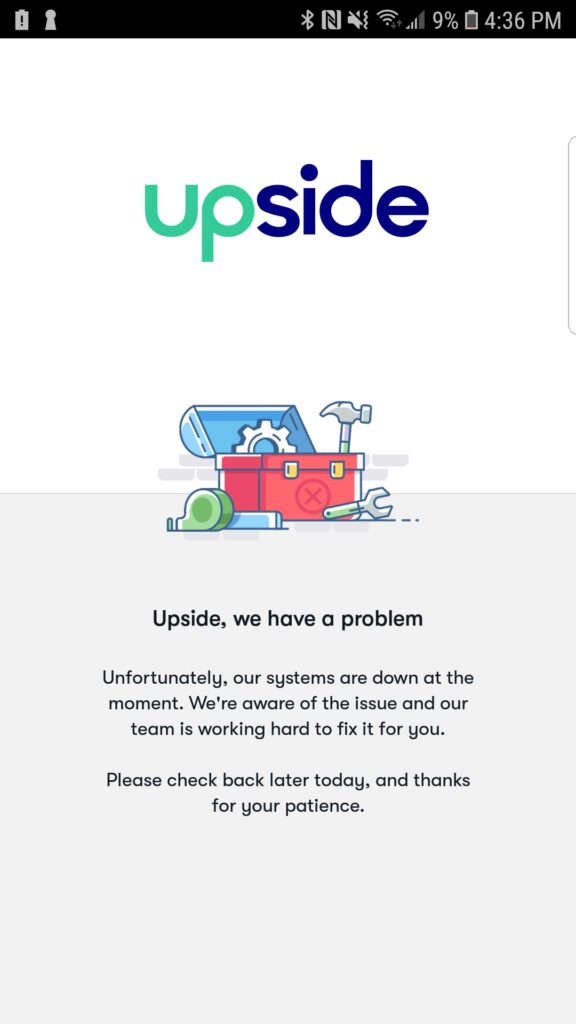 If you still notice that the Upside app is down for you, there might be an outage. The outage might be due to scheduled maintenance or some other issue. Check the Upside app status page and see if the issue affected only you or if it was a widespread outage.
Frequently asked questions for Upside customer service
What's wrong with the Upside app?
If you find something wrong with the Upside app, check the status page for any problems users are experiencing.
How to delete your Upside account?
In order to delete your Upside account, you can do several things to achieve this.
Simply delete the app and your account will automatically get deactivated and removed after a year or so. If you get an email saying that you haven't used the app for a long time and it will be deactivated, ignore that email.
Submit a request to Upside customer care and they should take care of deleting your account.
How long will it take for Upside support to respond?
In my personal experience, it typically takes anywhere from 1 to 3 days for Upside customer service to respond.
To get a faster response, I have found that their messaging system is faster with a response time of 1 to 2 days max. I sometimes send a message in the late evenings or at night for better response times. Not sure why – maybe their customer support is on the other side of the world. Until then your issues might have to wait to be resolved.
Be patient because they are faster these days when it comes to their response time. Whether it is login or payment issues, they usually get resolved in a day or two.
Is there an Upside phone number that I can use to contact them?
Yes, the Upside phone number to contact their customer service is (800) 741-6726.
Read more for more information on how to reach them quickly. This is the number you can try contacting Upside. In turn, I found that number to be the number for contacting Alexander Kinnier who is the CEO of Upside. I don't believe this. SP please try calling this number.
This 800 number certainly does not look like a direct number. So enter option zero to contact customer service directly.
According to their website, they don't provide any other number for customer service. You can also use their email or in-app chat service to contact customer service.
Check out their participating locations and make sure you give them the right address of the pump where you redeemed the cashback and the approximate time. Read my post for quick help.
How long does the Upside take to send me the gift card?
It usually takes 2 to 3 days but in some cases within a week. If you didn't get your e-gift card after a week, check your spam folder in your email. If might be there.
Conclusion on Customer Service At Upside
Whichever you find it easily, try that way to contact Upside support using their phone number. Hope your login issue and any Upside app-related issue is resolved. This is because one way or the other you will get your issues resolved by trying on the options listed in this post. Just send them additional info like a copy of the receipt or screenshot of the app on your phone, etc that helps speed up their investigation for example, and resolve the issue sooner.
Now you know what to do if the Upside app goes down. Hope that helped you. As always, you can read their FAQ page here to get more answers to your questions.
Check out Upside's latest promo codes!