We all drive vehicles and need to go gas stations to fill up with gas. We always look for cheap gas stations and then strive for more savings. This is where the Upside app comes to help you. In this blog post, I will give you a detailed review of the Upside app and how it can save you even more money at a local participating Upside gas station.
In this Upside app review, we will also look at how the Upside app works for gas cashback. You will get to know all the facts about Upside and its features. I will also list the pros and cons of Upside based on my personal experience of using this app for many years.
The Upside Cash Back App: A Comprehensive Guide to All You Need to Know.
Upside app is previously known as GetUpside. From that time, it did not get that popular but later in 2017 and 2018 it really got famous among users in the US, thanks to the sign-up bonus from Upside.
I started using this app in 2017 and it gave me cash back on gas every time I fill up my gas. It really worked and saved me hundreds every year. On average, I was able to save up to 20¢/gal to 25¢/gal of gas at most of the gas stations. By the way, you can also use this app to get savings of up to 35% at restaurants, and that's not all! You can also 15% off at grocery stores near you.
So here are the seven things you must know about the Upside app from this review. This will give you a complete picture of how this app works and its usefulness.
1) Downloading the Upside app
Some call this app "Upside" and others call it the "GetUpside". If you are a new user, you can download the Upside app using this Upside promotional link and get 20 cents per gallon as a new user sign-up bonus.
Please read my post on Upside Vs GasBuddy
2) Searching for a participating gas station near you
You have to enable location services on your smartphone for this app to automatically show you the participating gas stations near your place. Check my post on the Upside participating gas stations. I really like the fact that there are so many gas stations across the US that are participating in the Upside cashback program.
Most states in the US have participating gas stations and they keep growing. You can see the complete list of Upside participating gas stations near your area.
Top cash-back apps that are worth using.
3) Claiming a cashback offer
Before you purchase, you need to pick and claim an offer. This is because Upside starts a timer, which is usually for 4 hours, on your claimed cashback offer at that gas station.
Pick the best deal and once you are done picking a deal, click the claim button to activate the cashback offer and start the countdown timer.
This time could be made a bit longer like 5 hours or even 10 hours. Nevertheless, 4 hours should be good for most users on any given day for getting cashback in the Upside app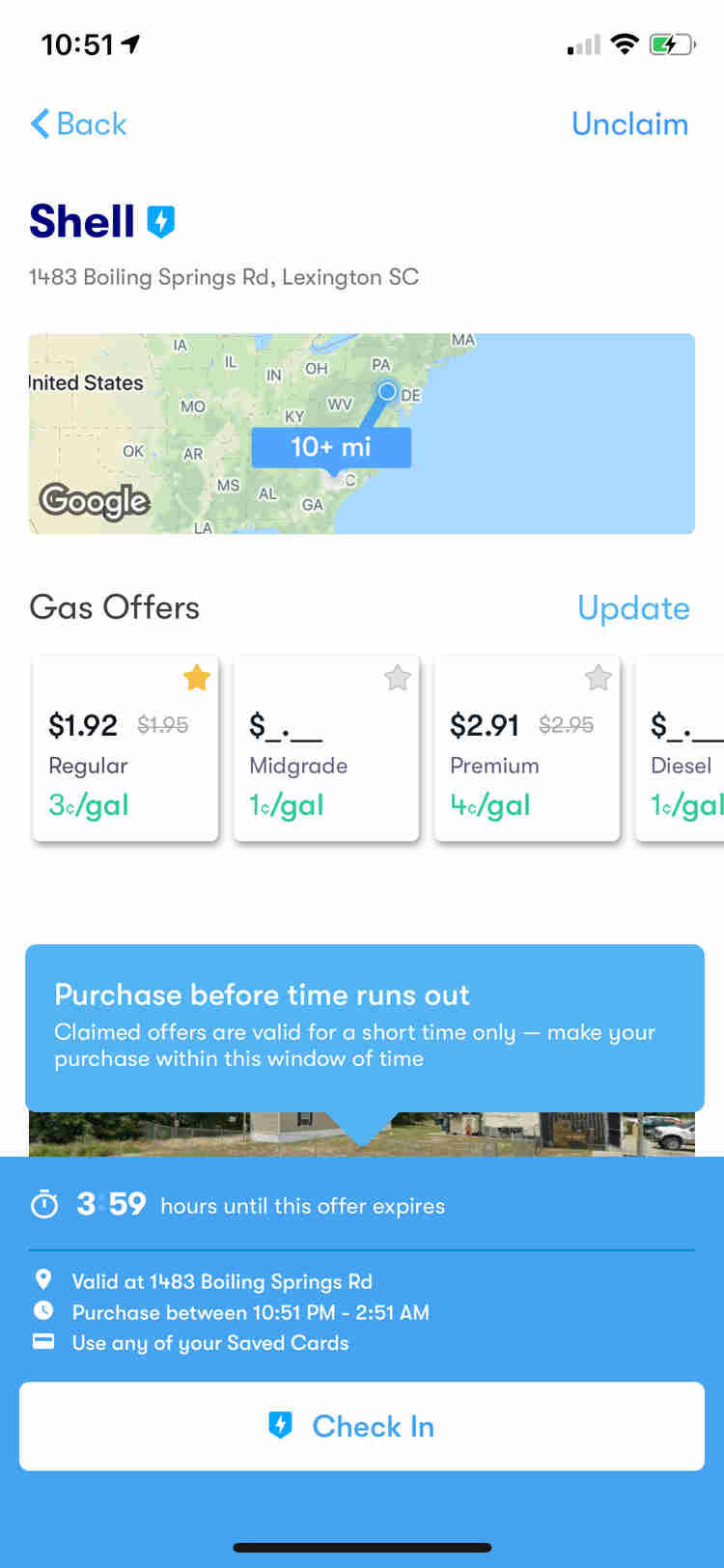 4) Redeeming your cashback money
Open the Upside app and Go to the "Claimed Offers" section of the menu in the upper left-hand corner and you will see offers that you have claimed. This is how the Upside cashback app works.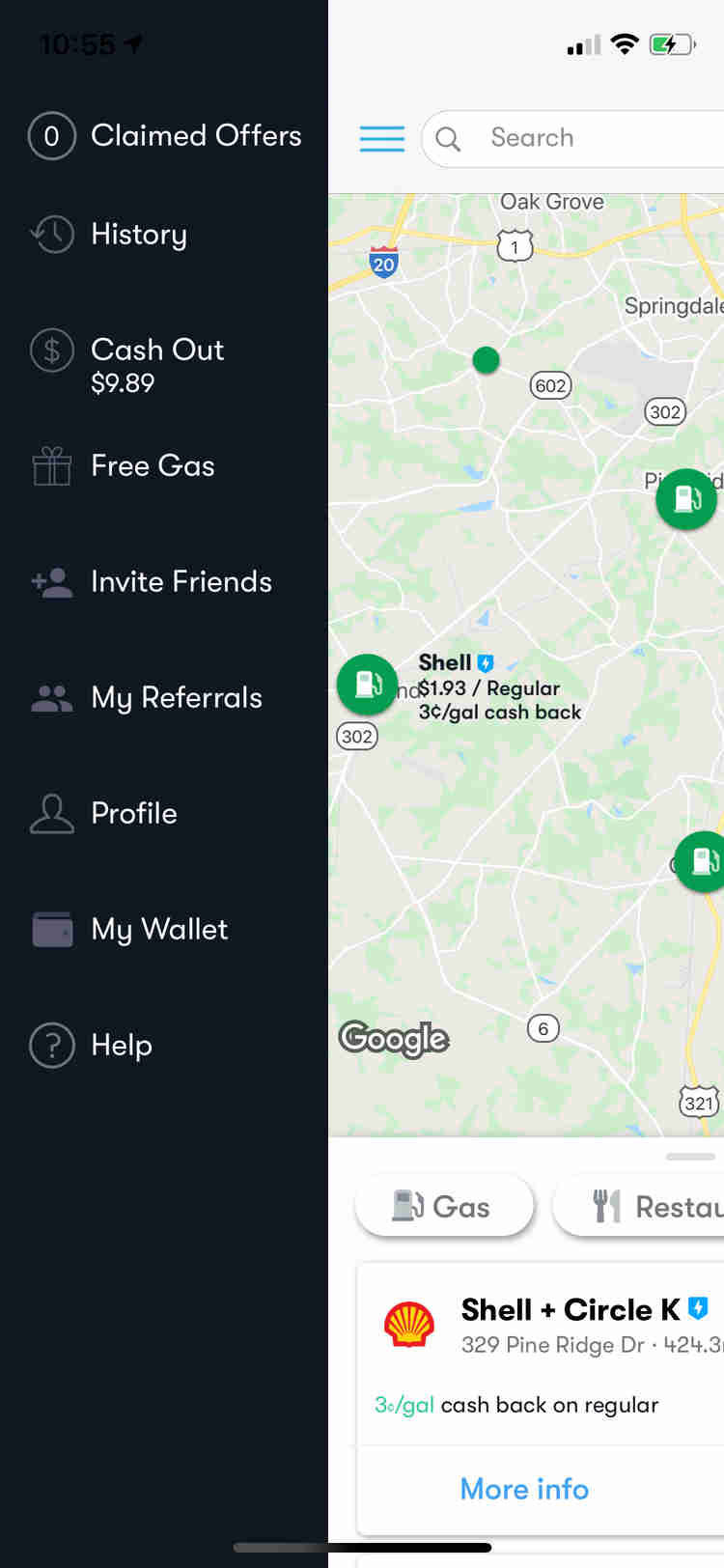 This will tell you how much time you have to claim each offer. In order to successfully complete the deal, you need to make your purchase within the set time frame and use a credit card (most credit cards are accepted).
If you think you won't be able to complete the deal within 4 hours or whatever time is left in the countdown timer, click the "unclaim" button in the upper right-hand corner of the offer page.
5) Uploading the receipt or checking-in
After you filled the gas, upload your gas receipt using the app and it will say that you will receive the cashback within 4 to 24 hours.
Very rarely does it take 2 or 3 days to see cashback in your app but again that is very rare in my experience using this app. So you will see the cashback. In my opinion, this is a pretty decent turnaround time for a cashback app like Upside.
Recently, the Upside app added a feature where you don't have to upload receipts.
Upside side app automatically scans your credit card gas purchases and cashback is credited to your account once your gas purchase is verified. This feature is my favorite as it saves time when using the Upside app.
6) Review of Upside cashback earnings
When you want to cash out your earnings, click on the amount shown in the top right-hand corner. The app will then present you with redeeming options. You can redeem cash back as a gift card or PayPal payment. You can even redeem your cashback payment as a check that will be mailed to your address.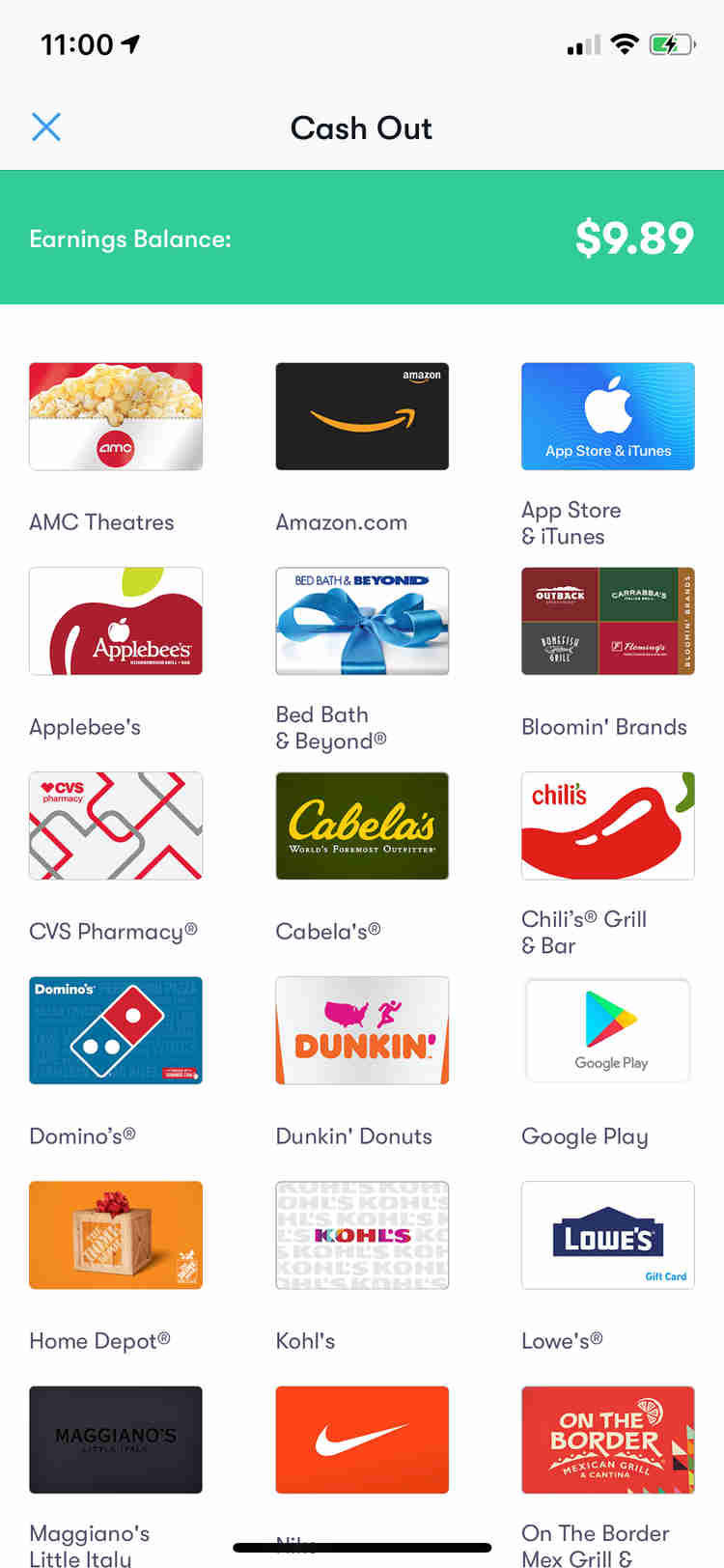 7) Upside app terms & conditions review
Make sure that you use the app on only one smartphone and that you are using only one account to login into the Upside app. If you install the Upside app on many smartphones and try to log in with the same email address, your account will get banned or locked for misuse.
You can of course install Upside on your smartphone and your wife's smartphone for example. But make sure you use a different email address to manage your and your wife's cashback earnings and redemption.
Don't try to create fake email addresses to create multiple accounts just to get a referral bonus. That will also cause your account to be banned. So be mindful o these rules. You can read more on their Terms of Service page.
Upside app review
Upside is a legit app for earning cashback at gas stations, grocery stores, and restaurants. I mainly used it for getting cashback on gas. Right now Upside is adding more grocery and restaurant locations. So I keep checking for my favorite restaurants.
You should definitely use this Upside app and in this review, I want to share some tips, pros, and cons that you should know. Before you sign-up for Upside, there are certain things you should be aware of. This app is very good and has a good rating. I give it a 4 star based on my personal experience which you can read in this post.
First and foremost in this review, let's see the pros and cons of this Upside app.
But for the most part, it is an excellent money saver app if you drive a vehicle. Who gives money just for scanning as receipts?
Following are the pros and cons of the Upside app.
| Pros | Cons |
| --- | --- |
| Offers cash back on gas purchases | Limited to participating gas stations |
| Can also provide discounts on food and more | Only available in select geographic areas |
| Easy to use and navigate | Cash back amounts may be small |
| Can link to existing credit or debit cards | Requires linking bank account for cash out |
| User-friendly interface | Cash back may take time to process |
| Multiple payment options are available | May require location and data permissions |
| Can stack with existing loyalty programs | Not available for diesel or electric cars |
The upside app is a must-have cash-back fuel app! Save up to 45¢ per gallon cash back on gas on your first gas fill-up.
After that earn 10¢ to 20¢ per gallon on your future purchases! That is saving anywhere from $350 to $500 every year depending on how much you drive around.
The more you drive the more you save and get benefits from using the Upside cashback app.
I have saved $300 to $400 every year with my Sedan car that fills up with gas every week. You too can earn cashback every time you fill up with gasoline. Customer support is good and the cashback redemption option is very nice. You can redeem cashback earnings as a gift card from major retailers such as Kohls, Lowes, and so many more. You can redeem real cash using the "mail check" or the "Paypal" option.
Upside app customer support review
Their customer service is pretty quick to respond in my personal experience. You can read my post on Upside customer service on what is the best way to contact their support and all the relevant email and phone contact details.
Sometimes, if you see delays redeeming your cashback or you don't cash back posted as earnings in your Upside app, contact their customer support. There are several ways you can contact them to get the issue resolved or your questions answered.
Upside gives cashback on both diesel and gasoline purchases
Upside cashback works for any type of gas, be it gasoline or diesel. So, what are you waiting for? Download Upside today and start earning cashback.
The Upside app gives you the maximum cashback compared to other cash-back apps like GasBuddy or any other app you know. This get upside app looks only in the US and it works pretty well wherever you go we do a gas station you buy gas and really met using this app. All the cashback that you ever earn using this Upside app is not taxable.
Upside for groceries and restaurant cash back
Upside is more popular for saving on gas rather than on restaurants or groceries. This is due to the fact there are not many participating locations.
But the list of participating restaurants and groceries is growing pretty fast when you look at the map below.
It is definitely worth downloading the Upside app and checking for your local participating stores.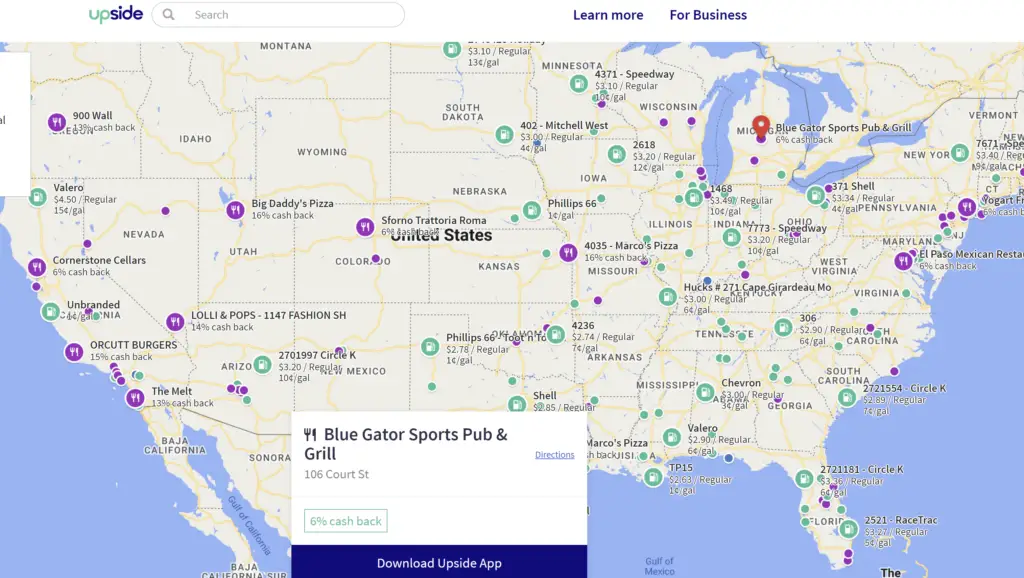 Upside app review conclusion
This Upside app review concludes by stating that this app is legit and that the cashback rewards are worth trying it. We can come to the conclusion that this Upside is a great money-saving
The Upside cash back app is very user-friendly. While the app is not available at each and every gas station in the US, it is probably available near you. The upside app is really a useful money-saving app for those looking to save money on everyday purchases.