In this Fluz app review, you can learn more about this app. You can then find out that this indeed is a good app for earning cashback. I have personally used the app and found it quite good.
As soon as I downloaded the Fluz app, I found the app to be easy to use and it showed me my favorite stores. Soon enough, I started purchasing everyday items using this app and stacked cashback in the first month. I then redeemed the cash-back rewards for a nice e-gift card. There are many options for you here.
Let's dive in and learn some of the tips I learned on how to use this Fluz app and save more on everyday shopping. I will also discuss its pros and cons. You will also learn how the Fluz app works and how much you can earn.
Also, at the end of this Fluzapp review, I will show my personal earnings and a screenshot of my cashback.
What is the Fluz app?
Fluz is an app for earning cash back on online and offline shopping. Fluz cashback free app is available for iOS and Android phones (or should I say any Apple or Samsung-made smartphones? )
Using this app, you can do your purchases online or offline and then earn up to a 35% discount as cashback. With all that cash back you earn, you can redeem them as PayPal money or a number of popular store e-gift cards.
The good thing about this Fluz is that you can refer your friends and earn cash back when they do their shopping with the Fluz app. More on this later in this post we continue with the Fluz review.
Get 35% cashback on your first 3 purchases using Fluz app with this special invite link to get the offer.
How does the Fluz app save you money?
Fluz works just like a mobile payment app. What I mean is that you pay using Fluz. But how does this work? Let me explain.
You open the Fluz app and login in with your account. Then, tap on the "Pay" button to search for the store where you would like to shop and say "Home Depot". Now, enter the dollar amount, say $25 or $75, and pay using your PayPal, Apple Wallet, etc. which is linked to your Fluz.
Once you paid the amount, Fluz will generate an e-gift card for HomeDepot with that dollar value. After you are done with in-store shopping at Home Depot, you can pay using this e-gift card! Any amount left in the e-gift card can be used the next time you go shopping at Home Depot.
If you are shopping online, you can use this e-gift card at the checkout and use it as cash.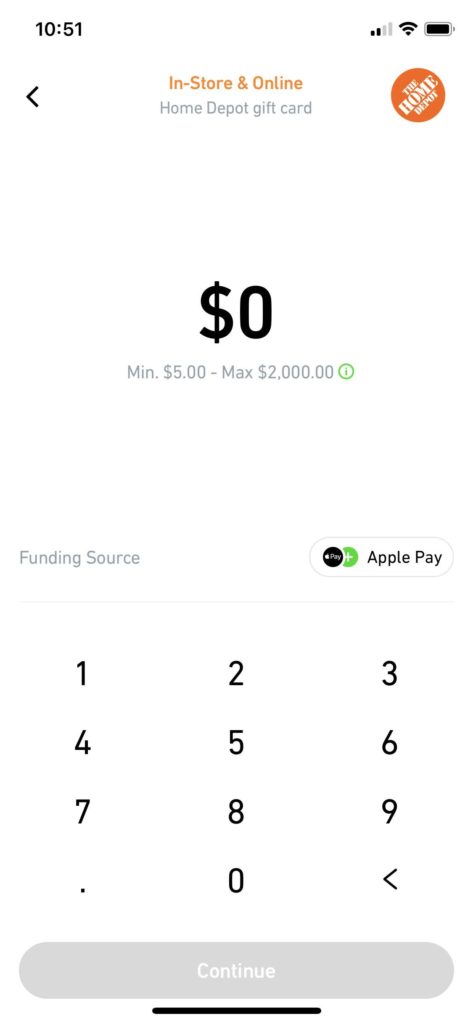 Now, why are we doing this, you might ask. This is the part where you save and earn cashback. Every time you use the app to generate an e-gift card, you get up to 35% in cashback which goes to your account. you can then withdraw the earned cashback to your bank or PayPal.
This is what is meant by Fluz pay, you use Fluz to pay. This means you pay with an e-gift card generated by Fluz and use it for shopping. You earn cashback anywhere from 3% up to 35% by doing this way. Use promo code WELCOME35 to get 3 free vouchers each worth a 35% bonus cash back on your next 3 purchases!
Once you sign-up for Fluz, search for the stores that you usually shop at. There are many popular stores such as CVS, Walmart, SamsClub, Macy's, and so many more.
Are you a foodie? You are covered. Order food from Papa John, Doordash, Dominos, and many more. Whether you are paying for a carry-out or using a door delivery service, you can find all your favorite stores on the Fluz app.
Next, you have to Pay for your purchase with Fluzpay. We will see how in the following section.
Fluz App Review
The Fluz app seems to be more good than bad when it comes to saving money on everyday items that love to spend your money on. Spend your money on things you love and save money by using this app. It is a win-win indeed! Watch out for the cons which are not a big deal in my option.
When I came to know about the Fluz app, I was skeptical because there were many other good cash-back apps at that time.
Once I found all my favorite stores and how easy wait to pay with Fluz, I quickly got impressed with my first few cashback earnings as shown in the screenshot below.
Trustpilot reviews average about 4.5-star ratings from Fluz app users.
Easiest, REAL, and best way to get cash from almost everything I purchase! Just as simple as it is for me to spend money I earn money back using Fluz! Also, the fact that automatically I make $$$ and get cash back every time whoever I invite(d) to use the Fluz App makes purchases is incredible! We all have to buy so much so might as well get rewarded for spending!

Review from a real Fluz app user. Source: Trustpilot
Fluz app pros and cons
Let's look at the pros and cons of the Fluz app.
Pros
Get 35% cash back on hundreds of popular stores. Includes carry-out stores such as Uber Eats, and more.
Easy to generate e-gift which you can use for your own shopping via the Fluz app. Or you give this e-gift to your friends and family!
Variety of gift cards you can choose from when it comes to redeeming your earned cashback.
Redeem cash back as PayPal
Good referral bonus (3 free vouchers each 35% discount) when you use the referral code LOVE35.
Cons
The app is slow to load on some older smartphones
The Fluz app could add more popular stores.
Customer service is ok but not great!
Fluz app payment review
Here is how the FluzPay process works in the app and you can use it easily to pay for your purchases. Let's say you want to buy something from CVS. You go shopping at their store and when you are at the checkout, open your Fluz app and hit the pay tab at the bottom.
There it will ask you "Where would you like to pay?". Search for CVS and then select the amount that you need to pay at the checkout. This is your total shopping bill at the checkout. So, now, after you selected an amount say $10, you pay for this using your PayPal or bank account or even with your Fluz cashback balance.
Once you paid, you will get a $10 CVS gift card generated and stored in your app. You can then scan this CVS gift card bar code at your checkout and finish your shopping. What just happened is that you got a CVS gift card with Fluz and you paid for it. By doing this, you earned a 35% cashback on that purchase which is $3.5 in cashback that will show up on your Fluz app!
Isn't this easy and simple?
Buy like you usually do but pay with a gift card that Fluz generated for you in the app. Don't worry, any unused gift card value will still be there and you can pull that old card gift and use it for future purchases at CVS in this example.
Imagine the cashback earnings that you accumulated when shopping at other stores like Home Depot, Doordash, Walmart, etc…
Some cashback earnings add up and you can redeem them on the app as e-gift cards or real money to your PayPal address.
Watch this video to learn how simple and easy it is to use FluzPay with Fluz.
Is the Fluz app legit?
Fluz is not a scam. This app does reward you for using it to shop online or in-store. I have earned real cashback using this app. Redeeming your cashback is very quick.
Look at the screenshot below where I got my PayPal money within minutes of redeeming it on the Fluz app. This Fluz app review alone can give you the motivation to use this app.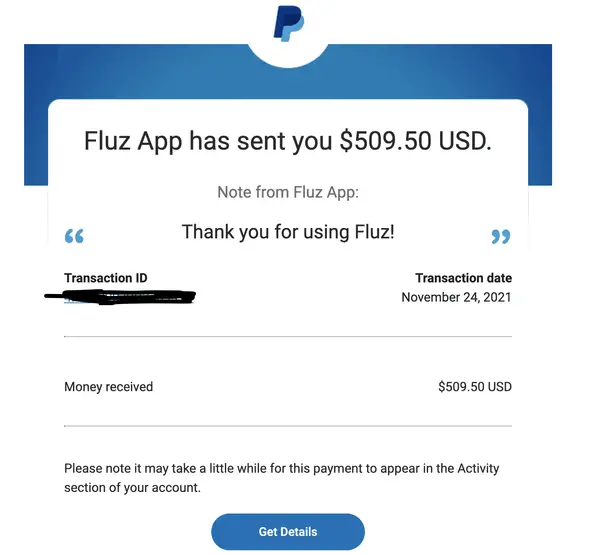 How much can you make with this Fluz app?
With the Fluz app, you can earn up to 35% on online and in-store purchases.
Can I get a signup bonus if I join Fluz?
Right now you can use the referral code LOVE35 and get 6 free vouchers as a signup bonus! Read more here on how to use this Fluz referral code on your app.
What is the Fluz app customer service number?
The Fluz Support is only available in three ways:
Conclusion
From this Fluz app review, we can see that this app is legit and real. It rewards users with cashback discounts from 5% to 30 % on most purchases. Download the Fluz app today and introduce it to your friends. The more friends you refer there more earnings you will earn when they earn!
Share your comments on the Fluz app and how much you saved with this awesome cashback app.