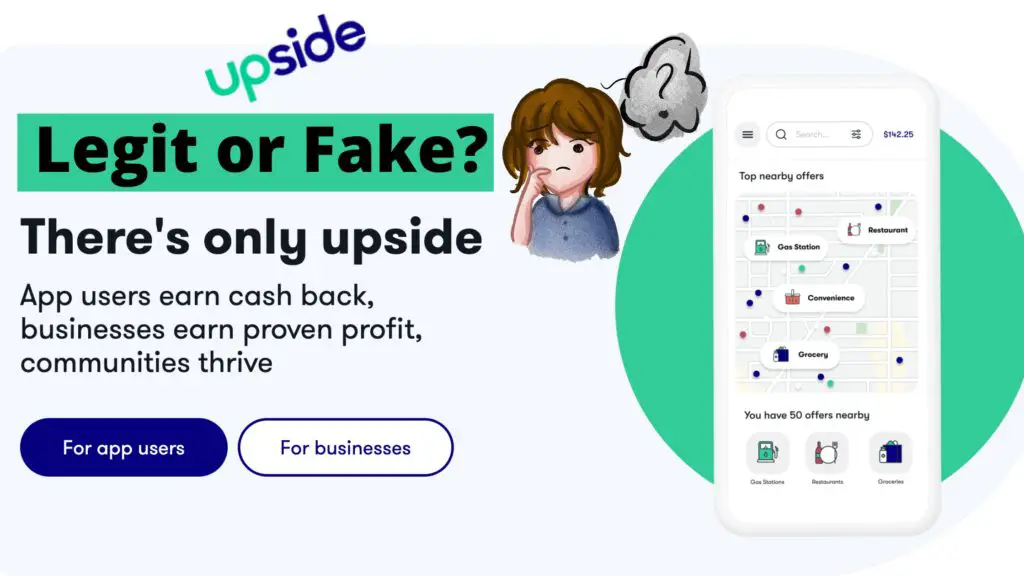 These days gas prices keep rising. People are always looking for ways to save money on gas. You might have heard about the Upside app from a friend or seen an advertisement recently. Are you wondering and asking yourself if Upside is legit? Let me review the Upside features and show that it is indeed a legit app. Learn what is the catch with the Upside app and why they ask you to scan receipts.
Let's learn more about this Upside app to see if it is a scam or not. Read more about my personal experience of using this cashback for gas, groceries, and restaurant purchases. We will also look at the safety and privacy of the Upside app.
Gas prices are going to be on the rise and using legit apps like Upside will help you save money.
Is Upside legit?
After using this Upside app for more than 4 years, I can say that it is a legit app. You can trust that your information is kept safe and private. The app really pays you for buying gas as cash back.
Upside app received a rating of 4.8 stars from around 250, 000 users. That's huge although the app received some complaints from BBB (Better Business Bureau)
You can earn cash back on gas, groceries, and restaurant with his app and it pays you real money as gift cards or PayPal money. Here's all you need to know.
First of all, their privacy policy is pretty good. All your personal and credit card information is kept safe and secure.
When I first got an invite from my friend to join Upside, I was skeptical at first and thought it might not be a legit app. That is because I never used any cashback app especially for getting cash back on gas. I have heard of GasBuddy but I used it once or twice in the past. I learned that it didn't give me enough cash back per gallon for gas.
But as soon as I started getting cashback rewards, I am convinced that it is a real app.
Is the Upside app safe?
The upside app is a real cashback app and it is very safe indeed. The name has changed from Upside to Upside but it has the same safety features. Your gas receipts are not stored anywhere and your credit card/personal information is not shared with any marketers. This says a lot about Upside being a legitimate app.
Please read this post where I list the pros and cons of the Upside app together with a complete review of its features.
What is the catch with the Upside app?
The Upside app has a network of participating gas stations and there is no catch with this app. Here's why.
When you go to a gas station and fill up your tank with the Upside app, your receipt is verified. Once it is verified that you bought gas from a partic[rating gas station, you are credited with the cashback offer. The only catch I think is that you share your receipt which has the last 4 digits of your debit/credit card and gas station location.
These details and your name, and your phone number are enough to use for marketing purposes. But I truly believe Upside of snot misuse this information. You can check their terms and conditions where they clearly explain that there is no trap or trick.
Proof that this Upside App is Legit & Things To Watch Out For
I learned that Upside is real and it indeed rewards users with good cashback. Free coffee for every gas fill-up – now that is legit and no one can beat that cashback. A final thought about this app is to make sure that you keep your receipt with you just in case there is any delay or if there's any crash that is not supposed to happen. You can then use it as you can contact customer service and then ask for their support and you can give the receipt as evidence that you purchased so many gallons at this gas station.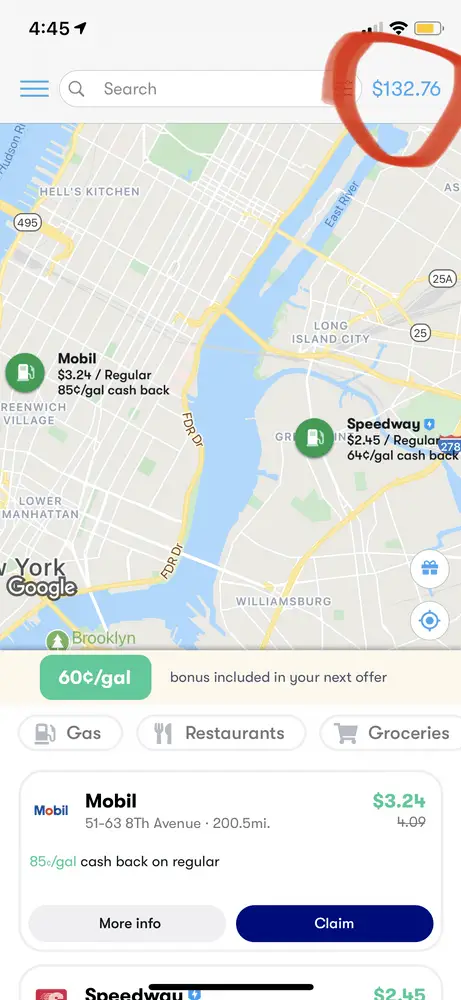 Upside app has many good things
This legit app has many good things. The app is completely free the cashback redemption takes only one or two days and you can participate anywhere across the United States and get the cashback at any proof that a large number of participating gas stations groceries and restaurants will stop using this app you can attach back anywhere from 5, 10 cents to 25 cents per gallon of gas and you can redeem it using any way you want ranging from e-gift cards, checks, PayPal and so on.
Once again, this app is completely legit and free and it is available on Android and Apple iPhones it takes a few seconds to download and you are ready to set and go and find the nearby gas station and redeem start running points cashback points for your purchases.
Upside's cool features
Upside app is legit and one of the other good things is it is completely tax-free and the customer service is fairly good what's up you don't get any problem getting the contract to contact customer service in the first place and if you do get any problems to make sure to show the receipt as proof of purchase when contacting the cadets a customer service and they will respond to you in 1/2 hour maximum or 3 days very very badly they might take 4 days out of the week but you will get a response and you do cashback will come back to you for sure to dinner.
Upside Diesel – What gas stations participate and more.
My personal take on this app is that it is completely safe, legit, reliable, better than other gas apps and it is totally free to compete for that you should download it today if you have a vehicle and you go to the gas station every week or every frequently to fill your glass dish gas.
Does this Upside legit app really work?
Let me tell you my experience and you can decide if the Upside app will really work for you. So I started downloading this app and you find the link and download it. I did search for a nearby gas station and was able to quickly find one that participated in the get upside cashback program.
When I made my first cashback, I felt really good earning around $2 dollars in cashback. Then, once cashback earnings reached $10, I redeemed it using PayPal. The payment was processed within hours and I then believed that this app is trustable.
Some say they don't believe in this legit Upside app and think that this is a scam. I think there are only a few of them who ask this question of whether it is legit or not.
Watch this video to see an example of a typical gas purchase at a gas station. You can see the proof that this Upside app works for real.
Love at first sight with Upside?
When I saw the Upside app in the Apple app store, the first thing that impressed me to believe that is Upside legit and that there were thousands of 4+ star reviews. This, in itself, is proof that you should download and try it to see if it works for you.
Another reason why it is legit is that it paid me every time I redeemed my cashback. Only one time there was a 1-week delay. I guess that was a holiday weekend so there might be a delay in processing. I do believe that this app has grown so fast in recent years. It received some criticism for its customer support. But very few seem to have problems in recent years.
Maybe they are using two email addresses to sign up and log in to the same smartphone. Maybe they are using a different email every time they redeem their cashback. There must be a legit reason why some have problems redeeming their earned cashback.
This app is totally worth it and it works and you can redeem your cashback using various ways. For example, you can redeem it using a gift card as a check or as a Paypal payment. I have redeemed thousands of dollars over the years. You can also see the proven below screenshot of my PayPal payment from Upside.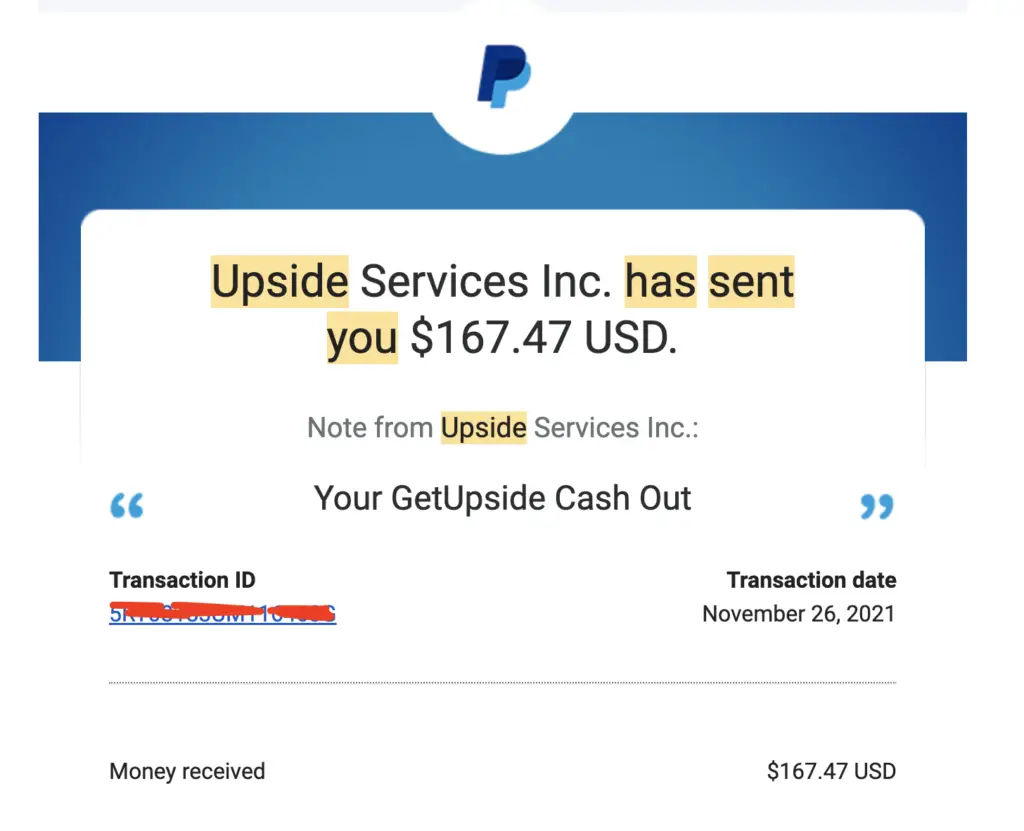 Are there any similar legit apps like Upside?
If you are a Truck or RV driver, you can try this app called Mudflap similar to Upside and it is especially good for saving on diesel. You can save up to 60 cents per gallon cash back!. Try today and get $10 in free diesel. It works on any smartphone. You download the app and earn cashback on diesel. Read more about this app in my post here.
Talking about Upside customer support
You can contact Upside customer support or leave a message in the app. Their response is very quick most of the time. This legit company sometimes has problems or delays in getting cashback. You usually get cash back for everything one day or a maximum of three days.
If you don't see cash back deposited in your app then you can call their customer support. Leave a message to them and they will get back to you within 1 or 2 days. I get the money cashback just a little bit late like in three or four days very very rarely. So, you can see that their customer support is also legit. The app is obviously friendly enough to open a ticket all within this legit Upside app.
Is Upside a good app for diesel and gas?
Yes, Upside is a genuine app and it works for any type of gas, be it gasoline or diesel. So, what are you waiting for? Download Upside today and start earning cashback.
Is Scholly Legit? All The Facts You Need To Know
This is a legit app once again I am stressing and there is no other app that is better than Upside. It gives you the maximum cashback compared to other cash-back apps like GasBuddy or any other app that you know. This get upside app looks only in the US and it works pretty well wherever you go we do a gas station you buy gas and really met using this app.
Is Upside taxable?
All the cashback that you ever earn using this Upside app is not taxable. Come read more to make sure you understand this. Here's what happened to me. I have earned thousands of dollars over the years and there's no limit on the cashback and it is tax-free. Yes, it is completely tax-free.
Do you have to pay taxes on Upside?
Let's say you earned $1000 in a year using this app. All that cashback is fully tax-free. I have redeemed thousands of dollars over the past three or four years. I got my payment in PayPal and I never have to pay taxes.
Conclusion on Upside legit or not
From my own experience, I can vouch for Upside's legit app. Is Upside legit is no more a confusing question. The answer is clear. The upside is not a scam app. It is a genuine and real cash-back app for gas. It is indeed a legitimate app. Upside (a.k.a GetUpside) is a safe and real cashback app and it earns pretty good cashback.
Download the Upside legit app and go to the gas station and make sure you remember to press that redeem button and fill your gas tank and let the gas back come to you and see you guys back row every week after week.
Believe me or cash back or keep it till the end of the year and redeem using PayPal for example, it's totally tax-free and you can redeem and your money is on the way thank you for reading this blog post.
Be sure to submit their comments on your experience with the legit Upside app so it'll be useful to others if you have any tricks, tips, or promo codes.
Related posts:
Upside Login, Payment, App Issues – Complete Guide For Customer Service