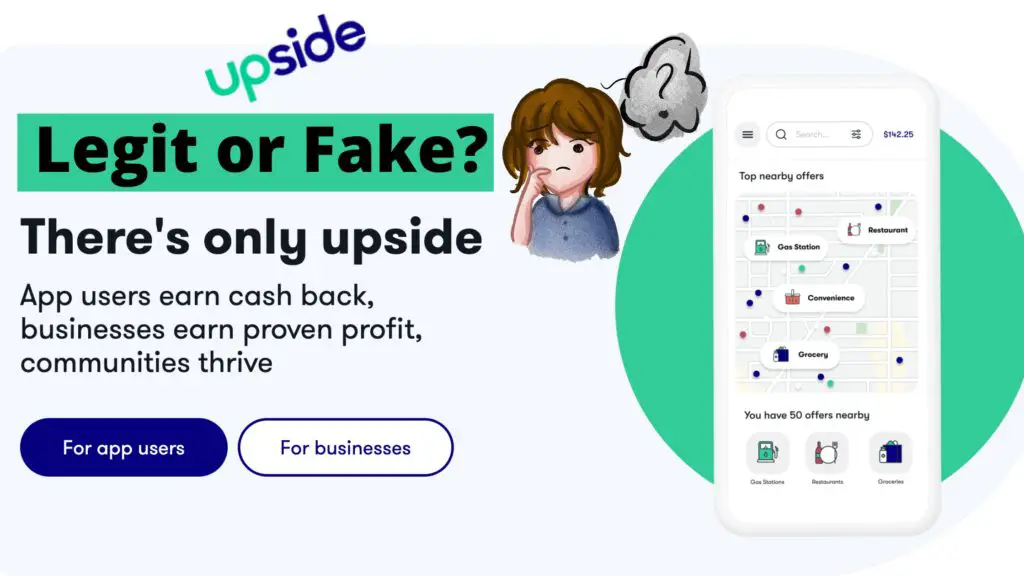 There is no catch with the Upside app? Upside app is legit. In this post, we will learn the facts about Upside and its safety and security features.
I have used Upside and in my experience, I have earned a good amount of cashback rewards., It saved me money and I earned cash back at gas stations. You can use this app to get cashback on gas, groceries, and restaurant purchases. I will also share my thoughts about Upside's safety and privacy.
What is the catch with the Upside app?
There is no drawback or risks when you use the Upside app. The photo of your receipt contains sensitive details and is kept private and not sold to marketers for money. No hidden fees or missed cash-back payments. It is totally free and it does what it says. Saving you money on gas.
I say this from my own experience of using Upside for many years. Your receipts earn cashback and Upside gets its commission money and so it is a win-win. The upside app is a real cashback app and it is very safe indeed.
It does not scam you with spam emails saying this gas station offers a huge deal and then you won't get the cashback.
The name has changed from GetUpside to Upside but it has the same safety features and privacy is guaranteed. Your gas receipts are not stored anywhere and your credit card/personal information is not shared with any marketers. This says a lot about Upside being a legitimate app.
Please read the pros and cons of this app together with a complete Upside app review of its features.
Is Upside legit?
Upside is legit. After using this Upside app for more than 4 years, I can say that it is a legit app and not a scam.
Read more and I will break it down for you. You can trust that your information is kept safe and private. The app really pays you for buying gas as cash back.
Upside app received a rating of 4.8 stars from around 250, 000 users. That's huge although the app received some complaints from BBB (Better Business Bureau)
You can earn cash back on gas, groceries, and restaurant with his app and it pays you real money as gift cards or PayPal money. Here's all you need to know.
First of all, their privacy policy is pretty good. All your personal and credit card information is kept safe and secure.
When I first got an invite from my friend to join Upside, I was skeptical at first and thought it might not be a legit app. That is because I never used any cashback app especially for getting cash back on gas. I have heard of GasBuddy but I used it once or twice in the past. I learned that it didn't give me enough cash back per gallon for gas.
How does Upside work?
The Upside app has a network of participating gas stations and there is no catch with this app. Here's why.
When you go to a gas station and fill up your tank with the Upside app, your receipt is verified. Once it is verified that you bought gas from an Upside participating gas station, you are credited with the cashback offer. The only catch I think is that you share your receipt with the last 4 digits of your debit/credit card and gas station location.
These details and your name, and your phone number are enough to use for marketing purposes. But I truly believe Upside does not misuse this information. You can check their terms and conditions where they clearly explain that there is no trap or trick.
Hence, you can rest assured that your email will not be used to scam you with emails asking you to buy random things.
How does Upside make money?
Upside partners with gas stations across the US and help them grow by sending its customer to their locations. When users like you pay for gas using the Upside app, the gas station business grows. Upside gets a commission from the gas station for sending customers to them. SO, it is a win-win and you win too. This is how Upside's business model makes money and then gives a share of it to you as cashback.
Upside cash-back rewards are real
This legit Upside app has many good things. The app is completely free the cashback redemption takes only one or two days and you can participate anywhere across the United States and get the cashback at any proof that a large number of participating gas stations groceries and restaurants will stop using this app you can attach back anywhere from 5, 10 cents to 25 cents per gallon of gas and you can redeem it using any way you want ranging from e-gift cards, checks, PayPal and so on.
The rewards you redeem from the cashback you earned in Upside are real money. Your redeemed e-gift cards are not a scam. They work as regular gift cards.
Upside safety features
Upside app is legit and one of the other good things is it is completely tax-free and the customer service is fairly good what's up you don't get any problem getting the contract to contact customer service in the first place.
If you do get any problems make sure to show the receipt as proof of purchase when contacting Upside customer service. This information you submit is safe and they will respond to you in 1/2 hour maximum or 3 days. They might take 4 days out of the week but you will get a response.
My personal take on this app is that it is completely safe, legit, reliable, better than other gas apps and it is totally free to compete for that you should download it today if you have a vehicle and you go to the gas station every week or every frequently to fill your glass dish gas.
Is Upside worth it? My experience
Let me tell you my experience and you can decide if the Upside app will really work for you. So I started downloading this app and you find the link and download it. I did search for a nearby gas station and was able to quickly find one that participated in the get upside cashback program.
When I made my first cashback, I felt really good earning around $2 dollars in cashback. Then, once cashback earnings reached $10, I redeemed it using PayPal. The payment was processed within hours and I then believed that this app is trustable.
Some say they don't believe in this legit Upside app and think that this is a scam. I think there are only a few of them who ask this question of whether it is legit or not.
Watch this Upside app video to see an example of a typical gas purchase at a gas station. You can see the proof that this Upside app works for real.
Upside app payment proof – There is no catch here – It's real
This app is totally worth it and it works and you can redeem your cashback using various ways. For example, you can redeem it using a gift card as a check or as a Paypal payment.
I have redeemed thousands of dollars over the years. You can also see the proven below screenshot of my PayPal payment from Upside.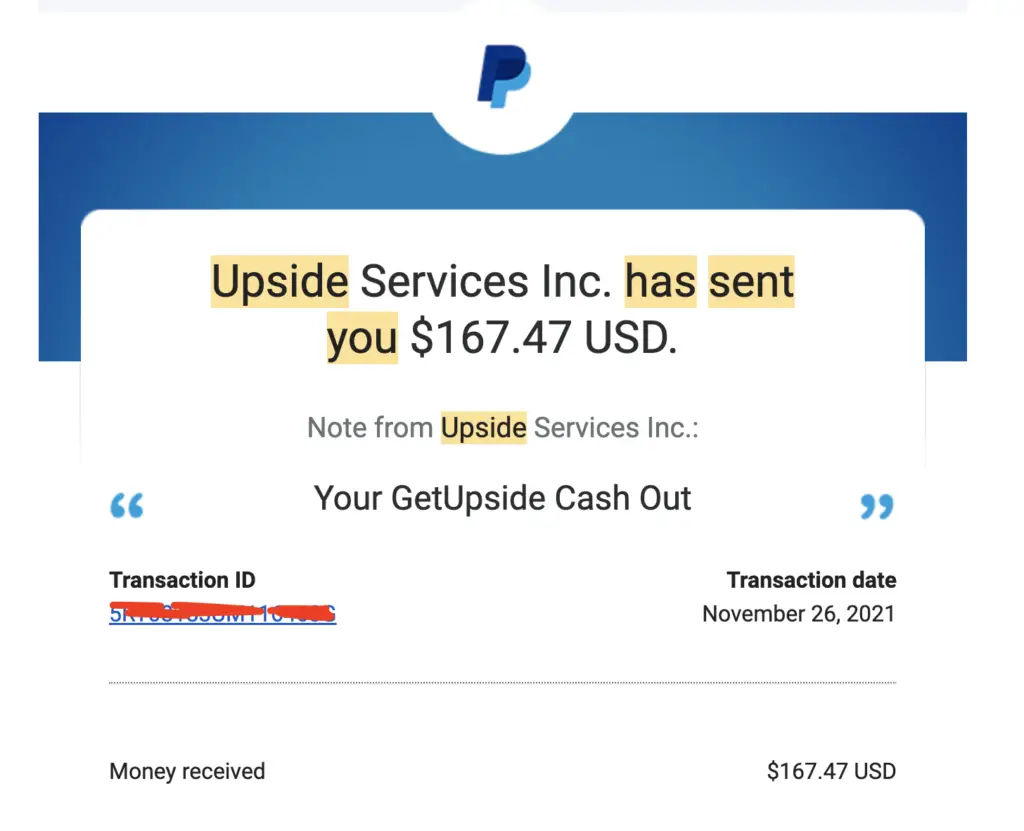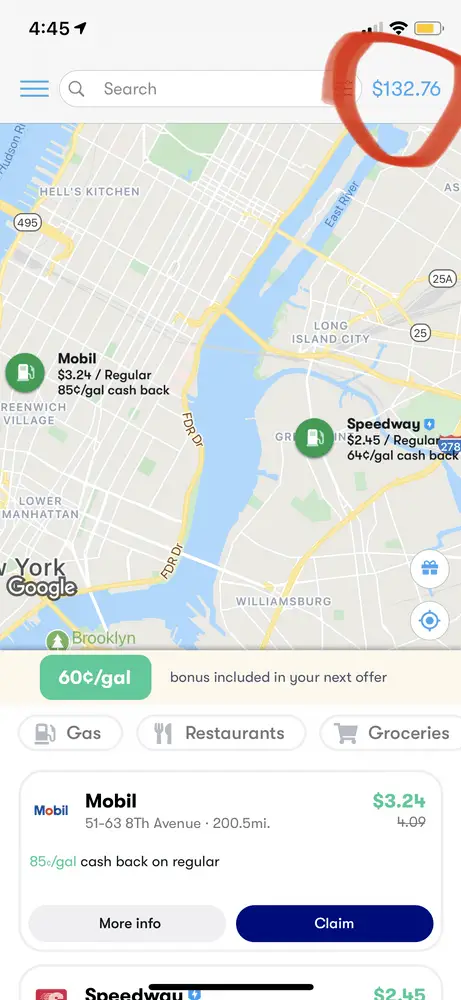 Conclusion on Upside app – There is no catch!
In conclusion, the Upside app is legit. There is no catch with the Upside app. We saw the proof in this post and you can see how clear the Upside policy and security are. Its reward system is legit.
It is certainly not a scam. It is a real cash-back app for gas. With Upside, you save money on gas, grocery, and restaurant purchase. It pays you money within days when you redeem your earned cash back in the app.
Believe me or cash back or keep it till the end of the year and redeem using PayPal for example, it's totally tax-free and you can redeem and your money is on the way thank you for reading this blog post.
Gas prices are going to be on the rise and using legit apps like Upside will help you save money.
You can download the Upside app and go to the gas station and start earning cashback on gas. Make sure you remember to press that redeem button and fill your gas tank and let the gas back come to you.
Be sure to submit their comments on your experience with the legit Upside app so it'll be useful to others if you have any tricks, tips, or promo codes.