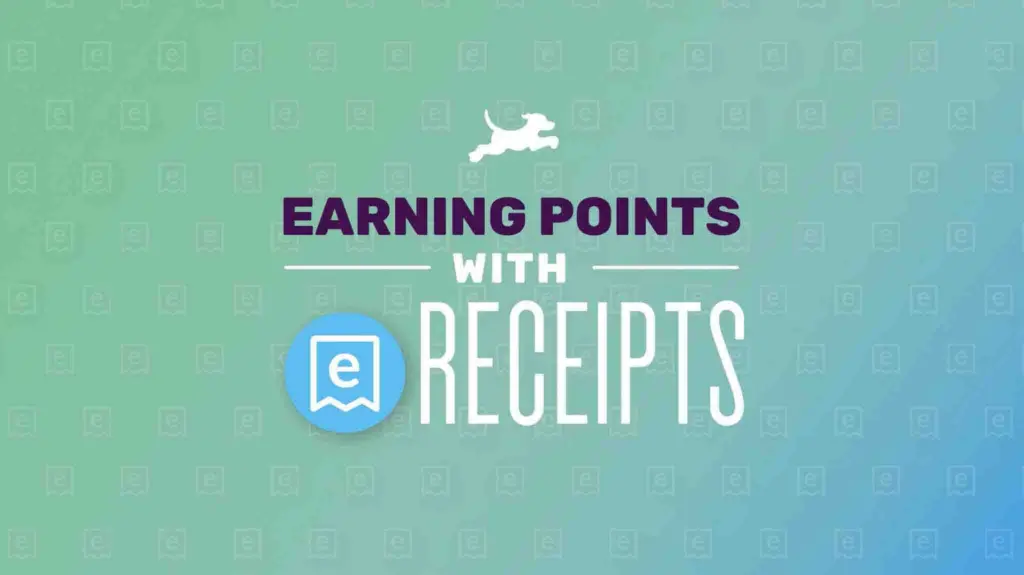 Fetch Rewards gives you cash-back rewards for your receipts. In addition to uploading physical receipts, you can also link your Fetch to your Amazon account. In this post, we will look at how you do this and whether doing so will be safe. We will look at why Fetch rewards e-receipts might not be working and how to fix that
Be sure to read my post on Fetch vs Upside, where you will learn about another free app Upside which is good for cashback on gas!
If you are tired of uploading receipts, check out my top automatic cashback apps that get you cashback automatically.
How to link Fetch Rewards to Amazon
Get your phone and follow the steps below to link your Amazon account in Fetch Rewards app.
Open Fetch Rewards app
Tap on the "Me" profile icon which is in the right bottom corner of the screen.
Now, tap on the eReceipts
Under Acccounts, you will see Amazon.
Click "Connect" next to it
Tap on the "I agree to the terms and conditions" checkbox and tap on the Continue button
You will now see a screen where you have to enter your Amazon email and password
Once your account login for Amazon is authenticated, Fetch will show a pop-up if you like it to scan your Amazon eReceipts now.
You have now linked your Amazon account in Fetch Rewards app.
You can let Fetch scan your Amazon receipts now or later at another time.
Note: If you have set up 2-factor authentication, you will receive a text message from Amazon with a verification code. Enter it during the linking process to finish your link to Amazon account setup.
The screenshots shown below are to help you easily understand the linking process to Amazon in Fetch App.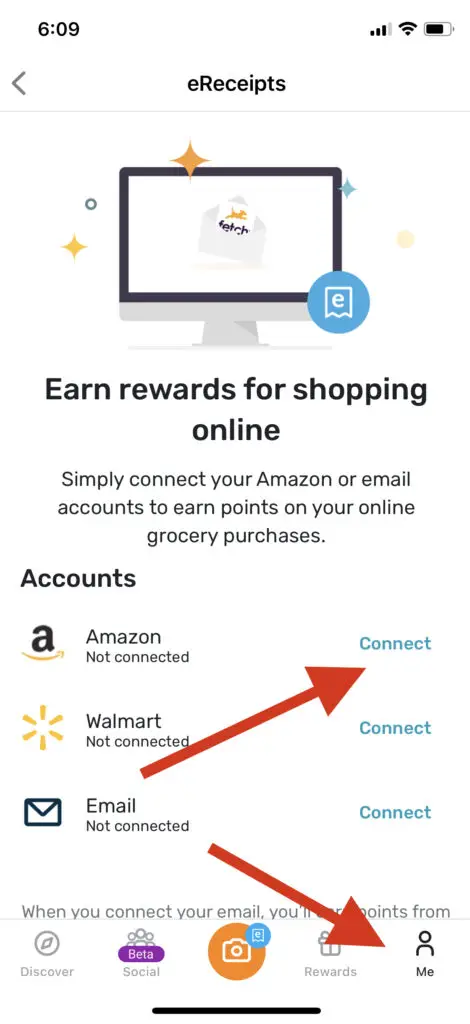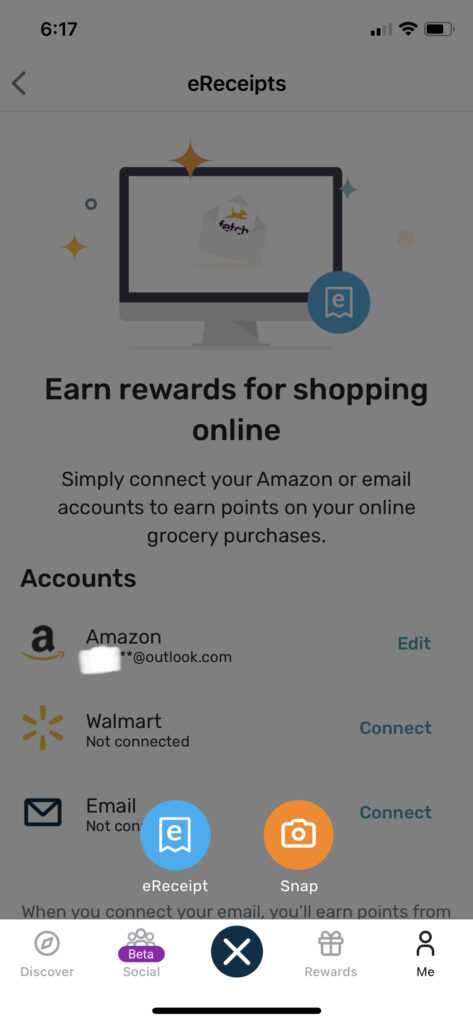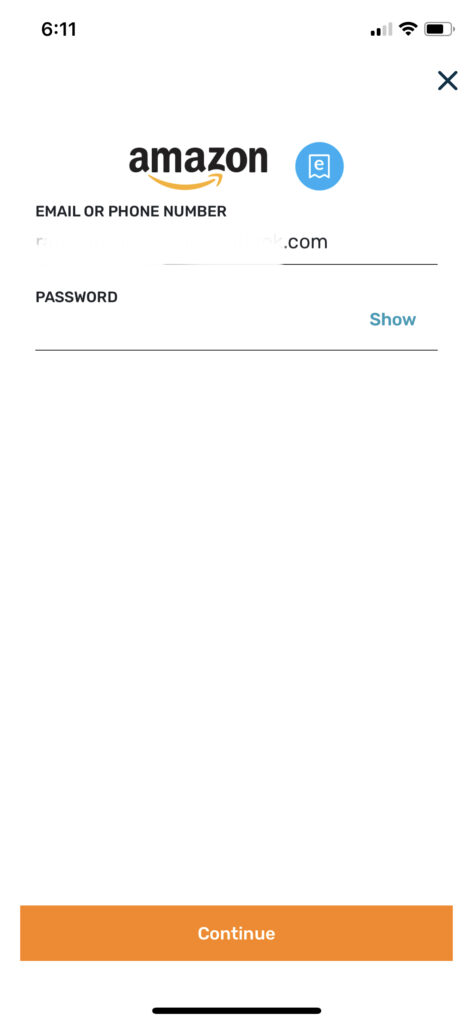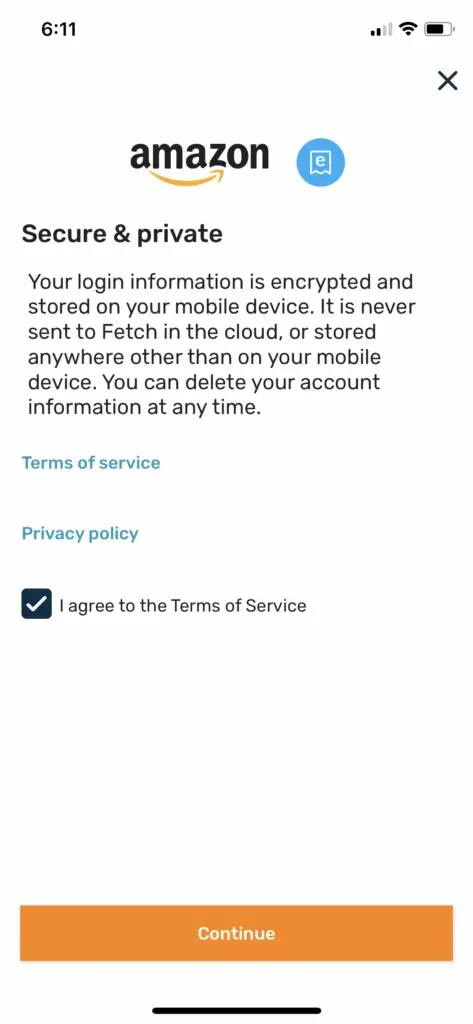 Troubleshooting when you are unable to link Fetch to Amazon account
If you are having trouble linking Fetch to your Amazon account, you can try the following tips to see if it helps.
First, make sure you are using your Amazon account's email address to sign in to your account in the Fetch app. You should not use your phone number as it will not work properly and it is not recommended.
Secondly, follow this quick trip from Fetch support page
Quick tip: If you do not have the Amazon app downloaded to your device already, downloading the Amazon app and logging into it will help bypass authorization checks that could be causing problems when trying to connect it to the eReceipt feature. Please also ensure an email address is associated with your Amazon account, not just a phone number.

source: https://help.fetch.com/hc/en-us/articles/4430785173907-I-m-Having-Trouble-Connecting-My-Email-Amazon-Walmart-Account-to-the-eReceipt-Feature
If you still cannot connect your Amazon account, try again periodically over the next 24 hours. If nothing else works, you can contact Fetch support by submitting a request. You can also contact our Support Team at [email protected].
Why are my fetch e-receipts not working?
Usually, when you connect your Amazon or any other retailer account to Fetch, it scans e receipts in the last 30 days and rewards points for your purchases. If you're having trouble with Fetch eReceipts, here are a few troubleshooting tips that may help:
Make sure you're using the latest version of the Fetch Rewards app. The app is constantly being updated with new features and bug fixes, so it's important to have the latest version installed. You can check for updates in the App Store or Google Play.
Make sure your email account is connected to Fetch Rewards. To do this, open the Fetch Rewards app and tap on the "Profile" tab. Then, tap on "eReceipts" and enter your email address and password.
Check your email inbox for pending eReceipts. If you've recently made a purchase from a participating retailer, your eReceipt should be waiting for you in your inbox. If you don't see it, try refreshing your inbox or searching for the retailer's name.
Try scanning your eReceipt again. Sometimes, eReceipts may not scan properly the first time. If you've tried scanning your eReceipt and it still hasn't worked, try again. Sometimes, all it takes is a second try.
Contact Fetch Rewards support. If you've tried all of the above and you're still having trouble with Fetch eReceipts, you can contact Fetch Rewards support for help. They may be able to troubleshoot the issue and help you get your points credited to your account.
Make sure your e-receipts are in your inbox and not sent to spam. I think Fetch does not look for e-receipts in the spam folder in your email inbox. If nothing else works, then just print out the receipt and try scanning it like a real receipt. Hope that will work I have not tried this way. But in any case, their customer service will help with this as well.
Is it safe to connect fetch to Amazon?
Yes, it is safe to connect fetch to Amazon. Your Amazon login information is stored only on your mobile device and it is not shared with anyone.
Read my review on Fetch safety and privacy. I have listed the facts to prove that Fetch Rewards is a safe app.
Conclusion
Connecting your Fetch to your Amazon account is completely easy and safe. You must know that Fetch supports hundreds of other major eReceipt retailers. Also, be sure to check them out and link them in the same way as I explained in this post.