In this post, we will review Grammarly, its pros and cons, and my personal experience. of using it. We all want to write fluently and at the same time, we want to make our content stand out error-free. It helps you correct grammatical errors in your writing and it also improves your writing.
This powerful and legit Grammarly really improves your writing and produces error-free content. Let's look at the pros and cons of Grammarly in this post. We will also look at the free and the premium version of Grammarly and how they differ. I will share my own experience of using the free version of Grammarly. I will go in-depth explaining what are the Grammarly premium features and their cost. I will also share with you what are the alternatives.
Finally, we will complete this topic with a conclusion as to why you should go after Grammarly Premium. You can then see if the premier version fits the lifestyle you're writing lifestyle.
So let's start with what Grammarly is and review it and see how it works.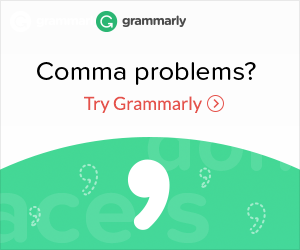 What is Grammarly
Grammarly is your online assistant that runs in the background. It then reaches what you type and then checks for grammar and punctuation areas. Grammarly detects writing errors when you type in any application. Whether it is Gmail Outlook or any other email application, online word editors, etc. it checks anywhere you write.
It has a powerful tool that can check all the grammar mistakes spelling mistakes and punctuation errors as you type. You can simply install the browser extension and it's activated all the time. When you start typing anything for example email, writing a blog, or pretty much anything that you write online. It might even be a Google Docs or other online editor tools where you type and store information. As soon as you start driving work in the background and analyze your typed information. It then underscores any grammar spelling and punctuation mistakes or errors that it finds.
Grammarly also has a powerful plagiarism checker. It looks at your text and finds if the text is legit or is a plagiarized version. This is very useful for researchers and students. Great for anyone who needs to ensure that their work is original and not copied from other sources. 
How does Grammarly work and review
Grammarly works both online inside the web browser and outside of the browser. Grammarly works on both Windows and Mac computers. For example, let's say you're composing your email. Whether you're typing one sentence or one paragraph in a big essay, Grammarly scans anything you type. It then underscores anything such as spelling or punctuation or grammar errors with a red underlying. 
Once you finish writing you can look at the red underlying text and then how your mouse. Grammarly detects any incorrect spelling, hammer, or punctuation that should be used and underlines it. This way it is easy to correct your writing errors. All you need to do is most of the red line the corrected word and you simply click on it. The word that you typed is replaced with the Grammerly corrector new word and you are good to go.
When I type my email I always make sure that Grammarly is working behind and checking my content. It takes a few seconds longer sometimes but it's usually pretty fast. I immediately see a red underscore wherever I have writing errors in my email for example.
In the diagram below you can see I typed the content. Grammarly underscored it with a red line to indicate that there is something wrong with that word or a sentence.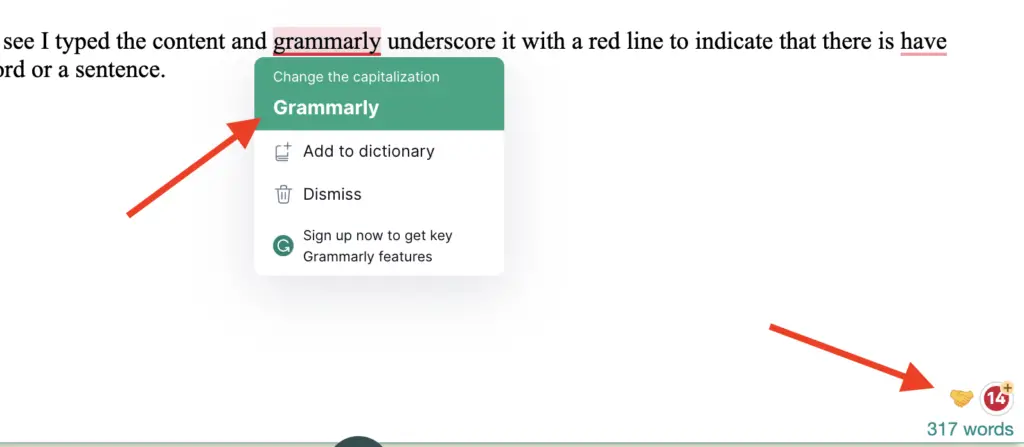 Pros and cons of Grammarly Premium
Pros:
Advanced Features: Grammarly Premium offers advanced features like vocabulary enhancement and genre-specific writing style checks. It offers advanced punctuation checks, which are not available in the free version.
Enhanced Accuracy: The premium version of Grammarly has enhanced accuracy, and it can catch more errors than the free version.
Plagiarism Checker: Grammarly Premium comes with an advanced plagiarism checker that can detect plagiarism more effectively than the free version.
Customer Support: Grammarly Premium users have access to a dedicated customer support team. They can help with any issues or concerns.
Seamless Integration: Grammarly Premium can be integrated seamlessly into various devices, including Microsoft Office, Google Docs, and other platforms.
Personalized Suggestions: Grammarly Premium offers personalized suggestions that take into account the user's writing style and tone.
Cons:
Cost: Grammarly Premium can be expensive, and it may not be feasible for everyone to invest in it.
Limited Compatibility: While Grammarly Premium is compatible with most writing platforms, it may not work with all devices and platforms.
Privacy Concerns: Grammarly stores the text you submit for checking. Some users may have concerns about the privacy and security of their data.
Over-Reliance: Some users may become over-reliant on Grammarly Premium. They may not develop their writing skills as effectively as they could.
Not 100% Accurate: While Grammarly Premium is more accurate than the free version. It is not perfect, and it can sometimes miss errors or suggest changes that are not appropriate.
Grammarly Premium cost review
Grammarly comes in two plans mainly Individual and Team. As an individual, you probably need to select individual plans. So if you look at the individual plans there are three plans the most popular one is annual. So the three individual plants are annual quarterly and monthly. If you select an annual plan, I recommend that. That is because that saves you 60% off the price when compared to a monthly plan. So the annual plan comes to about $12 every month and the monthly plan comes to $30 every month.
If you are a new beginning and want to try out you can simply choose any of these plans. You can start off with a monthly plan. This gives you a one-month off usage and sees if it's really worth your money.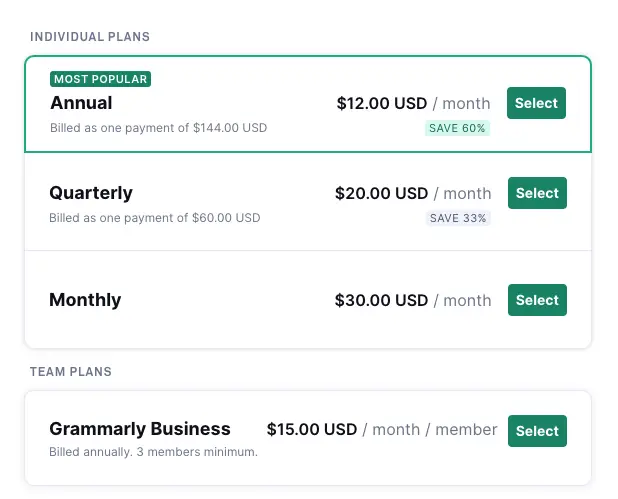 Grammarly premium plans used to come with a free 7-day trial. But nowadays that trial is only available for business plans. But even then with the individual plan if you don't like it the first day or the first week you can always contact customer service and cancel it. 
I did some research and it looks like even though you submitted a support request your request will be processed. Your plan will be canceled but you'll still be charged for the service until the end of the term you paid for. 
Review of Grammarly Premium plan features
Here are some advanced and cool features that you get with Grammarly when you use the Premium plan. I think these are a great features worth paying for if you are a serious writer.
Advanced Grammar and Spelling Checks: Grammarly Premium offers advanced grammar and spelling checks. It can catch more errors than the free version.
Clarity and Readability Enhancements: Grammarly Premium provides clarity and readability enhancements. It suggests improvements in sentence structure, word choice, and tone.
Genre-Specific Writing Style Checks: Grammarly Premium offers genre-specific writing style checks. This provides feedback on the writing style based on the user's intended audience and purpose.
Vocabulary Enhancement: Grammarly Premium offers vocabulary enhancement suggestions to improve the overall quality of the user's writing.
Plagiarism Checker: Grammarly Premium includes an advanced plagiarism checker that can detect plagiarism more effectively than the free version.
Integration with Multiple Platforms: Grammarly Premium can be integrated with various platforms. Examples are Microsoft Office, Google Docs, and other writing platforms.
Personalized Suggestions: Grammarly Premium provides personalized suggestions based on the user's writing style and tone.
Mobile Keyboard Integration: Grammarly Premium offers mobile keyboard integration. This enables users to check for errors while typing on their mobile devices.
Customer Support: Grammarly Premium users have access to a dedicated customer support team. They can help with any issues or concerns.
Conclusion of Grammarly review. Is it worth it?
In conclusion, I can say that Grammarly's free version has enough features that are good enough for everyday use. But you should try Premium if you really want to exploit Grandma's powerful checks. It comes with advanced checks such as fluency checks, full sentence checks, formatting checks phone detection, plagiarism detection, and so on 
I personally recommend you spend $12 every month and get all these powerful features. Try Grammarly today for a month and see its powerful features when it comes to correcting you're writing content and making your writing better. I recommend you subscribe to the monthly Premium plan. That way you can cancel the plan and use it for a month and see. If you subscribe to another plan. If you don't like the second month then you have to pay the entire annual term which is 12 months.
All in all, Grammarly is legit and an AI-driven advanced content checks that really make your writing stand out. Whether you're writing professionally or just writing an email to your friend, this Grammarly helps you write better. You cannot go wrong with Grammarly. Try Grammarly today and improve your writing and your content wherever you write.