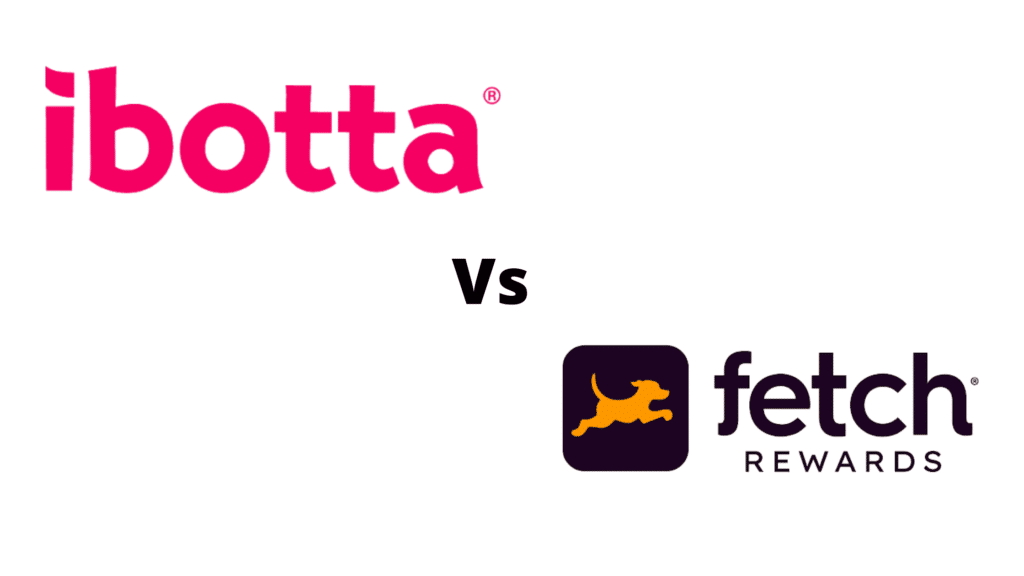 In this post, Ibotta vs Fetch Rewards, we will look at the pros and cons of both these apps. We will also do a comparison of each feature in both these cashback apps.
Ibotta which got launched in 2012 has more than 40 million users whereas Fetch Rewards which was launched later in 2017. It has around 14 million users.
Let's review both Ibotta and Fetch Rewards and compare them side-by-side.
Fetch Rewards and Ibotta is both great apps for earning cashback at popular retailers when you upload your shopping receipts.
But there are some differences between Ibotta and Fetch Rewards when it comes to how they reward you.
Whether you are shopping online or in-store, these two apps promise to give us cashback at their participating stores.
To see which app is better – Ibotta or Fetch Rewards, I have downloaded both apps and used them to upload my grocery and any shopping receipt. You can actually upload the same receipt to both apps and get points. It is like using one movie ticket to watch two movies.
Anyway, some users might not want to use both Fetch Rewards and Ibotta, it is really a headache if you have a ton of receipts.
Ibotta Vs Fetch
Both apps offer cashback on a large number of stores and the app itself is pretty easy to use. Both apps have many features in common.
Personally, I find Ibotta offers cashback on wider stores compared to Fetch. Fetch is so cute with that dog photo when you open the app. Yes, it is indeed cute so is the user experience.
Fetch is pretty straightforward and you see all the cashback offers pretty easily.
Ibotta on the other hand is so much to offer that their app has these tabs to navigate and find your stores, etc. With Ibotta you can even enter some col giveaways/sweepstakes apart from earning cashback
Let's look in more detail feature by feature for both Ibotta in Fetch. You will appreciate how much these two apps have when it comes to saving money on everyday purchases.
Ibotta vs Fetch – Sign-up process
Signing up for Fetch Rewards is a little easier than Ibotta. With Ibotta, you have to enter your name, address, email, etc… by yourself. Fetch Rewards sign-up is simple. All you need to do is sign up using your Google or Facebook account.
Ibotta sign-up is easy too and you can use an Ibotta referral code to get a sign-up bonus. Just like Ibotta, Fetch Rewards also has a sign-up bonus for new users.
When you sign up for Fetch Rewards you get a $2 bonus. In the case of Ibotta, the new user sign-up bonus is $10. Read my complete guide on how to sign-up for Fetch Rewards where you will learn how to enter the referral code on Fetch Rewards.
Redeeming points (Fetch Rewards wins here)
When I started using Ibotta, I earned points for my grocery receipts. But soon I realized that the items that I bought at the store or online were not eligible for points. I can't complain because I still earned 100 to 200 points for every receipt I uploaded.
With Fetch Rewards, I loved the app instantly. It is not that is easier than Ibotta, it is the points system. I quickly was able to stack points with any receipt. Be it a gas receipt or a USPS receipt. A few points here and there were added up.
As soon I reached 3000 pints which are worth $3, I was able to redeem them. With Ibotta, it takes you time to reach the $20 minimum threshold for redeeming gifts.
A $3 gift card at GAP that I can redeem using Fetch Rewards 3000 points might not make sense. But if you think of it in the long run like I get two $3 e-gift cards for GAP. Now I have $6 and I don't have to wait long to realize my cashback earnings.
Scanning Receipts
Scanning receipt is the main feature of both Ibotta and Fetch Rewards. Receipt scanning in Fetch Rewards is easier than in Ibotta.
In Ibotta, you have to add offers first and then scan your receipts. This way when it scans your receipt it can identify the offers that you have marked beforehand.
In Fetch Rewards, you can blindly scan any receipts that you have. It scans and finds any point offers such as double points or extra items for any eligible items. Depending on the offer that is active at that time, it will automatically reward you with extra points.
Number of participating stores – Ibotta and Fetch Rewards both win
Both apps have a significant number of stores apart from popular grocery and online retail stores. Both Ibotta and Fetch Rewards have a variety of popular stores listed in the app.
Special promotions
Ibotta has matured since it is launched many many years back. There is no surprise that Ibotta frequently comes up with creative ways users can earn more points.
For example, take Valentine's day that comes every year. Ibotta introduces special deals around that time. You get 20% cashback when you buy flowers from online stores.
It also offers its users prizes where they can participate in giveaways. I think it all comes from their strong presence on social media such as Facebook, Twitter, and Instagram. Tag Ibotta and you can win prizes.
Flexibility
With Ibotta you have the flexibility to use their browser extension in addition to using the mobile app. This browser extension is very useful when you shop online. Whenever you shop online, this Ibotta browser extension will alert you when it finds an opportunity to earn cash back at the online site where you are shopping.
Fetch Rewards does not have a similar browser extension for its users. This is another thing to consider when you are thinking about which app to choose.
What you can do instead is pick the app that offers cash back at stores that you go to frequently. That way you can get the most benefit in a few steps. Let's look at the features of both Ibotta and Fetch Rewards and see how they compare.
Ibotta Vs Fetch – Feature comparison
| | | |
| --- | --- | --- |
| Feature | Fetch | Ibotta |
| Sign-up bonus | $2 (2000 points) + $1 welcome bonus after 1st receipt upload | $10 Plus $20 welcome bonus |
| Supported devices | Mobile-only (iOS and Android) | Available for both Mobile (iOS and Android) and browser add-ons (Chrome and Firefox) |
| Cashback for receipts | Online, in-store purchases, and any type of purchase. | Both online and in-store purchases. Not exclusively for groceries. |
| Redeeming rewards | e-gift cards | |
| Cashback for Amazon.com purchases | Yes | Yes |
| Reward points expiration policy | Expires after 90 days of account inactivity. | No expiration date. (account maintenance fees apply. Read more here.) |
| Minimum to Cashout | 3000 points or $3 | $20 |
Fetch Rewards vs Ibotta – differences, and similarities
Ibotta vs Fetch – Pros and Cons
Let's look at the pros and cons of the Ibotta and Fetch Rewards apps to get the overall picture. This will help you decide which one is the best app for you.
As you can see both cashback apps have good pros and are difficult to pick now. But once you read the cons, you will get some help in picking the one and making a decision.
Ibotta Pro and Cons
Pros
Higher sign-up bonus of $10
Prizes, giveaways opportunities for earning more money.
You can link your shopping loyalty card to automatically get your cashback.
Huge retailer base
Paypal option to redeem your reward
Cons
The minimum threshold for cash out is $20
Sometimes, it will take days to verify your purchases before a cashback reward is added to your account.
Only major and popular store purchases are eligible for earning cashback points.
You need to add items in the app before you go shopping Your eligible items are then identified from the list you added.
Fetch Rewards Pros and Cons
Pros
Points are earned and added to your account instantly.
Huge selection of e-gift cards from popular stores.
Shop and scan receipts. No need to add items to the app beforehand. Your eligible items are identified automatically during the receipts scanning process.
Cons
No Paypal option to redeem instant cash as a reward.
Your earned points will expire after 90 days. You must redeem your points or else you will lose all of them after that 90-day period.
Can you use Fetch and Ibotta at the same time?
Well, you can use Fetch and Ibotta at the same time. Here's how you can use and get both app cashback for the same receipt. First, get your receipt and open both apps and scan both receipts.
One thing to make sure that you are using a valid receipt and if it is valid, you will get points n both Fetch Rewards and Ibotta.
How do Fetch Rewards work?
Fetch Rewards gives you points for every shopping receipt you submit with the app. You will earn at least 25 points for each uploaded receipt. You can do your usual shopping at grocery/supermarkets, wholesale club stores, hardware, pet stores, gas stations, and convenience stores. When you buy participating items and complete special offers, also get a snap bonus.
Once you reach a minimum of $3, you can redeem it for e-gift cards from popular stores such as Gap, Macy's, Walmart, etc…
You can read more about my detailed Fetch Rewards app review.
How does Ibotta work actually?
Ibotta is a point rewards app that rewards you with points for uploading e-receipt or physical receipts, just like the Fetch Rewards app. Apart from uploading receipts, you can also earn more points when you install the Ibotta browser extension.
You can download an extension for Google Chrome. If you are using the Microsoft Edge browser, you can find instructions on how to install it here. An extension for Firefox is no longer available since February 2022.
Read my detailed post on the Ibotta referral code which answers the most frequently asked questions and a detailed review of its features.
Is Ibotta better than Fetch Rewards?
Based on what we reviewed about both these apps' features and the convenience to use the app, I can personally vouch for the Fetch Rewards app. The app looks good, is easy to use, and most importantly the points stack up quickly and it is easy to redeem at the $3 level.
Conclusion
In conclusion, I can say that Fetch Rewards has a nice easy-to-use app whereas Ibotta is a little clumsy in my opinion. Also, Fetch Rewards is a pretty limited and straightforward list of products that a user might expect.
Also, Ibotta is more comprehensive than Fetch Rewards in the send that Ibotta has a wide range of products and stores. It has lots of other ways to earn like sweepstakes.
Nevertheless, I would say both apps are good for earning points for receipts. You can try both of them and see how you feel about yourself. Ibotta vs Fetch is no longer a dilemma. Now you should know everything to make an easier choice.
Now that we compared Fetch Rewards against Ibotta, both seem to have great features.
If you wondering if you can use both Ibotta and Fetch Rewards apps for more benefits, the answer is yes. Scan the receipt in both apps and get points both ways. It is a matter of preference. Some may not like to do it twice or maybe you tend to forget to use one app and so on.
I would recommend reading my post on Fetch Rewards Alternative to see other cashback apps that might interest you to save even more money.
If you want to save more apart from using these two apps, consider, Upside which gives cashback for buying gas at the gas station. Read my full review of the Upside app.
Also, consider the Fluz app which offers similar cash back for shopping. You don't upload receipts but you use the app's built-in e-gift generator to buy a gift card and use it for your shopping. You can a percentage of cashback when you shop this way. Read my detailed review of the Fluz app.