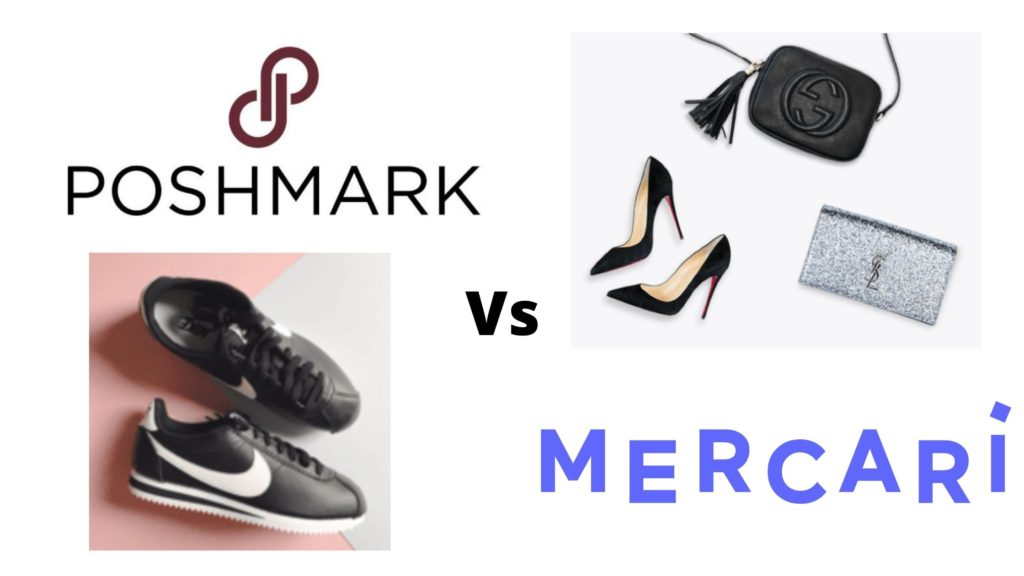 If you have a dilemma about whether to choose Mercari or Poshmark, you can come to the right place. In this post, we will take a look at Poshmark Vs Mercari for selling your items and look at their pros and cons.
I will break down the differences between selling on Poshmark Vs Mercari. This will help decide between the two and make a clear choice.
Mercari Vs Poshmark – Feature comparison
Poshmark and Mercari both are free apps for you to download and free to list your items. Simply snap a picture using the app, give it a description, name your price and just upload it. You are all set!
Fees
Poshmark
Mercari
When your item sells, Poshmark takes a small fee from the final order price. When you sell items For under $15, they take a flat fee of $2.95. For items sold above $15, the fee is 20% and you keep 80% of your earnings.

Mercari processing fee:

It charges you a 2.9% + $0.30 payment Mercari processing fee for sellers on all completed transactions, depending on the sold price.
Shipping Cost
Poshmark
Mercari
You pay a flat shipping rate of $7.49 no matter how much your item weighs.
You will be shown a separate shipping page during your listing process. You will select the shipping career, and weight of your item, and then the shipping rate will be shown to you.
Mercari partners with major shipping carriers such as FedEx, USPS, and UPS to give you discounted shipping rates.
7 Awesome Ways To Save Money Shopping Online
Payouts
| Poshmark | Mercari |
| --- | --- |
| Payouts are very easy. Your payment is processed as soon as a sale is made. The buyer has 3 days to accept the item and after that Poshmark pays the money to you. | You are paid until the buyer receives your item and then accepts your mailed item. That could mean many days of waiting for you to see the cash in your account. |
Sharing
| Poshmark | Mercari |
| --- | --- |
| Poshmark is a social network where you can like and comment on a listing. You can share with other sellers and collaborate. | Mercari has no social sharing feature. Once you list your item it is lost in other people's listings. Your listing won't show up at the top of search results unless your item is listed at a lower price. |
Free Cash App Referral Code: HXMJDLC [Upto $15 sign-up bonus]
Selling on Poshmark Vs Mercari – Unique Features
There are unique advantages that Poshmark Vs Mercari have which complement them in different ways. Let's look at them now.
Poshmark unique features
It has a social media marketing advantage.
No returns but shipping is so easy.
Poshmark Ambassador upgrade if you sell and meet certain criteria
Mercari unique features
You can have private chats with buyers
If a buyer likes your item, Mercari sends out promotions to lure them. This will rank your listing higher and increase the chances of it getting sold.
Low commission of 10%
GetUpside Vs GasBuddy – Which one is the best gas app?
Conclusion – Poshmark Vs Mercari
Poshmark is good especially if you are selling fashion and clothing items. Go for Mercari if you are selling other items in addition to these item categories.
Mercari allows you to list a wide category of items, unlike Poshmark which focuses only on high-end and luxury items.
You might also be interested in these posts:
Uber Eats $50 Off Promo Code For Existing And New Users!
Discount Code for Wayfair – How to get 5% off your entire order
Ibotta Vs Fetch: Which App Is Better? [Pros and Cons Explained]
Get the Fluz app today and earn big cashback on online and offline shopping!