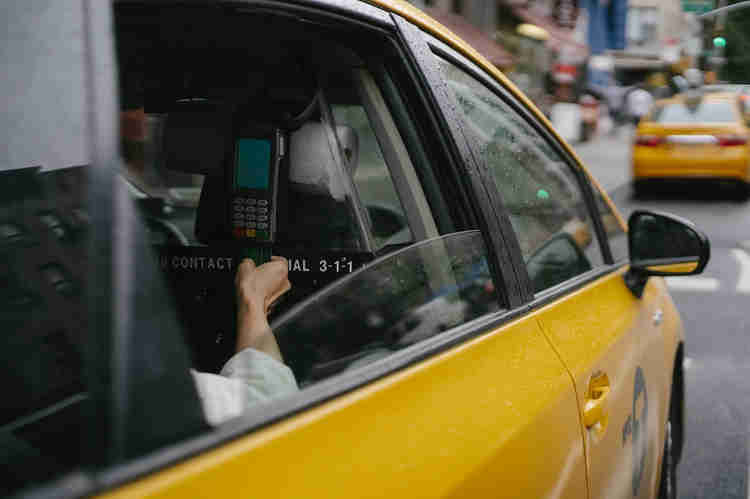 In this post, we will learn all about the Costco gas rewards program for cash back on gasoline. There are other cash-back rewards programs that you can combine to get bigger discounts on gas rewards that Costco offers.
Read more and get the details on Costco-eligible gas stations for cash back rewards. I will answer the question many have as to whether the Upside app works well with Costco rewards. Read more about this fuel cash back and find out the answer.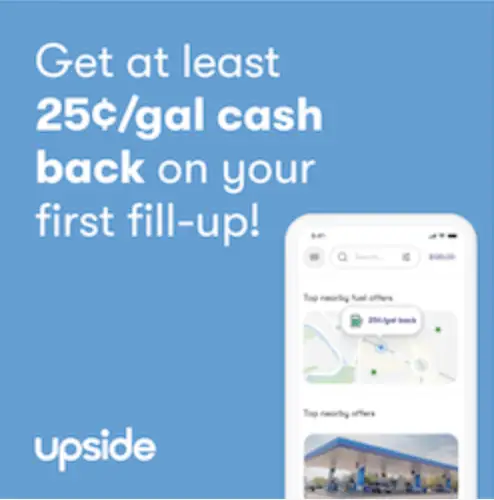 Costco gas rewards program
Costco offers its members a cash-back gas rewards program. This program is called "Costco Gasoline Cash Back Rewards".
You need to apply for a credit card called Costco Anywhere Visa Cards by Citi. You can use this card at any gasoline station in the US.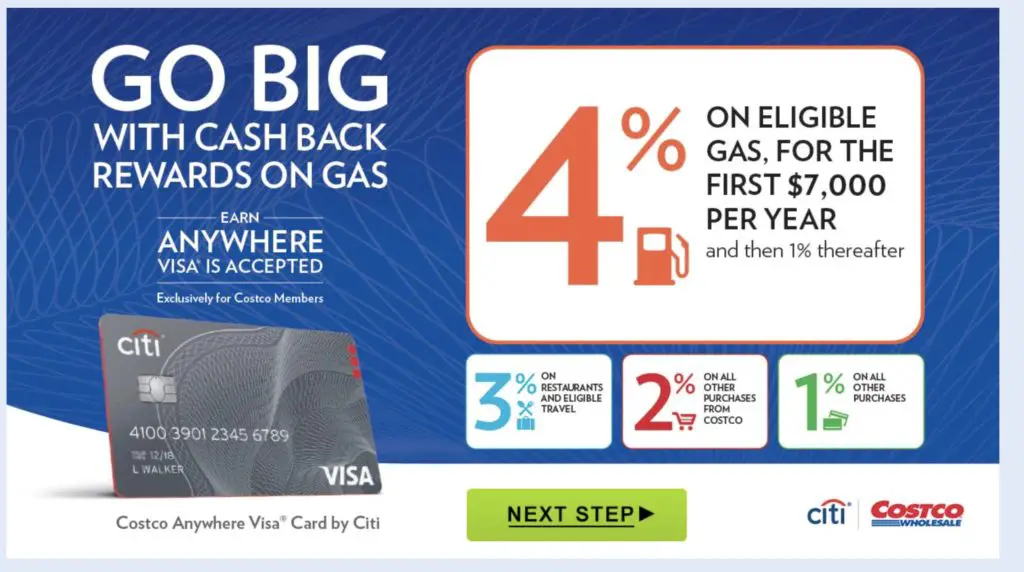 Costco gas rewards program comes with good benefits such as earning a 4% cash back on gasoline purchases for up to $7000 per year, and a 3% cash back on restaurants and travel. It also rewards you with 2% on purchases at Costco, and 1% on all other purchases. That is better than Sams Club gas rewards which only give you cashback up to a $6,000 annual cap, then 1 percent thereafter.
The fuel and food cashback rewards or discount programs at Costco are very low compared to other cashback apps for food delivery drivers. You will see why at the end of this post and a better gas rewards program that you will be glad to get to know.
Is a Costco Executive Membership Worth It For Gas Rewards?
The Executive membership is $120 which is double that of a regular membership yearly fee of $60. The only benefit of this executive membership is that you get 2% gas cash back on eligible purchases at the Costco store, their website, and Costco Travel.
An important point to note is that gas purchases are not eligible for this 2% cashback. That's a bad deal when you pay such a high price for a Costco membership and don't cash back on essential items like gas.
I don't care about other items that are not eligible for 2% cashback such as alcohol and tobacco products. They are bad for your health anyway.
Read along and I will show how a free app like Upside can earn you cash back on gas and it is 100% free!
Coming to the membership fee, you have to spend $6000 in a year to get back your $120 membership fee (2% of $6000 is $120). Not worth it.
Do you get Costco rewards points for gas?
When you use Costco rewards for gas you may be wondering if you can earn points. You don't earn points for this but you get good cashback as mentioned in the previous section.
Costco gas rewards program
1) Very low savings at the end of the year
Costco fuel rewards, which give you a 4% cash back on gas will get you $120 every year. An average customer in the US buys around 700 gallons every year. If you do the math,$3 per gallon, is $2100 per year for the money spent. Using this card will get you around $75 in savings. That is not worth it given the following difficulties getting Costco gas as mentioned in this post.
With such small savings, why go the extra mile just to have small cashback earnings? If there is a way to earn even more, you should know it. That is exactly my poi
2) There are better and free alternatives
A better alternative to Costco rewards is to use a free cashback app like Upside to save even more. Here's how users save an average of $350 to $500 per year per vehicle! This app gives you 10 to 25 cents cashback per gallon of gas at most locations in the US. Read my review of the Upside app.
Even if you are only going to Costco using your own credit/debit card, you get a saving of 10 cents. This is lower than what this free app gives you which is an average savings of 20 cents per gallon! Download this today using this promo link and get an extra 20 cents per gallon bonus on your first purchase! There are other similar apps like Gas Buddy. You need the best offer when it comes to cashback and you need to get cashback with less hassle. I have explained why Upside is better than GasBuddy.
3) Why carry a Costco credit card?
Are you not tired of another card in your wallet? Another credit card statement to look forward to. Another hassle of scheduling payments when you already have other points credit cards that you can use instead anyway. I use American Express and I earn 2000 points on average every month which is worth around $30! So why do you need another card – really? Havings too many cards is neither good nor bad. That many cards only make your life complicated.
GetUpside is the same as Upside. Just the name has changed but everything else remains the same
Does GetUpside work at Costco?
GetUpside does not work at Costco but here's what you can do to save money on gas. You can get 4% cash back on gas purchases up to $7000 worth of purchases every year when you use the Costco Visa card! Apply today for this card and start saving at Costco gas stations.
Even I was recently wondering if I can use the Upside app with Costco rewards. So, I went ahead and search for gas stations near my area where there is a fuel station. But to my surprise, the Costco gas station did not show up in the Upside app. This confirms that the gas station does not participate in the Upside discount program.
So, if you want to save gas at Costco, use your rewards card but you cannot combine that with Upside because Upside does not offer discounts at those gas stations. Maybe they might partner with them in the future. Be sure to go to your Costco gasoline station and ask this question in person for a real answer.
Does Upside work at Sams Club or Costco?
Upside does not work at Sams Club or Costco. Here's why.
Sams Club and Upside are two different reward systems. If you somehow managed to redeem a cashback offer on both, the Upside program will deduct the offer that you got from SamsClub and reward you with the remaining cashback.
For example, if you earned 5 cents off per gallon at Sams Club, you will then get 5 cents per gallon at Upside even though Upside says 10 cents discount. This is because Upside deducted the 5 cents cashback that you got from Sams Club. This is my guess because that is how it worked when tried to use both Shell 5 cents off and the Upside app for the same gas purchase.
The Upside app will not even show Sams Club gas stations on the app.
Do you get cash back on Costco gas rewards?
Yes, you can get cash back on Costco gas. Here's how you can get it. Simply apply for a "Costco Gasoline Cash Back Rewards" visa card. When you use this card, you earn 4% cash back on gas purchases up to $7000 worth of purchases every year!
Do you need a membership for Costco gas rewards?
You don't need a Costco membership card to buy at a Costco gas station. YOu can pay with the Costco Shop card (Costco gift card).
Costco Shop Cards are available for purchase with cash or check inside the warehouse. Costco Shop Cards may only be purchased or recharged by members, but with assistance from an attendant to first authorize the pump, anyone can use a Costco Shop Card to pay for fuel.

source: https://www.costco.com/gasoline-q-and-a.html
Conclusion
In conclusion, Costco gas rewards will save you money but you can use my tip to save even more. Also, the three reasons would help you understand why the Costo rewards program for gas is good but not the best.
My tip for a better way such as using the Upside cashback app which users use and save at least $500 a year. No other apps can beat that.
Some drivers use their Costco gas rewards card or Gas Buddy and apps like Upside and get the highest savings. Get creative and see if it works for you this way.
Bonus tip! – Earn up to $50/month in cashback for using these two apps – Fluz and Fetch Rewards. That's dinner for two, for free!