In this post, I will show you what are Costco eligible for gas stations. You will also learn a tip to maximize savings at those gas stations.
Even if a Costco gas station is very far away don't worry. You can now save the same or more money at any nearby gas station. Read more about this helpful tip when you are searching for a gas station for your next fill-up.
Costco-eligible gas stations for getting cash back rewards
You can find the participating Costco-eligible gas stations, hours, and locations that give you cash back rewards. You will get all the information about your nearest eligible gas station locations and hours and when they are open. Here is how you will search for your nearest Costco gas station.
Select the "Gas Station" filters shown in the image below to get Costco-eligible gas stations.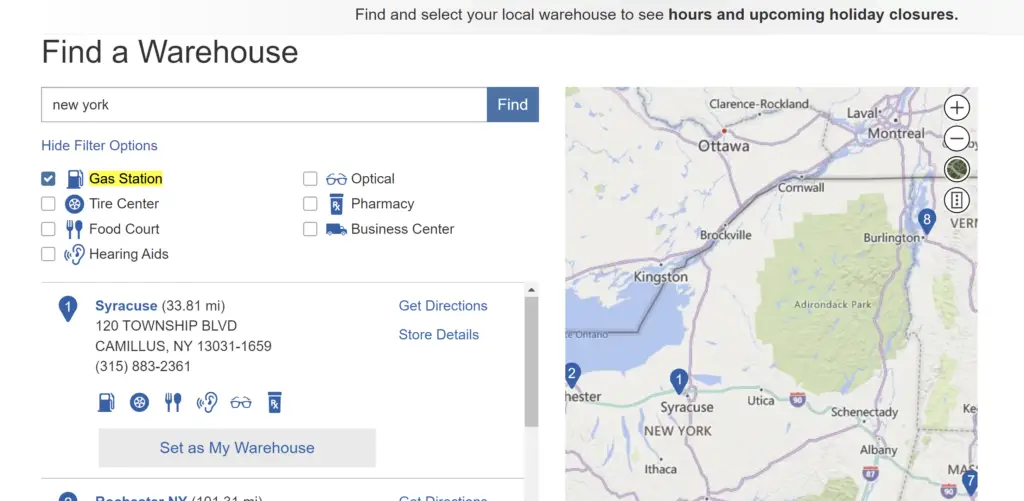 Can I use Costco Citi credit card at other gas stations and get cash back rewards?
The Costco Anywhere Visa® Card by Citi offers 4% cash back reward on eligible gas worldwide, including gas at Costco, for the first $7,000 per year in gas purchases and then 1% after that. Eligible gas stations include those that are independently owned and operated, as well as those that are part of a larger chain.
This is a great way to earn cash back rewards on gas. To find eligible gas stations, you can use the Costco Anywhere Visa® Card on Citi's website or mobile app. The app allows you to search for gas stations by location and filter your results by price, brand, and other factors.
Here are some examples of Costco credit card-eligible gas stations:
76
Chevron
Exxon
Mobil
Shell
Valero
If you are a Costco member and you are looking for a way to save money on gas, the Costco Anywhere Visa® Card by Citi is a great option. The card offers 4% cash back on eligible gas worldwide, including gas at Costco. This can save you significant money on your annual gas bill.
In addition to the 4% cash back on gas, the Costco Anywhere Visa® Card by Citi also offers 3% cash back on dining and travel, and 2% cash back on all other purchases. This makes it a great all-around card for Costco members.
Tips on saving money when filling gas at Costco gas stations
Costco gas station is slightly different from your regular gas station. Following some tips can help you save time and money when buying at a Costco-eligible gasoline station using a Costco credit card.
One good thing about Costco cash-back gas stations is that you can pull your car on any side of your tank because they have a one-way traffic lane. When you get to the gas pump, the long pumps are easy to extend to both sides of your vehicle.
Keep your Costco card ready well in advance. This is because you need to first insert your membership card and then your Visa credit or debit card.
It offers only one grade of fuel which they call Top Tier gas. This is about or even better than the regular-grade gas that you buy at other fuel stations.
As a new or existing member, you can buy gasoline at Costco Gas station locations. You can find one near you by typing your zip code. Some tips on how to get gas with a good deal. Check the cheapest price and go there to save more.
If you don't find a cheap price anywhere nearby your area, then, please check the Upside app which is even better than Costco when you want to buy gasoline other than at Costco gas stations in the US.
Conclusion
One thing to note is that prices around Costco gas stations are 20 to 30 cents higher. So, if you are a Costco member, join and save more. If you don't have Costco gas stations nearby, the other ways to save on gas that are worth looking into. That way you will stack up even more rewards other than Costco cash back rewards.
Related post: