Costco and Sam's club are both great club stores that offer a variety of quality products at discounted prices. I will compare Costco and Sam's Club and guide you to which one is better for shopping.
I am a regular Sam's Club shopper and I love shopping there online to save money. But then there is Costco not very far from Sams Club. I have always wanted to explore what would it be like to shop at Costco.
So I took a mission to find out what the things that Costco would offer that Sam's Club won't. Also, what are the differences and similarities between the two?
I was also curious why some people are so adamant about Costco even though there is nothing wrong with Sam's Club which offers great money-saving products too.
Let's jump and see what I find about Costco and Sams Club and why each one is special in its own way.
I will also give my opinion for each category of products they have and share the winner in each of those categories. Hope this will help you decide which shopping store is better suited for you.
Sams Club Vs Costco – membership fees comparison
Of course, the first thing we think of before joining Sams Club or Costco is the fees. Well, Costco and Sams Club both offer membership options.
Costco offers two membership options – "Everyday Value Gold Star" and "2% Annual Reward Executive"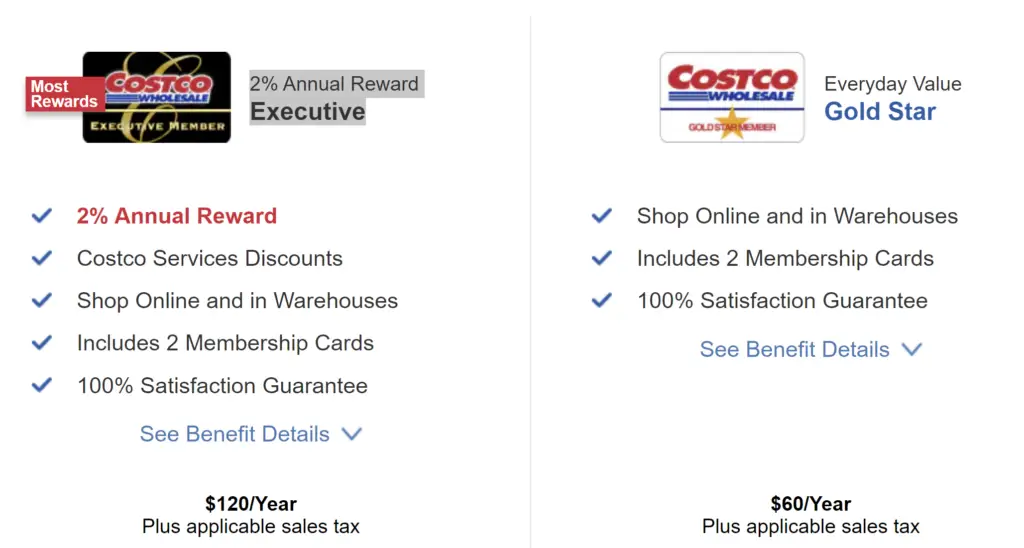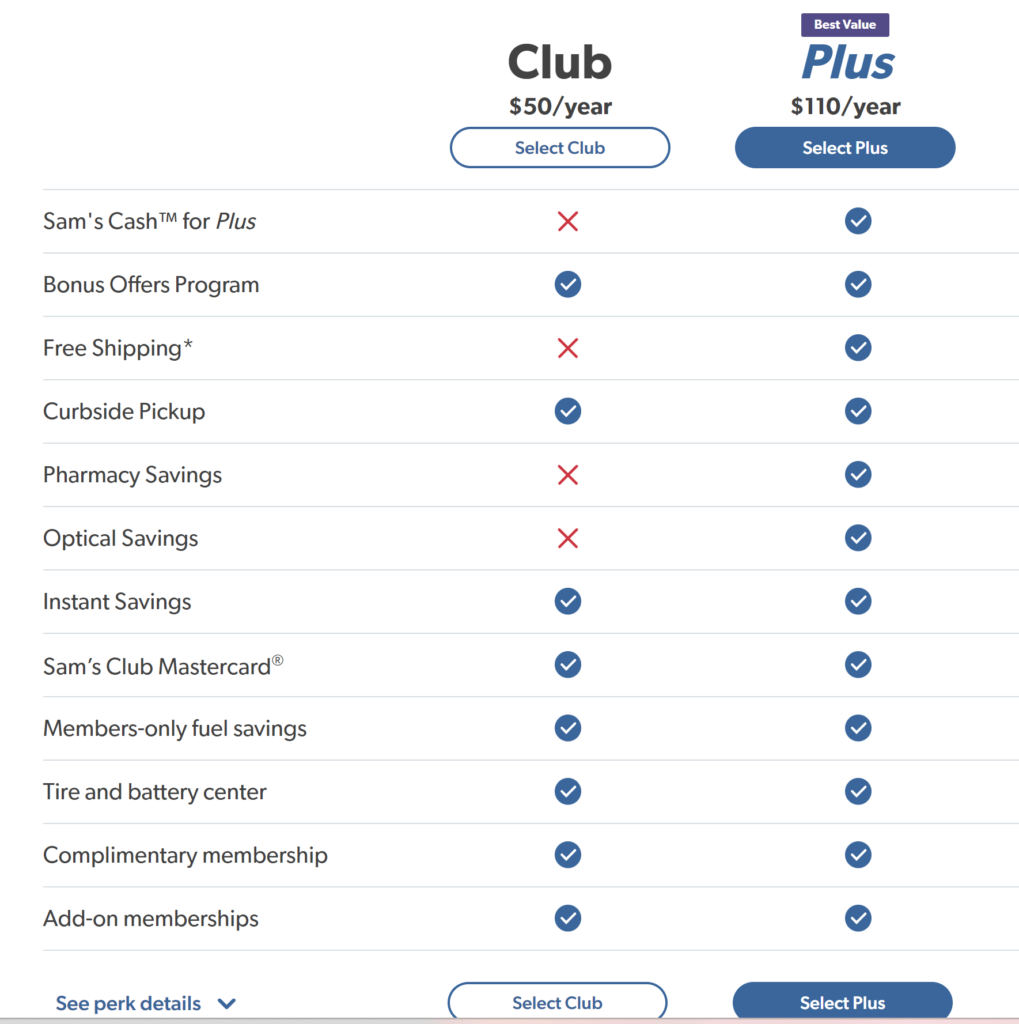 As you can see Sams club membership fees come in two, membership options. You can choose the basic club membership for $55/year or the Plus membership for $110/year.
Sams club is clearly cheaper than Costco. But you should consider other factors too apart from this price comparison. Let's see other categories o how these stores compare against each other.
Travel discounts – Costco wins here
Costco has its own Costco travel site which gives you discounted prices on vacation packages. If you are an avid traveler who likes to go to the Caribbean or the Bahamas, do check out their travel site.
Just browse as a guest and see the prices they have and you will see they have some unique vacation packages.
Sams Club on other hand does not offer vacation packages. They offer only discounted tickets to popular destinations such Grand Canyon bus tour. Discounts on movie tickets, ski resorts, hotels, and things like that.
Let's now compare the products and the brands which is of course the main reason we shop. These are things we regularly shop for. So let's see which is better Costco or Sams Club.
So far the products I have bought at Sams Club have been of pretty good quality. Their breakfast biscuit "Belvita" is the one I always buy. It tastes great and the price is lower of course since it is a big size with 20 Belvita packets!
Products and brands -Costco or Sam's Club?
Costco is the winner here. Costco cares about the quality of products to an extent that they have cut back on some items.
They sell "Kirkland" brands and they are quite good in quality.
One thing that differentiates Costco from Sam's club I the wine/alcohol products. They sell wine online at Sam's club.
Many say items sold at Costco are better quality than Sams club. But personally, I did not have any problems with the products that I bought at Sams club.
Gasoline
Both Sam's Club and Costco have gas stations. You can always save on gas at other places too.
Sam's Club offers regular, premium, and diesel gas. It accepts most major forms of payments are accepted. You can apply for Sam's Club MasterCard which pays 5 % cashback up to a $6,000 annual cap, then 1 percent thereafter.
Costco only sells Top Tier Gas and cash is not accepted. You can pay only using a Visa credit card. You can apply and get the Costco Visa credit card, which pays 4 % back on gas purchases up to $7,000 per year, then drops to 1 %.
How long are they open? Sams Club is the winner here
Both Costco and Sam's club have pretty much the same hours of operation. Sam's Club opens the store a little early and stays open a little late.
Costco's hours of operation
Mon-Fri. 10:00AM – 08:30PM
Sat. 09:30AM – 06:00PM
Sun. 10:00AM – 06:00PM
One difference when it comes to store hours is that Sam's club opens up early for Plus members.
Plus membership early hours
Mon-Fri8:00 am – 10:00 am
Sat8:00 am – 9:00 am
Sams club hours of operation
| | |
| --- | --- |
| Mon-Fri | 10:00 am – 8:00 pm |
| Sat | 9:00 am – 8:00 pm |
| Sun | 10:00 am – 6:00 pm |
Opticals and pharmacy – both win here
Both Sam's Club and Costco have optical and pharmacy. So both win here.
Conclusion
In conclusion, both Costco and Sam's Club offer a wide range of products at great discount prices. You should pick Costco if you are a money-saving person and also would like discounts on travel packages. Also, it is good for gas purchases for saving extra money.
Sam's club is good if you focus only on money-saving products and are quite happy with everyday products. It does not offer international vacation packages at a discounted price.