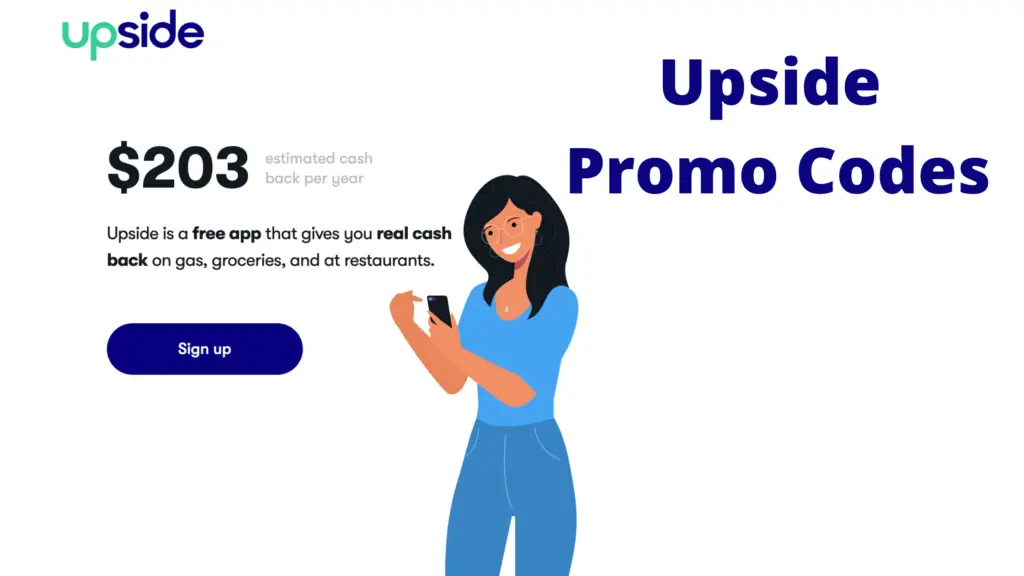 You can use the Upside app promo code CASHBACK25 and get a 25¢/gal bonus on your first fill-up. Let's see how to enter this code, how much discount you can save, and how the app works.
Money-saving tip: Save money with the best-rated Dosh cash-back app! Get a $10 sign-up bonus when you join today!
What is Upside?
Upside is a free app for mobile. Upside gives you cashback on your gas purchases. You can get discounts anywhere from 5¢/gal to 25¢/gal every time you fill the gas for your vehicle.
Read my post on how the Upside app works to get an understanding of what you can expect from using this app.
Upside promo code list – 2023
The table below shows a list of Upside codes that works. Some codes expire soon and some don't have an expiry date. So, start with the promo code CASHBACK25.
| Upside Promo Code | Discount |
| --- | --- |
| CASHBACK25 | 25¢/gal off (never expires) |
| CASHBACK20 | 20¢/gal off (never expires) |
| COMEBACK6 | 6¢/gal off |
| 7CENTBONUS | 7¢/gal off |
| GOPUFF35 | 35¢/gal off on your next 2 purchases |
| AMEX35 | 35¢/gal off on your next 2 purchases |
| shoppers35 | 35¢/gal off |
| COMEBACK6 | 6¢/gal off |
| AMEX25 | 25¢/gal off |
Upside app promo codes
Open the Upside app and select an Upside participating gas station and click claim offer and confirm the credit or debit card that you will be used to pay for your gas. Then fill up your gas and your cashback will be deposited in your account within a day or two.
Every time you buy gas, simply use the Upside app to earn your cashback. No receipt upload is needed and you can save with more promo codes that come every now and then.
An Upside promo code is a combination of letters and numbers only. For example, the promo code CASHBACK25 is an alphanumeric code and it has alphabets and numbers. You can enter this code in uppercase or lowercase – it works both ways and is case-insensitive.
What is the best Upside promo code for new users?
You should use the best Upside promo code CASHBACK25 gives you an extra 25¢/gal bonus discount on your first purchase. This offer is for both new and existing users of Upside.
By the way, these promo codes do not expire and the bonus offer is applied instantly once you enter it in the Upside app. You can use a promo code and redeem it only once. It cannot be used again.
Appling a promo code
Redeeming a promo code is very easy. Just enter the promo code in the Upside app by going to your profile and putting it there.
What if an Upside promo code doesn't work?
If an Upside promo code did not work for you, there are many reasons why it didn't work in the Upside app. But to fix this, you can find out the answers here. But, if you wish to contact Upside, please see this post on how to contact Upside.
Will I save more on gas using Promo Codes?
Yes, you will save hundreds on gas every year using promo codes alone for Upside. Start with the Upside promo code CASHBACK25 and then open the Upside app to get the referral code. Pass it to your friends and you will keep earning bonuses more frequently. These bonuses add up and you will see that you have saved hundreds at the end of each year!
Using this legit app you can earn your cashback when you purchase gas at more than 15,000 gas stations across the United States. You can save hundreds every year. If you have to travel right now, use this app to get save money on gas and find cheap gas prices when you fill up gas at gas pumps.
Upside Gas App fact: Your Upside cashback earnings are tax-free!
Is Upside App Safe To Use?
Certainly, the Upside app is completely safe to use this app. That is, your credit card and personal information are totally secured and not shared with anyone.
How much savings can you expect?
The average cashback reported by Upside users is $400 and in some cases where you have more than one vehicle, the savings double or triple depending on how many vehicles tour own. That means with these Upside discount promo codes, you are on your way to earning thousands every year in cashback guys!
Where else can I find more Upside promo codes?
If you want more promo codes, you can find them in the Upside promo code Facebook group, or Google search, or come visit this post often. I update promo codes frequently as soon as I find something.
Conclusion
In conclusion, redeeming promo codes in the Upside app is a great way to boost your cashback on your next gas purchase.
Make sure you maximum cashback with Upside by filling your tank when it is fully empty if possible. That way you fill more gallons and thereby get more cashback per gallon.
You can also check out the Uber Eats Promo Codes and get $50 off or more.
Check out this referral code for the Cash app and the referral code for Dosh for a free sign-up bonus when you join today.