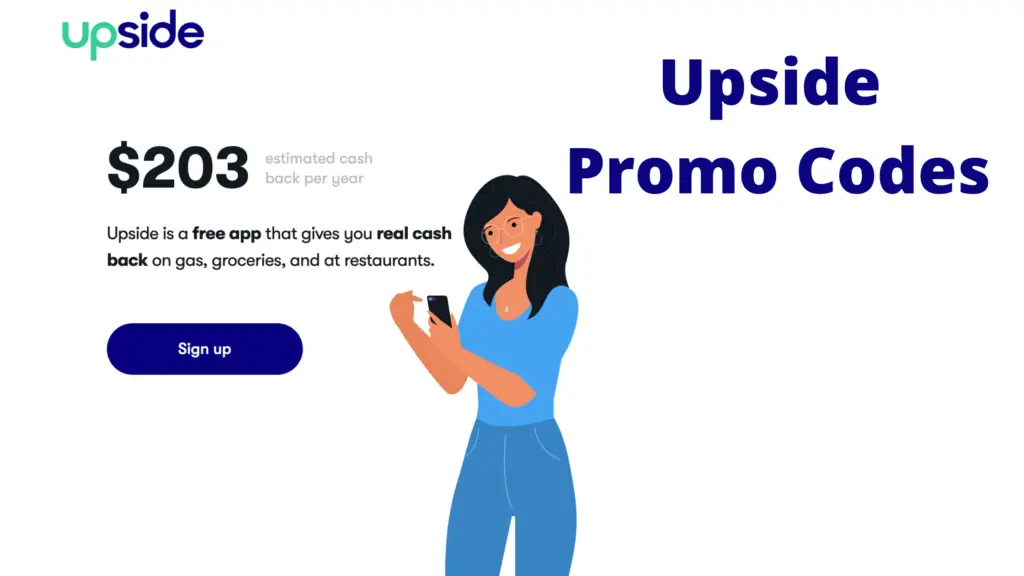 We have a complete list of Upside app promo codes for the year 2023 that you can use right away. But, if you are in a hurry then use the Upside promo code CASHBACK25 which is valid for new users as of May 2023. This code gives you a 25¢/gal bonus on your next gas fill-up.
So, let's explore more promo codes in this post. Earning cash back rewards with Upside is as easy as filling up your gas tank.
Also, for starters who try these promo codes for the first time, take a look at participating gas stations in the US where you can save money on gas using Upside.
Upside is one of the must-have apps mentioned in my post frugality tips to save more money.
Upside promo code for existing users for 2023
Existing users can use the promo code CASHBACK25 and get a 25¢/gal bonus on their next cashback in the Upside app.
You should also try more codes listed below to stack up even more bonuses.
List of Upside promo codes – 2023
The table below shows a list of promo codes that work for existing users for the year 2023. Apply the codes in the table below and redeem an additional bonus.
Therefore, you can enter these Upside promo codes one by one to stack up the discount and earn more cash back. money.
| Promo Code | Discount |
| --- | --- |
| CASHBACK3285 | $11 welcome bonus |
| CASHBACK25 | 25¢/gal bonus on your next gas fill-up |
| CASHBACK20 | 20¢/gal off (never expires) |
| COMEBACK6 | 6¢/gal off |
| 7CENTBONUS | 7¢/gal off |
| GOPUFF35 | 35¢/gal off on your next 2 purchases |
| AMEX35 | 35¢/gal off on your next 2 purchases |
| shoppers35 | 35¢/gal off |
| COMEBACK6 | 6¢/gal off |
| AMEX25 | 25¢/gal off |
| WPCODE | Earn Up To 45¢/gal Cash Back On Your Next Fill-up |
| AFF25 | 25¢/gal off |
| FALL25 | 25¢/gal off |
| REN20 | 20¢/gal off |
| Perksatwork230 | 30¢/gal off on your next 2 purchases |
How do I enter a promo code on the Upside app
To apply an Upside promo code, follow the steps below.
First, open the Upside app and make sure you are logged in.
Then, tap on the Profile at the top right.
Select the Profile from the menu
Tap on "Edit"
Now, enter one of the Upside promo codes.
Finally, hit the Done key
Remember that you can enter only one code at a time when following the above steps.
Upside promo code
Upside promo code is a combination of letters and numbers only. For example, the promo code CASHBACK25 for the year 2023 is an alphanumeric code and it has alphabets and numbers. You can enter this code in uppercase or lowercase – it works both ways and is case-insensitive.
What is Upside?
Upside is a free cash-back app that gives you cash back on gas purchases. Using this cashback app, you can earn cash back on groceries and restaurant purchases by using this same app.
As a result, it is one of the best cash-back apps out there and it is my favorite. Because of this, I have personally earned cash back over the past few years. Moreover, I have created a post on Upside app review where I share my experience of using this app.
Frequently asked questions
What is the Upside app promo code for May 2023?
The valid Upside promo code for May 2023 is CASHBACK25 which gives you an extra 25¢/gal cash back bonus on your next fuel fill-up.
Is there a promo code for GetUpside?
Yes. Use the promo code CASHBACK25 in your GetUpsie app and get an extra 25¢/gal bonus on your next purchase.
Also, you should know that GetUpside and Upside are both the same app. You can read about on their name got changed from GetUpside to Upside in 2022.
Can you stack Upside promo codes?
Yes, you can redeem as many codes as you can find and apply them in the Upside app. Apply the codes one by one and stack up the bonus cash back.
Follow the steps above in this post to enter the code. When you enter one code at a time, you will see the bonus accumulating which you can check on your app's main screen.
Will my cashback money in Upside expire after some time?
The cashback that you have earned using the Upside will remain in your account as long as you are using the app at least once in a consecutive 6-month period.
If you did not earn any cashback within 6 months, your account will be considered inactive. Any money that you have in your account thus far will expire.
Is it safe to transfer money from Upside to my bank account?
Yes, it is totally safe to transfer your cashback money from Upside to your bank account.
When you log in to your bank account in the Upside app, the login information is kept secure. Hence, Upside does not have access to his information. You are logging in to your bank account using a secure third-party application called Plaid.
After that, you have set up your bank account, you can redeem your cashback money in the app to your account. It will be processed and you will get your money in 2 to 4 business days.
Conclusion
In conclusion, the Upside promo code for the 2023 is CASHBACK25. Existing users should enter other valid Upside promo codes mentioned in this post. So, apply the codes one by one in the app to boost your cashback bonus on your next gas purchase. One important tip for you is that you should make sure you maximize your cashback with Upside by filling your tank only when it is fully empty if possible. That way you fill more gallons and thereby get more cashback per gallon.
Thus, with new promo codes and Upside participating gas stations being added every day, getting cashback on gas at the nearest gas station is easy and quick with this cashback app.