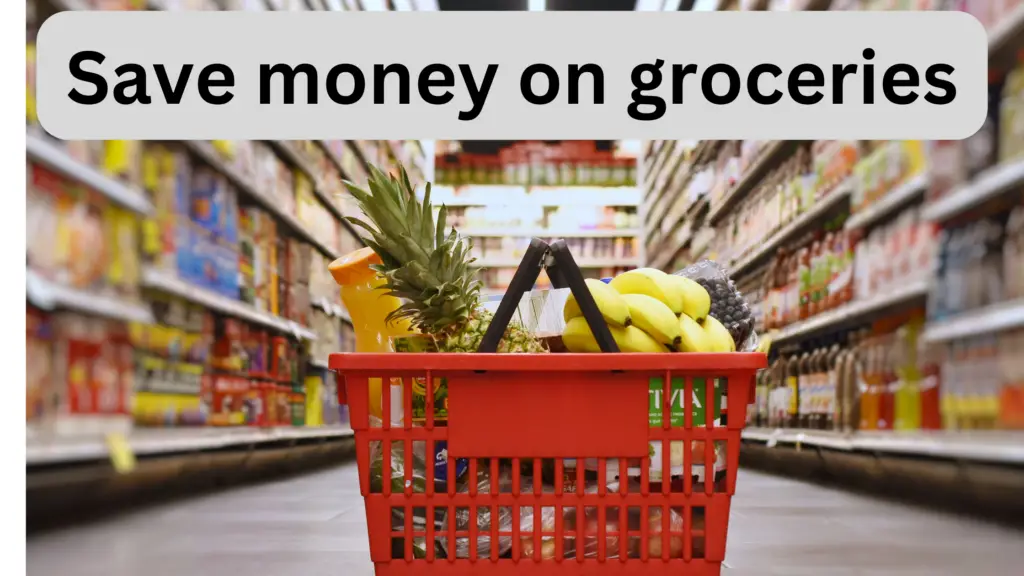 We shop at grocery stores to buy frozen or fresh foods. No matter what you buy, you can save money on groceries when you follow the tips outlined in this post.
Savings add up and the ideas I list here will save you hundreds on produce and food every year.
Studies have shown that consumers like high-quality grocery foods even though they might be costly or low-priced frozen items. Whether you like to buy fresh foods or frozen foods, there are many other ways you can save on produce without compromising your shopping habits.
Save Money On Groceries
You can save on groceries when you use these 15 ways.
1) Shop at a grocery club store
Club stores such as Samsclub, BJs, and Costco, offer a low price for the same item you buy at your local store. You can buy family-sized items which come in bulk size and save on those items.
It's like buying three 20 oz ketchup for $13 at a club store instead of buying three individual 20 oz ketchup for $6 dollars each at your local grocery store. You can clearly see the saving here.
2) Use your grocery store loyalty card
Your local grocery store probably has a free loyalty program that you can join. You need to fill out an application at the grocery store and they need your phone. This is not to spam you but it is an easy way to use your loyalty member rewards when you checkout at the store.
When you check out, enter your phone number and you will see the loyalty price which is a discount price for certain items. This will save you 10 to 15% discount on the most popular items such as milk, bread, etc.
3) Use store coupons and save on groceries
Look for coupons in your mail. Check coupons at other places such as the store's website, or you can Google for online coupons and print them out.
You can also walk in and see any advertised coupons or deals posted at the front door or near the store entrance.
4) Use a cashback app
Everyone has a smartphone these days and so you can install cashback apps like Fetch Rewards and Ibotta. These are some of the best cashback apps that give you cashback for your grocery receipts.
Simply use the app to scan and upload your grocery receipts and earn cashback points. You can then redeem gift cards or PayPal cash for the cashback points you earned.
5) Use a cashback credit card for grocery purchases
If you have a debit card at your bank, check if they have a credit card that offers cashback. That way you can use that cashback credit card to get a 2 to 5% discount on gas and grocery purchases.
You can also apply for an American Express credit card that offers cashback on almost all types of purchases including grocery purchases.
6) Shop for groceries at the right time and save money
Go grocery shopping on the day when your local grocery store has the best deal. Usually Wednesdays or Thursdays but you can check your local grocery store's weekly ad for days.
Also, go shopping early in the week when they stock up on new items, salad packs for example. If you go later that week the item on that shelf will be empty and you might end up buying a costlier organic version of that same salad packet.
7) Create a shopping list to save money
Look at your pantry and refrigerator before you go shopping. Note down what items you need to buy. This way you will buy only what you need.
This will also avoid a situation where you bought eggs only to find when you get home that you already have them at home. Making a shopping list even on your smartphone is handy and will save you from waiting for money to buy that you don't need or you already have them.
8) Think twice before you buy the family size
Do you really need that family-size setup just because the price is attractive? Buying family-size grocery items without thinking twice will end up throwing them unused because of the expiration date.
9) Buy store brands to save money
Store brands are usually 10 to 20 percent cheaper than branded items. Compare the prices and see if you can get cheaper prices with store-branded grocery items such as beverages ad other canned groceries.
Research has shown that store brands tasted almost the same as brand products.
10) Combine offers to save on groceries
Grocery stores sometimes have deals when combining items and buying them in one trip. For example, they often give a discounted price when you buy two or three cornflakes instead of buying one at a time.
11) Don't shop when you are hungry
When you go shopping at 12 noon or 6 pm whichever time you usually have lunch or dinner, you will be tempted to shop more on items you love and items that are ready to eat like chicken, candies, etc.
Not only you are spending on items you don't need but you are also ending up eating food that keeps you out of shape.
12) Be picky about where you shop
Shop groceries where their prices are comparatively low. Even if the grocery store is a little far away like 5 or 10 miles away, you can combine your shopping and make it up for the time and money.
For example, you do your grocery, pump-gas, haircut, gym, or other things that need to drive back and forth. Doing these in a single trip will save you money.
13) Compare grocery stores
Nowadays grocery stores have their website and it is easy to compare items at two different grocery stores. This will be a boring task but the next time you do but the next you know what store has the lower price or a better deal for a grocery item
14) Share your club membership card
Share yours. club membership card cost with your neighbor and cut the membership cost in half. Most club stores give a secondary card which you can give it your neighbor. If not, you both can use the same account to log in to the club store's mobile app and use the mobile checkout which does not require a membership card. This way it is a win-win for you and your neighbor, saving money on groceries easily.
15) Plan ahead on what you really need now
Plan ahead what you need or you will end up buying on impulse and spend more than you thought. Look at your receipts and see the price to see if you bought an item that you could have purchased at a low price at another grocery store.
16) Check the expiry date
Check the expiry date for any grocery item your purchase. For example, buying a canned grocery item that will expire next month will end up in the trash. You might think you could use it for the holidays which is the next money but you will find out the canned item is now expired to your disappointment.
17) Shop together
Believe it or not shopping with your wife, kid or your neighbor save you money on groceries. Having them with you will keep you aware of what you are buying. Even if you are tempted to buy something that is not needed such as a bag of chips, your shopping partner will remind you of that.
18) Check for sale
Don't ignore those weekly grocery store ads that come in the mail. You might be throwing them thinking of them as useless junk but those ads post good deals, especially during holidays.
19) Don't buy packaged foods
Packaged grocery items are costlier than fresh items. Buying fresh broccoli is much cheaper than buying packaged broccoli.
20) Don't buy pre-cut vegetables
Buy vegetables that are fresh and you can cut them when you cook. Pre-cut vegetables are usually more costly and don;t save you any money.
21) Frozen groceries do not save you money
Again frozen items just like pre-cut vegetables are costlier than fresh produce.
22) Buy 2 of the same grocery item instead of 1 item
Opt-in for combo deals such 2 pack or 3-pack of ketchup or beverages. This will save you anywhere from 10 to 25% money compared to buying these items individually.
23) Pump your gas after you buy groceries
Some stores give you fuel points for shopping at their grocery store. You can then use those points to get a discount on every gallon of gas. Check out your local grocery stores to see if they have such a deal.
For example, spending $50 on groceries at a store will give you a discount of 10¢/gal of gas at a participating gas station. This saves you money eventually.
24) Buy ahead and save money on groceries
Shop ahead like a week before a special occasion such as your child's birthday. This way you can buy at the time when there is a deal and buy ahead. Make sure the item you are buying has enough time to expire by checking its expiry date.
25) Your smartphone is your money-saving machine
You can look for money-saving apps and install them on your smartphone. You will be surprised how much savings you will earn as cashback and discounts and coupons are available right at the palm of your hand.
Conclusion on saving money on groceries
Saving money on groceries is a habit that you must develop to become second nature. Tweaking your shopping habits and following a plan takes some effort initially. But once you do this 2 or 3 times, it becomes a habit, and you can get cheaper food easily and effortlessly.
Related posts:
Average grocery cost for 1 person, 2 or 3 people per month