MyPoints is a free rewards program where you earn points and you have come to the right place for the full review. I used this MyPoints app like 10 years back when I first signed up to see how it works. To my surprise, I started liking it and started taking short surveys every now and then.
In this post, I will do a thorough analysis of MyPoints. I am a MyPoints member for more than 10 years. I will share my experience in this post. Read more for a complete review of Mypoints.
MyPoints App Review
At first, when I joined Mypoints, I was getting emails once a day. I earned 5 to 10 just for clicking on the link in the email. Then afterward I started earning more points like 250 or 500 points for trying out free trials for products.
It was easy to cancel them if wanted to. I then explored the Mypoints and found many other ways to earn points such as playing video games, watching videos, and so much more.
I then installed the MyPoints browser extension and used it to get points for when I shopped online. So you can see it is getting much more interesting. Let's dive and see these features and more in detail.
Mypoints is a great way to earn some extra cash and we will look at all the features of this rewards service in this review post. Have the joy of earning points for doing things you already do. Whatever may be your desire, MyPoints is here to satisfy you with points for your everyday shopping, doing surveys, watching videos, and points for even reading emails.
Let me show you what MyPoints can do for you and if it is worth your time. Read more about the pros and cons of MyPoints.
MyPoints is a free online service that rewards you with points for doing activities that you already might be doing. You can then redeem your points for gift cards!
READ: GetUpside saves you hundreds on gas every year!
Get MyPoints Sign-Up Bonus Before You Read My Review!
To get you started, right now, you can earn a welcome bonus of 1750 points (worth $10) just by signing up with this special link. You will 1750 points once you spend $20 at any of the MyPoints stores.
MyPoints Pros and Cons
Pros
A totally free app and is available for mobile phones also.
Redeem as low as $5
Variety of points-earning opportunities
Gift cards from various retailers and stores
Cons
Some surveys need strict qualification criteria and you might get disqualified
MyPoints rewards program review
You can earn points for doing the following:
Shop Online
Reading emails that MyPoints send to you.
Share your opinion and earn points
Watch videos
Web Search
Print coupons
Play Games
and more! Let's see in detail how it rewards you for each of these activities. It is just cool. You are getting points for what you already do!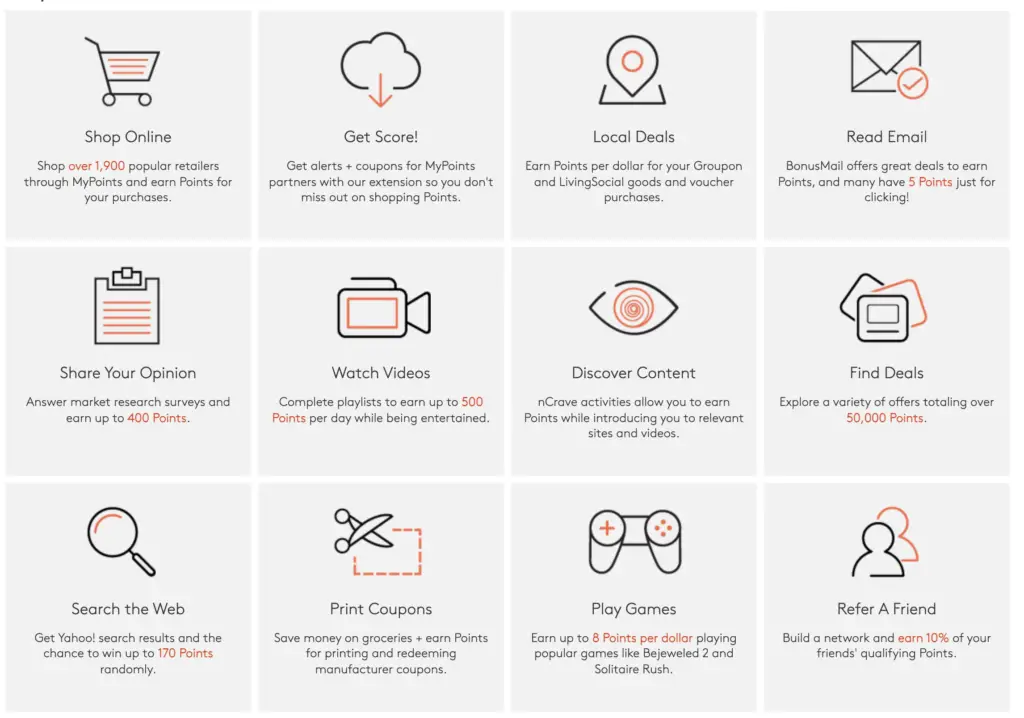 Shop Online
MyPoints rewards you with points for every dollar you spend at most stores. The list of all participating popular stores can be found here.
For example, you can earn 8 points for every dollar you spend at Amazon.com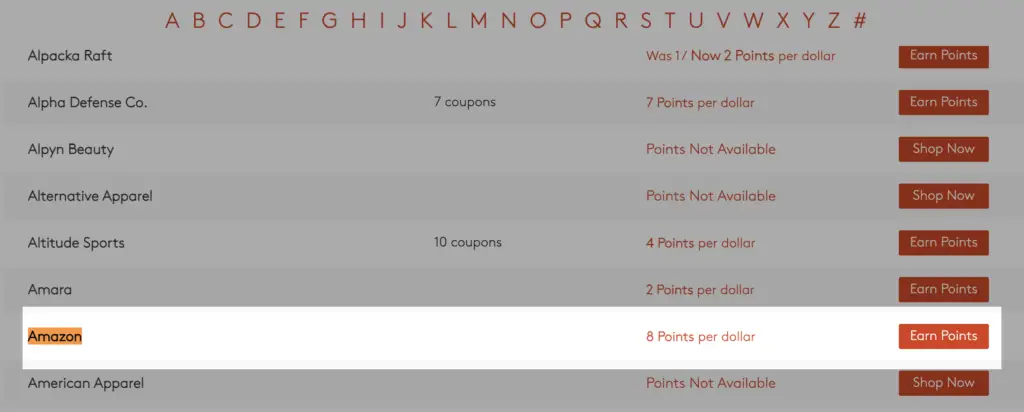 There are over 1600 stores that are eligible for the MyPoints rewards program. You can purchase at any of the stores and earn points. One important thing to note is that you must log in to Mypoints and then click the store there and start shopping.
That way MyPoints can track your shopping, and verify and reward you the points for your purchase.
Follow these simple steps to get points for your purchase:
Search for your store on this MyPoints stores page.
Click on the button next to your store that says "Earn Points"
You will be taken to your favorite retailer, it could be Amazon, Walmart, or some other.
That's all! You will get your points in a few days once they verify your purchase.
MyPoints Survey Review – Share your opinion
After you sign up, simply go to their Surveys page and earn points just for answering surveys. The time for doing these surveys ranges from 2 minutes to even an hour sometimes. The bigger the survey, the more points you will be rewarded.
Be sure to respond honestly to these surveys. If you are found to answer inconsistently, you will be getting invites to surveys in the future.
In my experience, I get points for every survey I took. Be patient and answer all questions and in the end you get at least 50 points.
Note: When you log in to MyPoints for the first time, you might get a message like this one. If you don't want to click on anything, simply click on the "Take me to the Homepage" link at the bottom.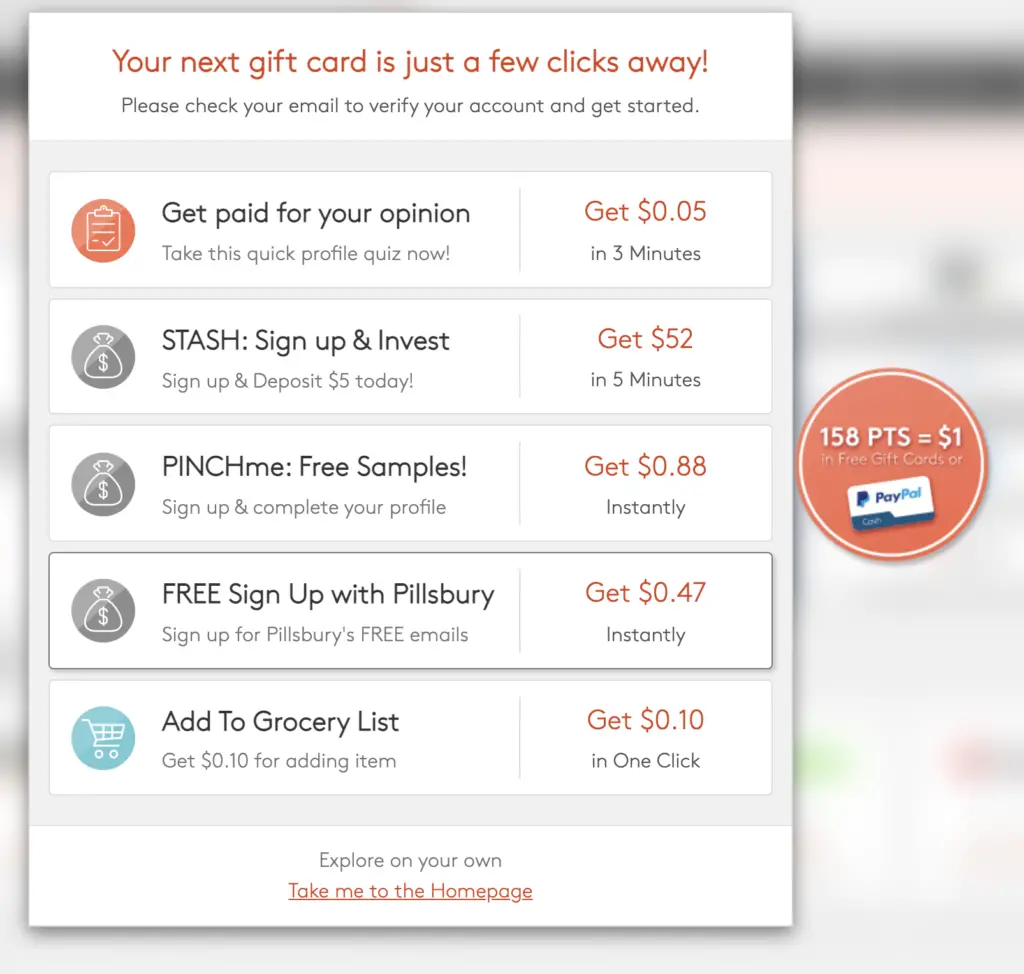 Watch Videos
Earn points for watching videos! Yes, this is a nice thing – simply click on the play button and sip a drink. Your points will be credited once the video is done playing.
You can earn up to 500 points per day for watching videos on the MyPoints videos site.
Web Search
When you do a search on MyPoints search, it is actually using the Yahoo search engine. You will earn up to 170 points every day simply by using this MyPoints search page for doing all your searches.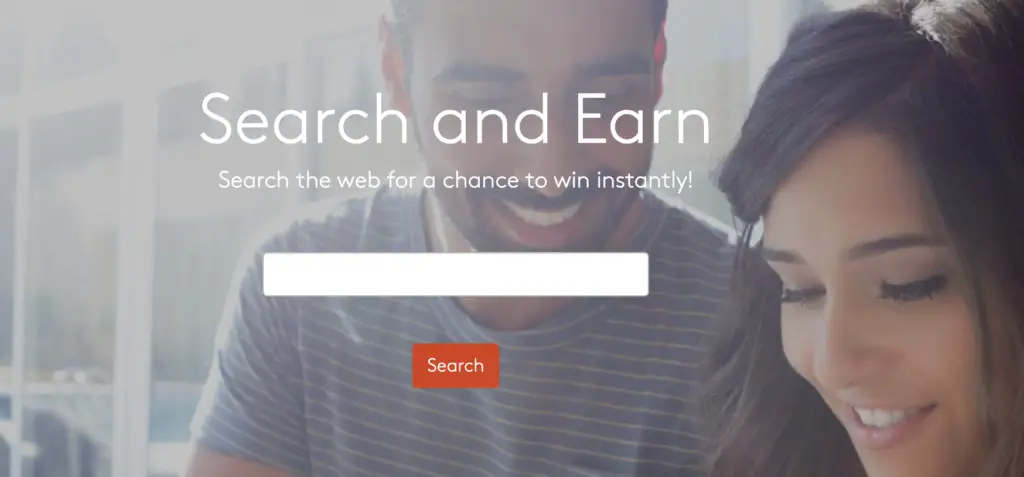 READ: How To Make Money By Watching TikTok Videos: 4 Best Ways To Get Paid
Print Coupons
Earn points for printing grocery coupons! It is a double whammy indeed. You save money using coupons and earn points at the same time! Go here and find out what coupons are available for you right now.
Play Games
Do you enjoy playing games? Now you can earn points for playing games! Check it out here!
Conclusion of MyPoints Review
MyPoints is indeed a great way to earn gift cards by earning points for what you already have been doing! As you can see, MyPoints not only offers a variety of ways to earn points but also lets you choose gift cards from a lot of popular stores. It is a win-win. You enjoy watching videos, taking surveys, searching the web, and more while earning points for gift cards at the time same.
Join MyPoints today and get the best of your time earning gift cards for doing simple things every day.