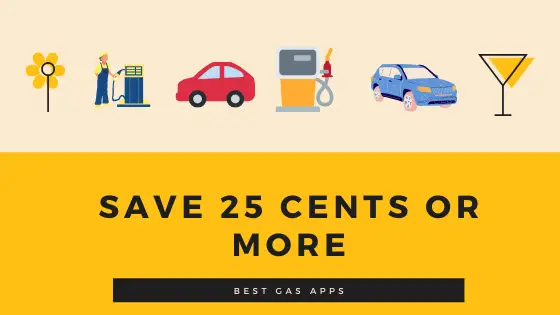 In this post, we will look at how using the gas app can save you 25 cents or more on gas purchases. Install the app and follow simple instructions and get a massive discount on gas.
These gas discounts are great; you can get them throughout the year no matter what the gas price is. If the gas prices are high, you can save some money on them. If the gas prices are low, you can get the same discount, that's a double whammy!
So let's dive in and look at these great apps that can give you at least 25 cents off your gas purchase across the US. Some apps even work in Canada. So let's check out these apps one by one.
How to get 25 cents off with a gas app
You can get 25 cents off of your gasoline purchase with the gas app that you simply download, scan your gas receipt and get cashback on fuel. This is 100% true even as I personally vouch for the savings. I have saved hundreds in cash back on gas.
These 25 or more discounts on gas can add up quickly and you usually redeem them as an e-gift card or Paypal money.
Upside gas app
The first gas app we are going to look at is called Upside. Right now, when you join using this link, you get 25 cents off on your next gas purchase.
Every time you purchase gasoline in the US, you can typically get 10 to 25 cents off your gas purchase with this app. It is easy to use this app. I have put a complete review of this app here.
Mudflap gas app
The second gas app is called Mudflap. Read my complete review of this gas app for saving 25 cents or more in this post. In some areas, you can save up to 60 cents per gallon of diesel fuel!
Gas Buddy gas app
The third gas app that can save you 25 cents or more per gallon is called Gas Buddy. This app came before the Upside app and has been very popular among drivers. But personally, I use Upside instead of GasBuddy. You can try out both apps and see which one works well for you.
You can read more about Gas Buddy in my post here.
More money-saving gas apps
There are many other best cashback apps that save you a few cents on gas. These apps get you a little bit fewer discounts compared to the apps listed in this post. But you should check the out since it might work best for you where you live.
Conclusion on 25 cents off gas apps
In conclusion, these gas apps save you more than 25 cents per gallon. Try them as they are free and you will see an average saving of $25 to $50 every month on gas.
Remember, you can get a discount on both gas and diesel. These apps save you not only on gas but also on restaurant purchases.
They are totally free and you save hundreds every year doing nothing! If you know any other app for saving 25 cents or more on gas, leave the name in the comment below.