​​In this post "GetUpside Vs GasBuddy", we will get to know both of these cashback gas receipt apps. We will also see how they are good in their own way. Also, we will see the pros and cons of using them (GetUpside pros and cons, GasBuddy pros and cons).
The GasBuddy app came out in the year 2000 but GetUpside which came a few years back in 2015 is already available to use at participating gas stations across the US. ​Are you a new user of the GetUpside gas app or an existing user? After you read this GetUpside Vs GasBuddy post, also check out my detailed feature review of GetUpside and also grab more bonus codes.
Want even more savings? You should try this diesel app especially for saving on diesel (up to 60 cents per gallon cash back!!)
Join today and get $10 in free diesel
GetUpside Vs GasBuddy​
Now, let me tell you how the Upside (formerly GetUpside) gas app is better than GasBuddy by looking at the features and amenities they provide. Let's dive in and look at the Upside Vs GasBuddy.
​1) What you have to do to get Cashback (GetUpside Vs GasBuddy – GetUpside is the winner here!)
​GasBuddy:
With GasBuddy, you have to apply for a GasBuddy card which is a debit card that you have to apply and get it. You need to give your bank details and they verify your bank by placing a small deposit. Once verified, you will get your GasBuddy debit card by mail. 
Now you have to this debit card to pay for your gas at the gas station. I just went to their website and it says you need to know the following things before even using your GasBuddy debit card.​
Transactions typically take 1-3 business days (Mon-Fri, excluding holidays) to be withdrawn
The pump won't show the discounted amount as this is calculated afterward
The card can only be used at the pumps, for fuel purchases
The card is processed as 'credit' and is subject to credit prices
If prompted for an odometer reading, you can skip the step by entering "99"
Wow! You have to understand these and use the card. All for getting a cashback on gas? You are already saying No to GasBuddy. Don't worry. Lets' see the awesome GetUpside gas app now.
With GetUpside, you don't need to apply for a gas debit card. You don't need to understand all the conditions and assumptions as stated above and use your card. You can use your own card, any card be it a debit or credit card when you want to purchase gas.
​When you need to go to the gas station for filling up a gas tank, simply find a participating gas location nearest to you and select that gas station location to start the claim process. Then, just head to the gas station and buy gasoline just like you normally do. Make sure to get the receipt for your gas purchase. Now that you have the receipt, simply upload it using the GetUpside gas app.
7 Awesome Ways To Save Money When Shopping Online
​​2) Number of participating gas stations (GetUpside is the winner here!)
​GetUpside has way more gas stations that participate in the cashback programs. GasBuddy does not have that much in my personal experience and doing my online research.
Moreover, with GetUpside you can not only earn cash back on gas but you can also earn cash back on groceries! OMG! Yes, it is now expanding this offer slowly across the US. It is already available in the Washington DC area and new locations are constantly being added. 
​​3) In-store cashback (both are tied here)
​Both GetUpside and GasBuddy offer in-store cash back. With GetUpside the amount of cashback increase with the amount of gas you purchase. Buy more gas and you get a more cashback percentage for purchases at the same gas station!
4) Amount of cashback(GetUpside is the winner here!)
I know this is what you basically care about. The good thing is that GetUpside offers vary but you get 10 cents at least and up to 25 cents per gallon of gas in most locations in the US!!
GasBuddy only offers 5 cents per gallon of gas in almost all gas locations in the US. Now GetUpside is clearly a winner here – no surprise.
5) Referral program (GetUpside is the winner here!)
GasBuddy website says "Referral discounts can be used once per transaction." So, let's say you have 10  friends who sign up for GasBuddy with your referral code, and also they pay with GasBuddy for the first time, you will get an additional discount. Carefully note the words "for the first time", which means you get a discount only when they use your referral code for the first time. The next time thereafter they  are using it won't get you any discount (ouch!)
Let's come to the GetUpside referral program. You give your referral code to your 10 friends. You get a cashback of 2 cents per gallon every time you purchase gas and you get this referral cashback money for life! Not the first time, not until two times but for all future purchases! Whenever your 10 friends buy gas, you get 2 cents for every gallon they buy. 
Let's say your 10 friends buy 500 gallons of gas every month. You can 2 cents for a gallon which means you are going to get 10 dollars every month in referral money!! Ten dollars for doing nothing! Noway can GasBuddy can offer this kind of referral program that works for all future gas purchases that your friends going to do.
GetUpside Review: Pros and Cons
Here are the pros and cons of GetUpside from my personal experience.
Pros
Totally free to use
No need to apply for a gas debit card. You can use any credit/debit card.
Good referral program
Thousands of participating gas stations across the US
Cashback offers are better than GasBuddy
Earn cashback for groceries and at restaurants too!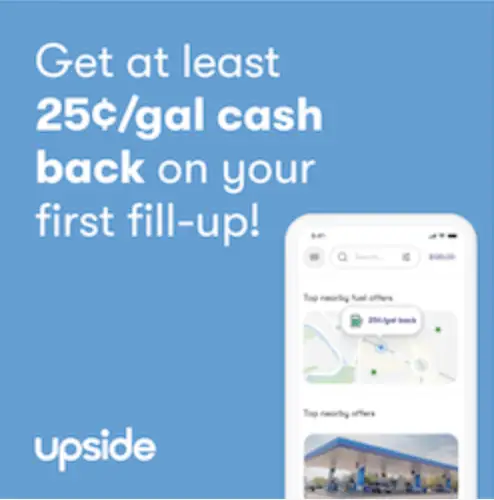 Cons
Customer service is sometimes slow to respond
The app is somewhat slow to load and not 100% user-friendly. Can do better.
For a more detailed review, read my post on the Upside app review.
Using GetUpside is easier now than ever!
Why? Because you know what? Recently GetUpside came up with a new feature where you don't have to upload your receipt. How does this work? Simply tell the app about what card you are going to use. Don't worry, GetUpside won't share your card information with others. So, yes, just enter the card that you usually use for gas purchases. 
Then the next time you buy, simply select the card that you are using to buy gas. That's all. Once you buy gas, GetUpside will automatically look up your transactions and confirm that you indeed bought the gas at the location you said you bought. No need to upload any receipts! Viola! You get your cashback in 1 to 3 days!
Can you use GasBuddy and GetUpside together?
Yes, the good news is you can use both GasBuddy and GetUpside at the same time! Here's how you can do it.
You can read about it on their website page here. Make sure you follow their instructions and you are good to go!
Upside App Review: 7 Things You Must Know
What is better than GasBuddy?
We saw that GasBuddy has some downsides in that you have to apply for a card and so on. GetUpside is better than GasBuddy in my personal opinion because it gives you more cash back.
On average it saves you more because you not only save on gas but also on groceries and restaurants. They give out special promo codes from time to time. You can check the latest Upside Promo Codes.
GasBuddy Vs GetUpside – Conclusion
Now that we have learned about GetUpside Vs GasBuddy, it is evident that GetUpside is the winner when it comes to the cashback app for gas. With new locations added frequently, no wonder it is available all over the US and you get cashback doing nothing but uploading your gas receipts!
One warning though. Do not try to use many accounts on one smartphone device. Like, use separate smartphones for you and your wife for example. Don't log in to both of your accounts on the same phone. Doing so might trigger a signal that you are misusing the app and it might cause a delay when you redeem your cashback or try to get cashback. So, if you are cool with that rules, GetUpside is the way to go. I am telling you, I earn an average of $500 every year on gas with the GetUpside gas app. Are you a new GetUpside user? Click this Upside promo code link to download this app and get a 20 cents/gallon sign-up bonus!​