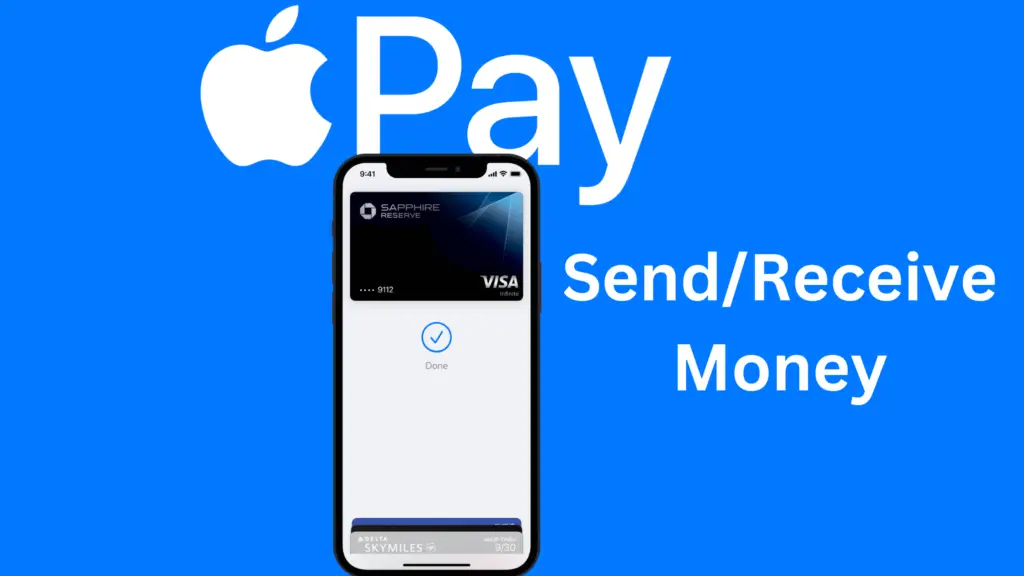 If you own an Apple iPhone, you can receive money using Apple Pay. If you are not sure. how to do this, I will explain step by step how you can receive money on Apply Pay.
To receive money using Apply Pay, you first need to setup this up on your iPhone or iPad.
What is Apple Pay?
Apple Pay is a mobile payment and digital wallet service. You should take advantage of the following features which you will find helpful.
Payment made contactless: Apple Pay allows you to make secure payments in stores, in apps, and on the web using your iPhone, iPad, or Apple Watch, without the need for real debit or credit cards on hand.
Send/receive money/payments from family or friends: Apple Pay allows you to send and receive money from friends and family using Apple Pay Cash, a digital debit card that can be used to make purchases or transfer money to a bank account.
Secure app: It uses advanced security technologies such as tokenization and biometric authentication (e.g. Touch ID/Face ID) to protect your payment information.
Use at popular locations: Apple Pay is accepted by a growing number of retailers, restaurants, and businesses around the world, as well as in apps and on websites that support Apple Pay.
Loyalty and rewards: Apple Pay allows you to store and use their loyalty cards and reward programs, as well as receive special offers and discounts from participating merchants.
Accessibility: Apple Pay can be used by people with disabilities, including those who are visually impaired, with features such as VoiceOver and Switch Control.
Privacy: Apple Pay does not store your transaction data or share it with merchants, and you have control over the data they choose to share.
Setup Apple Pay to receive money
Before we begin, there are a few things you must note. You must be at least 18 years of age to set up and use Apple Pay in the US. The Apple device (iPhone or iPad) must be running on iOS version 11.2 or higher.
Steps to set up Apple Pay:
In order to set up Apple Pay for the first time, follow the steps below:
Check that your iPhone or iPad (iOS operating system in your device) has the latest version 11.2 or higher.
Now, open the Wallet app on your iPhone or the Watch app on your Apple Watch.
Tap on the "Add Credit or Debit Card" option.
Scan your credit or debit card using the phone's camera, or you can enter this manually.
You must verify that it is indeed your card. Simply follow the on-screen instructions to verify your card.
Once your card is verified, tap "Next" to complete the setup process.
You may be prompted to set up a passcode or Touch ID/Face ID to secure your payments.
You can now use Apple Pay to make purchases in stores, in apps, and online using your iPhone, iPad, or Apple Watch.
How To Receive Money On Apple Pay – Accept a personal payment
Now that you have set up Apple Pay, you are ready to receive money. I have put the steps that you can follow to receive money on Apple Pay.
Open the Messages app on your device.
Tap on the conversation with the person who wants to send you money.
Tap on the Apple Pay icon (a dollar sign with a plus sign) in the app drawer.
Enter the amount of money that you want to receive.
If you haven't set up Apple Pay Cash, you will be prompted to do so. Follow the on-screen instructions to set up Apple Pay Cash.
Tap on the "Request" button.
Wait for the other person to send you the money. You will receive a notification when the money is sent.
Once the money is sent, it will be added to your Apple Pay Cash card.
You can use the money in your Apple Pay Cash card to make purchases with Apple Pay or transfer it to your bank account.
Conclusion
Please note that there may be fees associated with using Apple Pay Cash. You should check with your bank or credit card company to get more details about this.
There is another app called Cash app which is like Apple Pay and it is even more fun to use. It offers more features than Apple Pay you should read more about the Cash app.