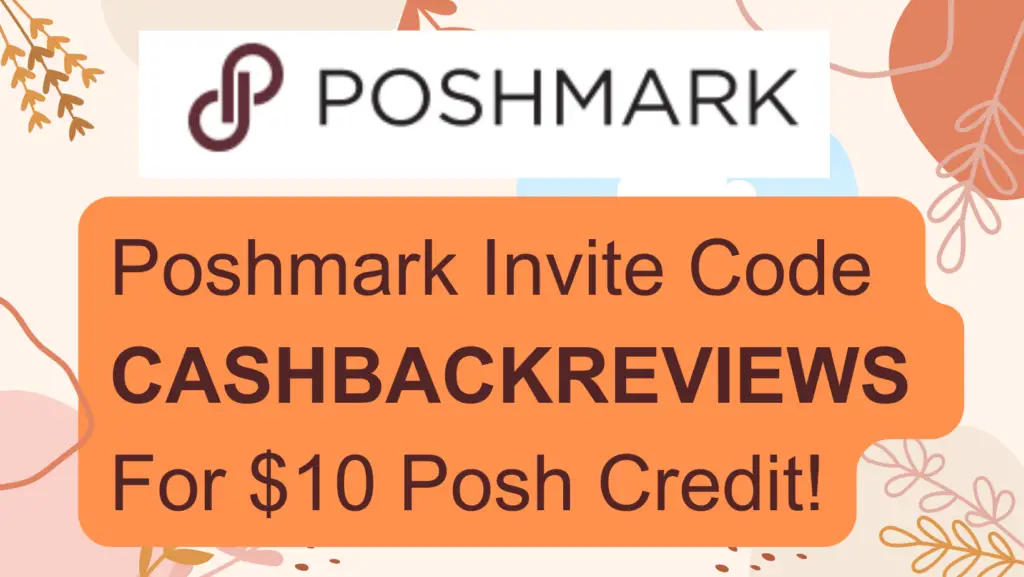 Are you a new user of Poshmark and looking for a valid referral code? Yes, there is a valid invite code for new users like you. Enter the Poshmark referral code CASHBACKREVIEWS and get $10 in Posh credit. You can apply this credit towards your next purchase of any item in the Poshmark app.
Get your $10 Posh credit right now by entering the Poshmark invite code CASHBACKREVIEWS.
If you don't know what Poshmark is and how it works, I will explain it in detail in this post. Also, you will also learn how to redeem this invite code and get the referral bonus.
Poshmark Referral Code
Redeem the Poshmark invitation bonus for new users when you enter the referral code CASHBACKREVIEWS. This is the legit code that is still valid as of September 2023.
How does it referral code work for new and existing users?
First of all, this referral code and the referral program are legit. Some call it an "invite code" and some call "referral code". Both are the same thing. So, yes, Poshmark new users can. now use this invite code to get a bonus when they invite their friends and family to join Poshmark,
So, when someone enters your personal invite code, they get $10 in Posh credit. Posh credit is like real cash that you can apply towards your next purchase.
For example, let's say you are buying an item for $15 and you go to checkout. You will see that the final price is $5 because your $10 sign-up bonus that got using the invite code was applied. The final amount hence was reduced to $5 plus of course taxes and shipping.
Here's how to check your Posh credit
When you invite many friends, you can see how many of them accept it and how many Posh credit. Here's how you can check your Posh credit.
Open Poshmark app and go to your Account Tab
Tap on My Balance
Now tap again on My Referral Credits History
By the way, if you or somebody you know drives a vehicle, learn about this cash-back app for gas and cashback app for diesel. You will save money with these free apps!
How do I apply the Poshmark invite code?
Follow the steps below to put in the referral code and redeem your $10 credit in the Poshmark app.
Go to poshmark.com and click the Sign-up link.
Use your Facebook, Google, or any other email to sign up.
Tap on the link "Have an invite code?".
Enter the referral code CASHBACKREVIEWS in the Poshmark app to get your $10 credit.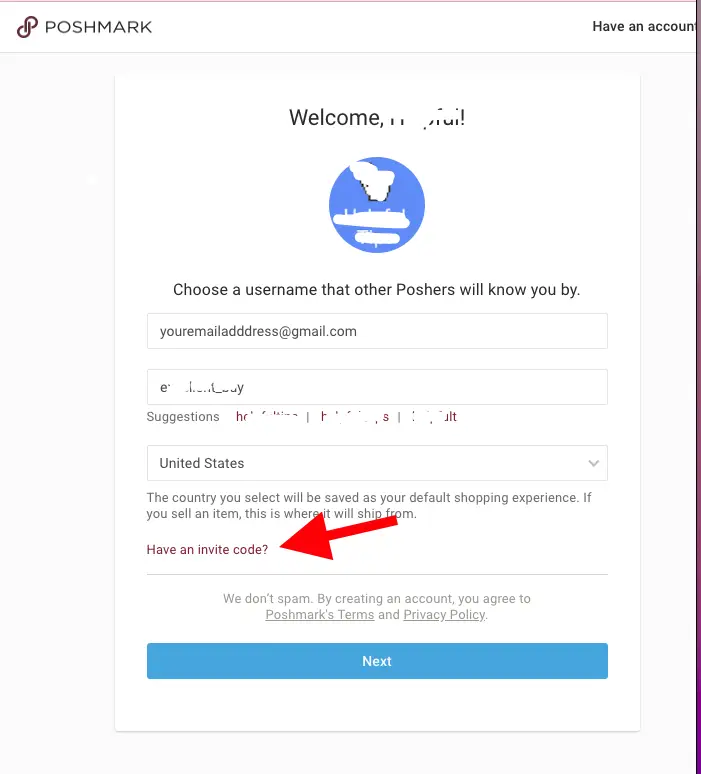 You can watch this easy-to-follow video where I have explained how you can enter the referral code in Poshmark.
What is a Poshmark invite code?
The referral code sometimes called an invite code (CASHBACKREVIEWS) for Poshmark is a username that was created during sign-up. You and your friends can enter this invite code in Poshmark to redeem the new user sign-up bonus.
Refer friends to Poshmark app and get rewarded!
Let your friends know how good Poshmark is and they can also get the same sign-up bonus. Share your Poshmark referral code and ask them to use this code. That way they can get the $10 in Poshmark credit. You should know that the referral code is the username of your Poshmark account that you get during sign-up.
The following steps help you find your referral code and share it with your friends.
Open Poshmark app
Tap on @your_username.
Tap on Invite your friends
Finally, note down the Poshmark referral code displayed on the screen
Share this referral code with your friends!
How does the Poshmark referral program work?
Here's how the Poshmark referral program works:
When you refer a friend to Poshmark, they will receive $10 in Posh Credit when they sign up and make their first purchase.
You will also receive $10 in Posh Credit when your friend makes their first purchase.
To refer a friend, you can share your referral link or code CASHBACKREVIEWS, for example, with them. Your referral link can be found in your Poshmark profile. Your referral code is your Poshmark username.
When your friend signs up using your unique invitation link or code, they will receive $10 in Posh Credit. They will also be able to see your Poshmark closet and follow you.
Your friend will need to make a purchase of $5 or more within 30 days of signing up in order for you to receive your $10 in Posh Credit.
You can refer to as many friends as you want. There is no limit to the amount of Posh Credit you can earn.
Conclusion
Definitely, use the Poshmark referral code CASHBACKREVIEWS and get your new user invite bonus of $10. This app is a fantastic platform for anyone looking for a unique and personalized shopping experience.
Its social features, user-friendly interface, and promotional tools make it an attractive option for buyers and sellers alike.
And, with an invite code like CASHBACKREVIEWS, you can start your Poshmark journey with a bang and join a community of savvy shoppers.
So what are you waiting for? Sign up for Poshmark today and get ready to discover a world of fashion possibilities!
You might also be interested in Poshmark vs. Mercari to see how Poshmark differs from Mercari.