You can now sign-up for Shopkick with promo code EARN181762 and get 500 bonus kicks. New users can get this offer by downloading Shopkick using this invite link.
In this post, we will learn how to enter the promo code in the Shopkick app. Also, we will look at the pros and cons of this app. We will also learn how to get your own promo code in the app and share it with your friends.
Read this entire post to find the list of promotion codes that you can try in the Shopkick app to redeem bonus kicks.
What is Shopkick?
Shopkick is a free app that you can use to earn kicks (Shopkick points) for your purchases. You can then redeem your kicks for free gift cards and enjoy.
Do your shopping as you do and see the kicks rack up every time.
Shopkick promo codes
List of recent promo codes for the year 2023
| | |
| --- | --- |
| Promo codes | Shopkick offer |
| EARN181762 | $2 |
| FREE656023 | 250 kicks or $1 |
| KAY005792 | $1 |
| MCBR | $1 |
Steps to redeem the promo code in the Shopkick app
Redeeming the new user invite bonus using the promo code is very simple. Follow the steps below and get your 500 kicks in the app instantly.
Step 1: Download the app
New users can download Shopkick for Android or iOS smartphones using this special invite link. If you download using this link, you can skip the rest of the steps since the offer is applied automatically for you.
Users who have already downloaded the app can continue to step 2.
Step 2: Sign up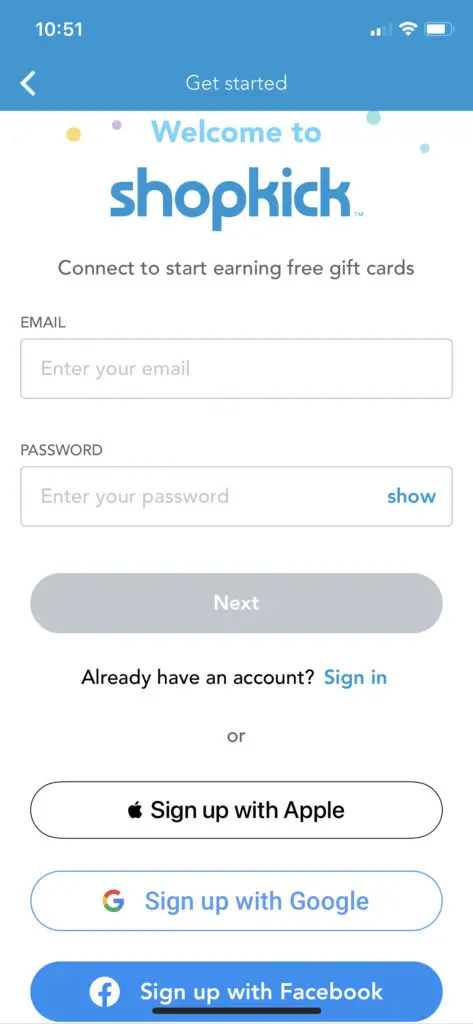 Step 3: Log in
You can use your existing Google, Apple, or Facebook account to sign in to the app without entering your name or email information. If you don't like these options, you can sign up with your email and
Step 4: Go to your profile.
Now click on the profile icon at the top left as shown in the following screenshot.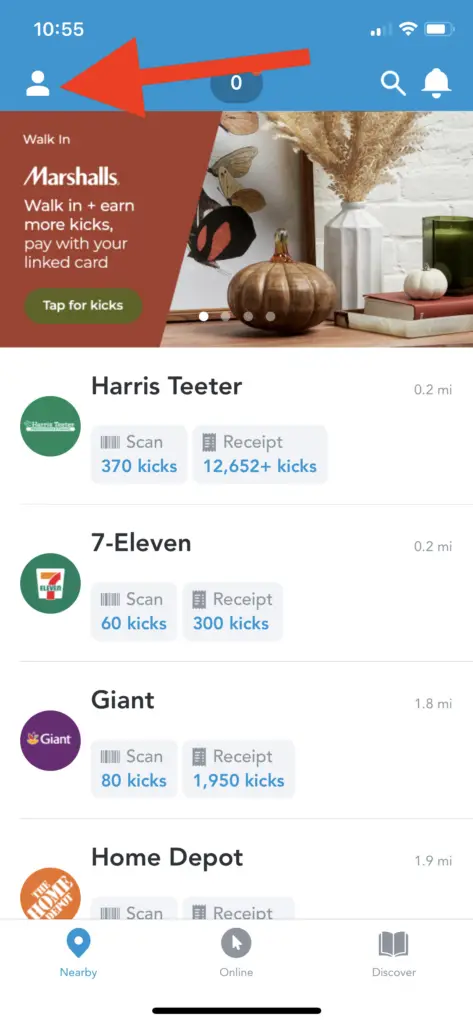 Step 5: Enter the invite code for Shopkick
On your profile screen, tap on the button that says "Have a code?"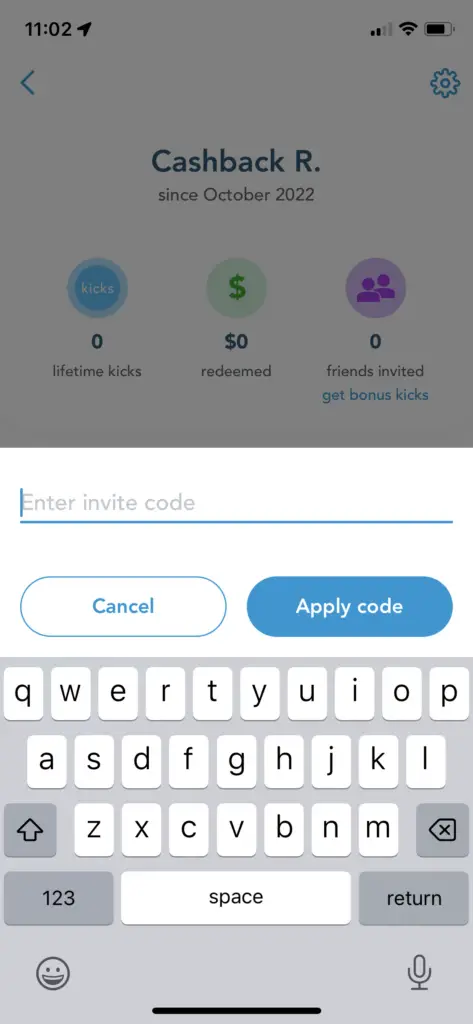 Enter the invite code EARN181762 to get your 500 kicks as a bonus. You will see your 500 kicks immediately appear in your account and you can check this after entering the promo code EARN181762.
Pros and cons of Shopkick
Pros
Easy to get kicks for just waking in to store without buying anything!
Bonus in-app offers for certain products
All major and local stores are eligible for earning kicks
You can upload real receipts as well as e-receipts.
Cons
Users have to upload receipts manually. There is no way to earn kicks without uploading receipts. There is no way to automatically track your purchases with a linked card in the Shopkick app.
FAQs
Is there a Shopkick promo code?
Yes, you can use the Shopkick promo code EARN181762 to get the new user sign-up bonus.
How to get your own Shopkick invite code?
Open the Shopkick app and go to your profile as we discussed in the previous section of this post. Tap on the button that says "Want free 500 kicks?", You will now see your invite code and also the invite link which you can share with others and earn your free kicks.
How much is each kick worth?
When you earn kicks in the Shopkick app, you can redeem $1 for every 250 kicks. So that equates to 250 kicks for every $1.
For example, you have earned 2500 kicks so far, you can use those kicks to redeem $10. Right now add 500 free kicks by using the welcome promo code EARN181762.
Conclusion on Shopkick promo code
500 free kicks in Shopkick is a great start with the promo code EARN181762. Even if you have forgotten to enter this code when you last signed up for SHopkcick, you can redeem this offer today. One tip to get more kicks is to share your own invite code with your friends and family.
Check out my reviews of more money-saving apps here and get promo codes for them too.