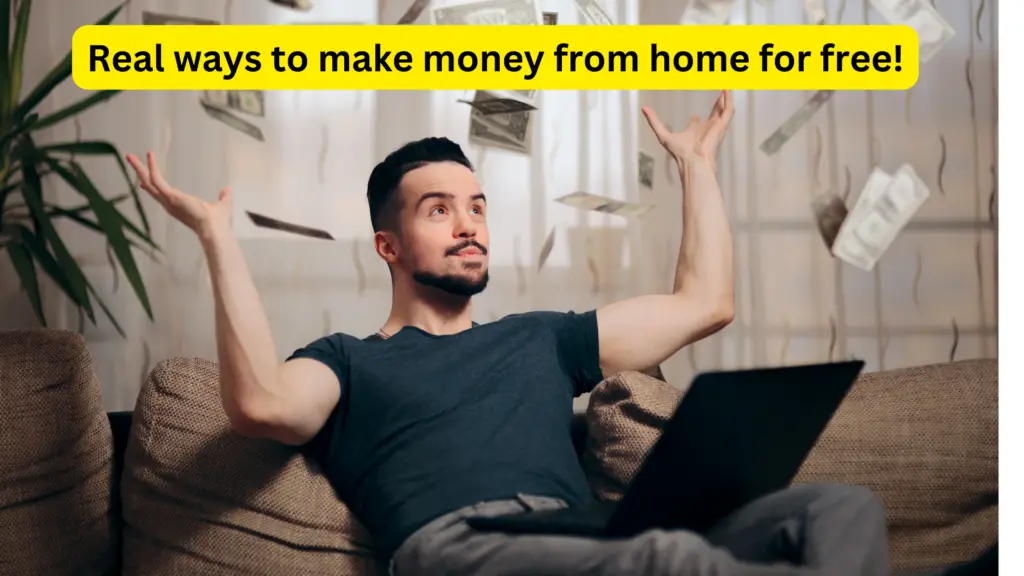 Whether you are looking to earn extra cash or need to make money from home for free to sustain and save for yourself, there are 20 real ways to do so.
Real ways to make money from home
Following are the 20 real ways to make money from home and it is free. They are practically earning home while you sit in the comfort of your home.
1. Surveys and focus groups
Taking surveys using apps like Survey Junkie is a good way when you have time at home. When you take even two or more surveys a day that will take about 30 – 45 minutes, you can earn enough points to redeem $50 to $100 per month.
There is also an opportunity to be invited to focus groups which can be either online or in person. But nowadays there are more Focus groups that are available where you can voice your opinion in front of a webcam.
Companies look for users like people to get feedback on their health insurance, brushing habits, dishwasher detergents they use, and practically any topic. You can earn anywhere from $50 to $150 as gift cards.
2. Earning cash back with apps
There are several apps that give you automatic cash back for all your online and in-store purchases. Some of these apps also give you cash back for your receipts. You can earn anywhere from $50 to $100 per month when you use two or more of these apps to add up your cashback earnings.
These apps also let you refer friends where you can extra cash for referring your friends and family members. It is a win-win – they save with these apps and you get a referral bonus.
3. YouTube
If you like sharing your thoughts and ideas and making videos, you can create a YouTube channel and upload videos. Pretty soon you will get enough subscribers and views for you to apply for the YouTube monetization program. You can then upload videos from your home and make money from the views. A very successful YouTube make millions but you can grow like them. The sky is the limit!
4. Sell your stuff
If you have any stuff like clothing or jewelry that you don't use or you like that gift you got from your friend, you can always sell them using the Poshmark app.
Download and sign-up for a new Poshmark account, and then simply snap a picture of your stuff. List it on Poshmark and soon you will get a buyer who is willing to you money for it. You can sell it and make some good money for all that stuff sitting and doing nothing at your home.
5. Buy and sell your website domain
You can buy domain names that are very attractive. Companies are always looking for trendy and unique domain names. If there are not available, these companies are willing to pay anything to buy that domain. You can then sell it for a good amount anywhere from $1000 to $50000 I am just guessing here but it depends on what company is that. If it is a multimillion-dollar company they would be willing to pay huge to get that fancy domain
6. Freelancing using Fiverr and making free money
Fiverr is an online marketplace that offers services called "gig" that people can buy. You can join Fiverr and sell your gig and make money.
Your gig can be website design, writing, photographing, proofreading, or any skills you have. Once you have your profile and your desired pay, people will find you and use your services and pay your money.
This is a great way to make money from home and it is free for you. You don't pay any money for freelancing using Fiverr which is a free platform.
Final thoughts on making money at home
Sitting at home with your laptop can earn you money when you put in the effort. It is completely free to earn money right from the comfort of your home. All you need is proper time management so you balance your work and life.
Once you establish your name online or put in the initial effort to earn your trust, making money from home is very easy.
If you are willing to put a little effort outside of your home, you can earn $200 as Instacart Shopper.