Are you seeking to slim down your waistline and fatten up your wallet at the same time? Look no further than Jillian Michaels Healthy Wage, an innovative weight loss program that rewards participants with cash prizes for hitting their targets.
And now, they've partnered with none other than fitness icon Jillian Michaels to create an even more compelling, effective, and enjoyable weight loss experience.
BTW: While you are looking to lose weight and get cash, why not consider these automatic cash back apps for earning free cash automatically? No bets – just cash back.
Jillian Michaels Healthy Wage
Jillian Michaels has been at the forefront of the fitness industry for more than two decades, inspiring and empowering people all over the world to transform their bodies, minds, and lives. With her bestselling books, popular TV shows, and celebrated workout programs, she's become a household name synonymous with health, wellness, and motivation.
Now, she's teamed up with HealthyWage to bring her expertise and enthusiasm to a broader audience.
How does Healthy Wage work?
Healthy Wage is a simple yet powerful weight loss program. Here's how it works. First, you sign up for one of their challenges, each of which lasts a set amount of time.
Next, you determine your weight loss goal. Then you put some money on the line to commit yourself to the challenge. You can participate individually or as part of a team. You can select from a range of challenge options to suit your needs, preferences, and budget.
Once you've joined the challenge, you'll be guided through a tailored weight loss program. This program includes a variety of resources, such as personalized coaching, online tools, and community support. You'll have access to nutrition plans, workout routines, and other useful tips and tricks. All this is to help you stay motivated, focused, and on track.
And that's where Jillian Michaels comes in. As a partner and ambassador of Healthy Wage, Michaels has created an exclusive plan that complements and enhances the existing program. Her plan includes a range of dynamic and challenging exercises, delicious and nutritious meal plans, and inspiring and uplifting messages that will help you overcome obstacles, push through plateaus, and achieve your goals with greater ease and confidence.
In addition, Michaels will be offering ongoing support and guidance throughout the challenge. She will provide feedback, motivation, and encouragement to help you stay accountable and engaged.
You'll have access to her exclusive content, such as videos, podcasts, and articles, that cover topics like goal-setting, time management, stress reduction, and more.
The results of Healthy Wage speak for themselves. Countless participants have lost weight, improved their health, and won cash prizes by joining the program. And now, with the added expertise and passion of Jillian Michaels, you can take your weight loss journey to the next level.
Weight verification is done simply through our app and payouts for winners are executed quickly and efficiently through Paypal or check. For more information to share on how the HealthyWager works, check out our FAQs and Rules.
How much prize will you win?
You can set your own prize money. But the money directly correlates to the amount of weight you will bet to lose. If you bet on losing little weight, let's say 1 lb to 5 lbs, you will win anywhere between $575 to $625. This is just an example,
To calculate your real prize money, simply to the Healthy Wage prize calculator site to find out how much you want to lose weight and how much you will win from this weight-loss bet.
You can play with the free calculator on this site to find out how much you can win for hitting your goals. You can run many experiments and there is no limit! Find the perfect prize amount that motivates and excites you.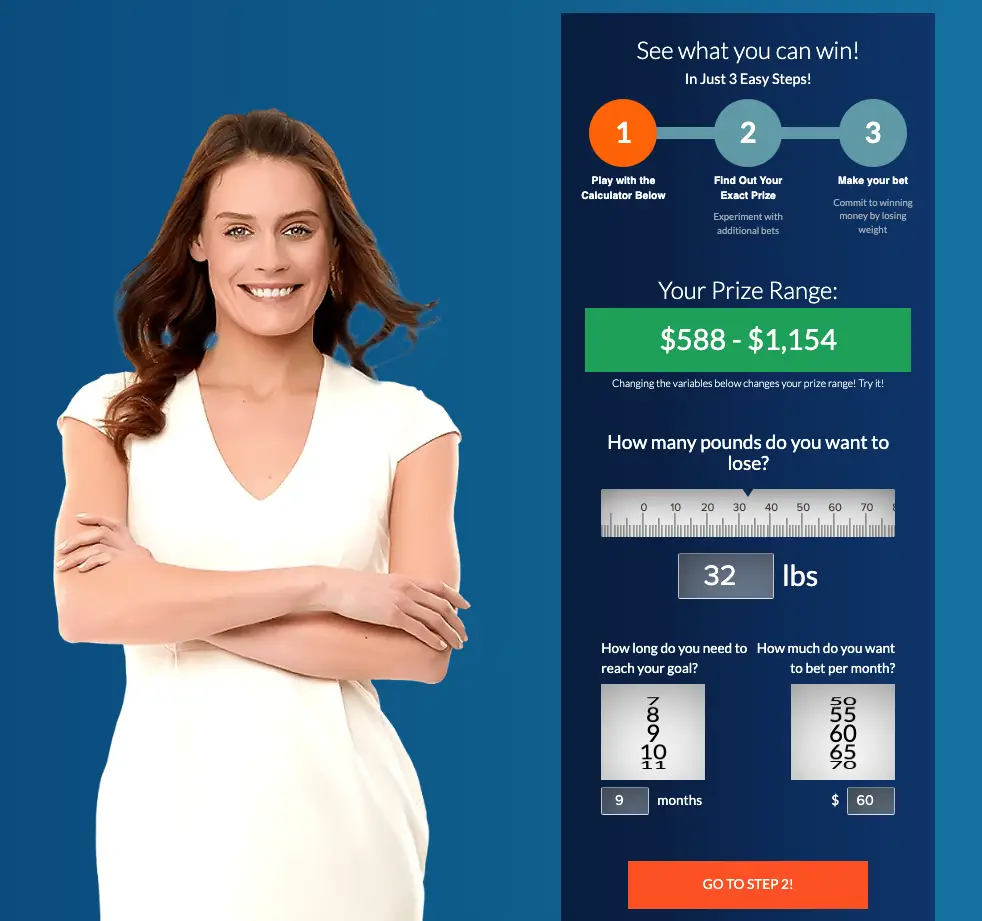 Healthy Wage reviews and success stories
There are so many real success stories and reviews of real users who tried Healthy Wage and have won prizes. For example, take, Preston P. from Jacksonville, TX who lost 160 lbs in 18 months and won $3007.
His review of Healthy Wage:
"Using HealthyWage to lose weight motivated me to stay on track with my eating and exercising by having 'skin in the game!' I couldn't have made the progress I did without committing to my wager."

Preston P. from Jacksonville, TX
"I wanted to prove to myself that I could do it," states Miranda B. "I had tried so many times to lose weight and failed."

After turning 34, Miranda was ready to make a change and finally put her health first. "I knew I was at a point in my life where I needed to lose weight. I was stuck in a rut where I kept starting programs and then falling off."

Miranda B. lost 81 lbs. and won $2973
"Thank you HealthyWage for saving my life! I am a different man, a more loving, present, and active husband and father, and a happier person as a result of these changes."

Ben R. lost 61 lbs. and won $1,1990!
"In 2019 I became pregnant with my second child and started gaining weight rapidly. 12 weeks in, I miscarried and had put on 15 pounds. At the advice of my doctor, I went on birth control for a few months and then COVID hit. A few months later, I had gained another 10 pounds due to the side effects of birth control, plus the pandemic. Immediately upon going off birth control, I became pregnant and was 25 pounds overweight.

While I was beyond grateful for my wonderful baby, I wasn't thrilled with the 70 extra pounds I was now carrying. With two young kids, I needed some extra motivation, and signed up with HealthyWage. The challenges kept me laser-focused, and helped motivate me when it came to exercising (and using that #Peloton!), tracking calories on MyFitnessPal, and being mindful of the goal I had set for myself. Fast forward to now with two kids and almost 40, I'm officially at my 'pre-kids' weight! I am so proud of myself; I did it!"

Tiffany S. lost 39 lbs. and won $949!
Check out these amazing reviews from actual users. You can view more incredible transformations on our Success Story page
Conclusion on Jillian Michaels Healthy Wage
In conclusion, Healthy Wage is a great way to fulfill your weight loss goals. if you're ready to commit to a healthier, happier, and more prosperous life, sign up for a Healthy Wage challenge with the support and guidance of Jillian Michaels.
You'll not only improve your physical and financial well-being but also tap into a vibrant and supportive community of like-minded individuals who share your goals and aspirations. So, what are you waiting for? Start your journey today!