In this post, we will learn about Bluehost web hosting services and Bluehost BlueSky reviews. We will find out their pros and cons together with their hosting plans. Read more and get the hottest deals and promos they offer for the year 2023.
Disclaimer: Some links in those posts are affiliate links. When you click and join Bluehost or BlueSky, you get a special discount and I get a small commission. Thank you for your support.
BlueHost is so good in that your get website hosting and also a free WordPress website builder that comes with it free. It has all the WordPress tools to manage your website content. That is a double win since you both get hosting from Bluehost and content management together with their Bluesky support for an additional fee.
I also recommend another great hosting service called Hostgator. Right now you can save 60% off the HostGator plans and also get $70 in cash back money!
Best Bluehost Coupon
If you are looking for the best Bluehost coupon, use this coupon link for Bluehost here and get up to a 70% discount. You get unlimited website storage with the basic plan which you should check out today!
I use Bluehost and let me share my experience. In the early days, I used to use WIX but later on, I felt it was very difficult to use and customize my blog. With limited plugins and a lack of integration for major ad revenue companies such as MediaVine, it was obvious for me to switch to another web hosting company. Hence, I decide to choose Bluehost since it has all the best features that a blogger or even a professional website builder needs.
Let's walk through how user-friendly Bluehost is and its attractive features.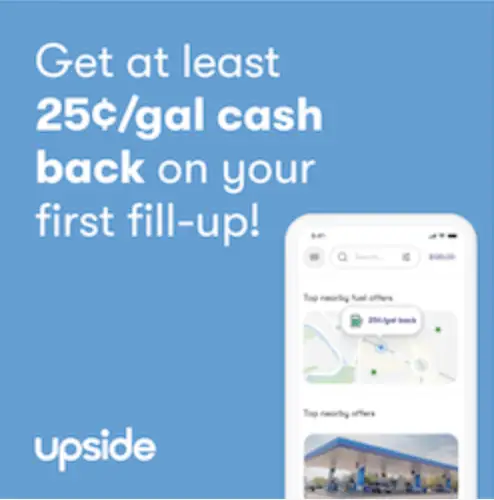 As soon as log in to Bluehost, you need to set up the WordPress configuration. This is a pretty easy-to-understand setup. You can see from the screenshot below how both Bluehost and WordPress come in handy and work together seamlessly.
Just click the login into my site and it takes you to the WordPress dashboard! No need to log in again to get to WordPress! Isn't that cool in itself?
Let's explore other cool features.
Bluehost reviews and Bluehost BlueSky
According to the Bluehost website, Bluesky will help you build your WordPress site especially if you are not that tech-savvy, to be honest. Let's review if this service is worth the money.
Bluehost is a renowned web hosting provider that has been in the business for a considerable period. Recently, the company launched an innovative feature called Bluehost Bluesky, which is a premium service that offers users access to a team of dedicated experts proficient in website design, development, and optimization. In this comprehensive review, we will delve into Bluehost Bluesky and analyze how it stacks up against other premium web hosting services in terms of features, performance, security, and pricing.
Bluehost Bluesky is a premium service that offers a plethora of exceptional features designed to enhance the performance, security, and user experience of your website. Among the standout features of the service is the availability of a team of dedicated experts. This team has an abundance of experience in website design, development, and optimization, and they are on hand to assist users with tasks ranging from creating an entirely new website to optimizing an existing website for improved performance and user experience.
One of the key highlights of Bluehost Bluesky is the exceptional quality of the team of experts. They bring an unparalleled level of expertise and knowledge to the table, and they are fully equipped to handle all of your website design, development, and optimization requirements. They work tirelessly to understand your unique needs and provide personalized solutions that meet your objectives.
Another exceptional feature of Bluehost Bluesky is the highly personalized support provided by the team of experts. They take the time to comprehend each user's unique requirements and provide tailored solutions to help them achieve their objectives. This approach ensures that you receive the best possible support, and it helps to ensure that your website is optimized for performance, security, and user experience.
In terms of pricing, Bluehost Bluesky is pricier than other premium web hosting services. However, the service comes with a range of benefits and features that make it worth the investment. The personalized support provided by the team of experts is invaluable, and the service can help users save time and resources by taking care of website design, development, and optimization tasks.
When it comes to performance, Bluehost Bluesky delivers exceptional results. The service is optimized for speed, and the experts work tirelessly to ensure that each website they work on performs at its best. Additionally, the service includes a range of security features, such as SSL certificates and CodeGuard backups, to keep your website secure and protected from potential security threats.
Bluehost shared hosting plans
Let me explain the Bluehost and BlueSky shared hosting plans. First off, BlueSky comes in three plans. For beginners and for low price low-budget, you can choose the Basic plan as shown below.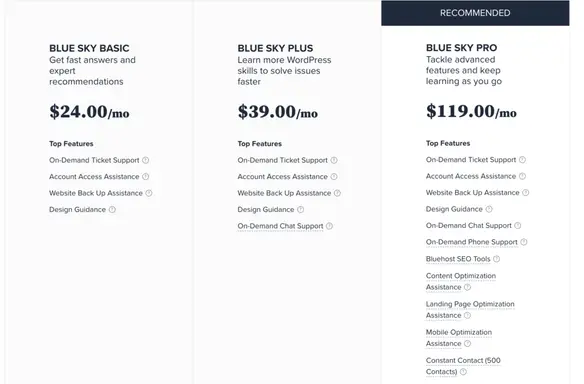 Bluehost BlueSky is a support service from Bluehost that is available 24/7 for you to help with building your WordPress. Whether it is choosing the right theme or editing the content, Blue Sky will offer support for these and more. So you basically have your site running up to its full potential and optimized with expert consultation and support.
It is worth the try especially if your site needs to reach a large audience that will bring more money to you. In other words, if your business is fast-growing and can earn you more customers and thereby profit, why not invest in BlueSky and get your site ready?
You don't need to get stuck just because you don't know how to edit a particular post. Leave it to Blue Sky and they can. help you build it quite fast.
This quick turnaround can mean gaining a customer who will otherwise go to another site just because your site is slow, for example.
Watch this video from their website to get a quick glance at what BlueSky can do for you.
Bluehost BlueSky SEO tools support reviews
You should be concerned about the SEO and the Bluehost BlueSky. Let's explore all the good things about Bluehost when it comes to SEO.
Yes, Bluehost is good for SEO, and here's why. First of all, Bluehost is bundled with WordPress to give you these nice SEO tools to optimize your site for search engines. Let's review them.
Bluehost SEO tools review
Since WordPress offers you millions of plugins, that doesn't mean all of them are good. But as far as Bluehost SEO is concerned, you don't need to worry about what plugin tools to choose for SEO optimization.
Why? That is because the greatest and latest Yoast SEO plugin is already installed and available for you when you join Bluehost and start creating your first post!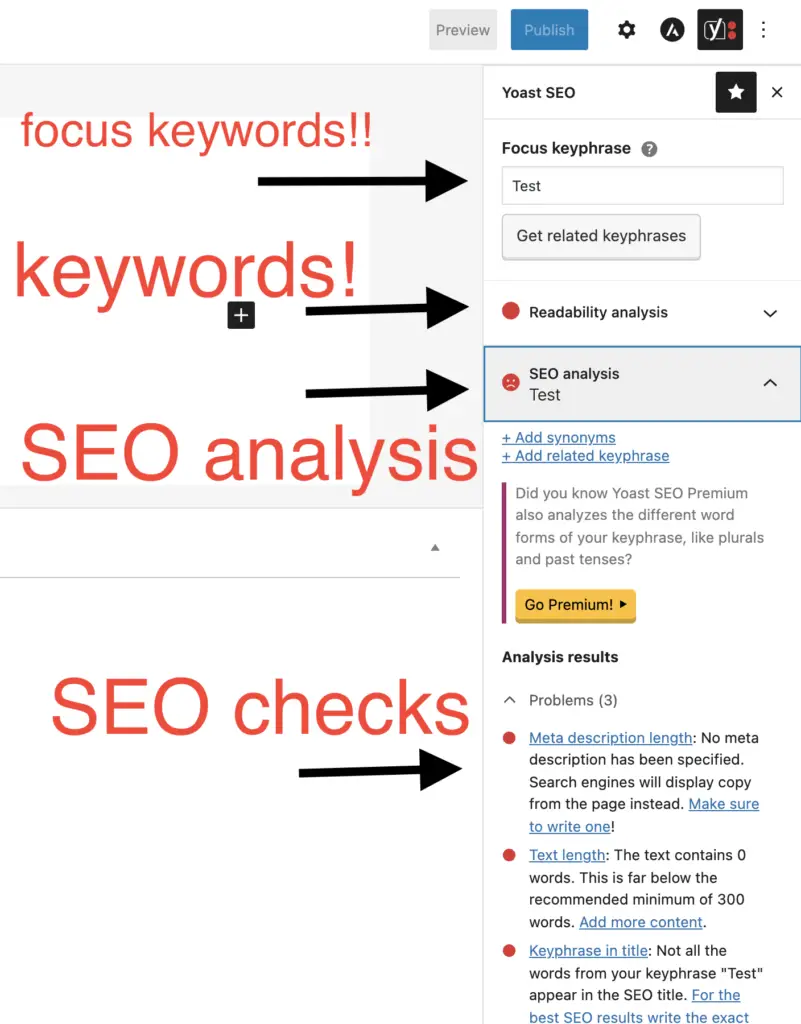 Why Bluehost with BlueSky?
Here is a quick review of Bluehost with BlueSky. This plan includes the following.
Money-back guarantee
1 FREE domain registration
Unlimited domain hosting
1-Click MOJO Marketplace installations
Free drag-and-drop site builder
Unlimited disk storage
Unlimited IMAP & POP3 e-mail support
Their technical support leads the industry and is located here in the USA.
We offer 24/7 chat, email, and phone support to our customers.
If you like to know the pros and cons of Bluehost website hosting, continue to read more below.
BlueHost and BlueSky Reviews – Pros and Cons
Pros
Free Domain for 1st Year
Free SSL Certificate Included
1-Click WordPress Install
Expert 24/7 Support
The basic plan is very cheap and you get all the needed tools to run your blog or any other site.
Cons
Prices increase if you want more features. A basic plan is all you need that offers so many features that are good enough.
You can sign-up for BlueHost web hosting for as little as $5.95 per month with this promotional offer. Click here.
If you want to pay a little more you can get BlueHost-managed WordPress with the following features:
Bluehost Bluesky hosting top features
1 WP Website
Best for up to 150,000 Visitors/mo
20 GB Web Storage
200+ Global Edge Servers
Free SSL
Built-in High Availability
Staging Environment
BlueSky plan also includes
Jetpack Premium
Daily Scheduled Backups
Malware Detection and Removal
Business Review Tools
Bluehost SEO Tools
10 GB Video Compression
Blue Sky Ticket Support
Bluehost reviews – what is included in all plans?
Whatever plan you choose, they all come with standard features which are listed below.
Easy Website Creation
Bluehost provides you with an easy-to-use WordPress website builder to make creating a professional-looking website quick and easy.
SSL Certificates
Keep personal information, e-commerce transactions, and other sensitive data safeguarded with encrypted connections.
Domain Manager
Our domain manager makes it easy to update, transfer, purchase, and manage your domains in one place.
Resource Protection
Even if there are other websites on the shared server, your site's performance stays protected and unaffected which is very important.
Conclusion on Bluehost Bluesky reviews
We all know how WordPress is such a lovely platform for building awesome blogs for expressing your thoughts and sharing ideas. It is also the best platform for building professional websites for marketing your brands or showcasing your products.
Join Bluehost today and you will also get the built-in WordPress tool that comes bundled with the web hosting plan. Manage WordPress in one single place along with the Bluehost website control panel. The Bluesky Bluehost is a good choice when you need the most technical help and you get it right away with a few clicks!
Bluehost Bluesky is an exceptional premium service that provides users with access to a team of dedicated experts proficient in website design, development, and optimization. Although it is pricier than other premium web hosting services, the personalized support provided by the team of experts is invaluable, and the service can save users time and resources. If you're searching for a premium web hosting service that provides exceptional support and performance, Bluehost Bluesky is undoubtedly an excellent option to consider.
Check out other posts where I review other cool money-saving products.