Honey app can really save you money when you shop online. In this Honey app review, we will look at how it works and how Honey makes money. We will also look at the pros and cons.
You know there are tons of websites that show you coupons for saving money when you shop online. It is indeed tiring to copy and paste each and everyone at the checkout only to find that the coupons have expired or it has been used already.
The Honey browser extension is safe and it solves this exact problem. No more remembering or searching for coupons when you shop online.
Let's review this Honey and the browser extension that does the job of saving money for you.
Join Honey today with this link and get 500 Honey points today!!
Honey app browser extension review
Honey is a nice app that helps you search for coupons. Just install the Honey browser toolbar add-on and you are good to go online shopping Honey will alert you for coupons for you! This is much better than manually searching for coupons using a site like RetailmeNot.
You can search for coupons on your favorite sites, track prices, and earn rewards with this browser extension. When you shop online, Honey automatically searches coupons for you and applies the best one to your cart! You earn Honey points and redeem them for gift cards. It is called Honey Gold and it is their rewards program where you can earn Gold towards gift cards of your choice.
Now that you know that the Honey extension is safe, you should also need to know one more thing. The cool thing about this Honey extension is that you can simply add items to your drop list or wish list and Honey will notify you whenever there's a lower price. You will never miss a sale that way. After you join Honey, you can refer people to this addon too which means more deals and rewards all around.
Honey mobile app review
For your smartphone, you should download it from the app store. That is because there is no browser extension for mobile phones. Mobile phones have chrome or safari depending on whether you have an iOS or Android phone. So the only way to use Honey on a mobile phone is to download the app for Android securely for Android and for iOS phones.
My personal experience is that it was very easy to use this addon and finds all possible coupons that you let Honey try automatically when you checkout. Your personal information is safe and all transaction information about your shopping online is kept secure. They do not share this information with advertisers. Sometimes I might see coupons but they don't work when I try to use them during checkout. But most of the time I do find coupons even if they are small discounts.
Honey app pros and cons review
Following are the pros and cons of the Honey app (browser extension)
Pros
First of all, the Honey browser addon is secure and easy to install (one-time installation), and very simple to use. Your shopping information or payment information is not collected by this browser extension.
It finds coupons automatically for you depending on which site you are shopping for.
If you are shopping on Amazon, it knows if a price dropped recently and alerts you. It tracks prices over time and alerts you when a price drops!
It is completely free and costs you nothing.
Cons
Although Honey extension safely finds you coupons for the most popular sites, there are still some sites where it won't get you coupons.
Their customer service might not be quick enough to respond to your queries.
Honey is available only for browsers. It is not yet available as a smartphone app.
Honey review – FAQs
Is Honey app safe to use?
Honey regularly assesses the security risk in its browser extension software and fixes any threats found. So you can be assured that Honey extension is safe and has good security.
Honey extension only collects your shopping habits and they never sell your information to marketers or scammers.
If you want to be more secure, you can install a VPN and hide your IP, and control what information you give out to others.
Is Honey legit?
You can download Honey for free and other is no catch. Honey gets paid by retailers and helps you save money with its coupons and deals. You can safely install Honey and it is legitimate.
Is Honey gift card legit?
Honey gift card is legit. I will show my payment proof to show that the Honey gift card is a legit app and pays you real gift cards.
See this screenshot of my Honey reward (400 points) I got when shopping for $10 at the AT&T site with the Honey addon installed for my chrome browser. Once you reach 1000 points, you can redeem those points for $10 as a gift card. The Honey browser extension is secure and works fine in Firefox, Chrome, Safari, Edge, and Opera.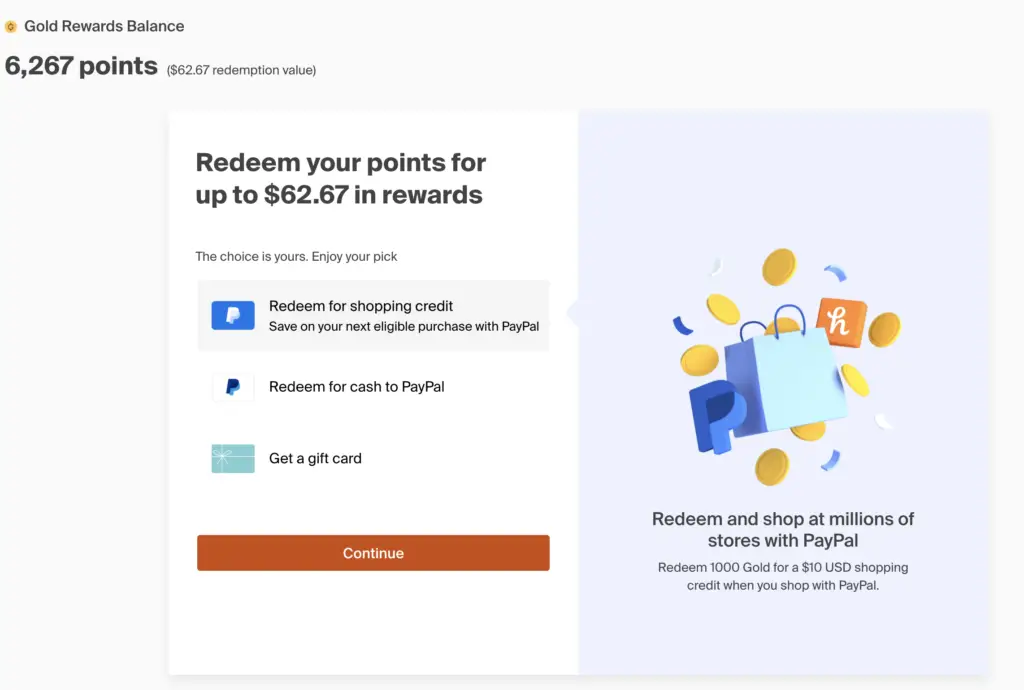 Honey is a legit app that saves you money on your shopping. You get real deals that you can apply at checkout to get discounts. You can use Honey and see how it works.
How does Honey make money?
If Honey is free to use how does it profit from giving you cashback and discount codes? Well, Honey makes money by getting a commission fee from the retailer which is anywhere from 0.5% to 10%. It does not earn money directly from retailers from indirect affiliates such as eBay and many more.
Honey gives you a deal and you buy the item. This way it attracts the customer to retailers who in turn pay Honey a commission fee for bringing in customers to its site.
Conclusion on Honey app
Honey app is legit. It is certainly a must-have and a safe extension app if you are a frequent online shopper at major retailer websites. I have saved hundreds of dollars and redeemed many $10 gift cards over the past 2 years. It is worth downloading the Honey app which is a secure and legit browser add-on.
You should also try another money-saving called Fetch Rewards which you love for earning cashback. You can also use the cashback app for gas called Upside and save hundreds on gasoline every year.
Check out these other best cash-back apps.
Can you earn money with Swagbucks? Find out!
MyPoints Rewards app review – My personal experience with proof.