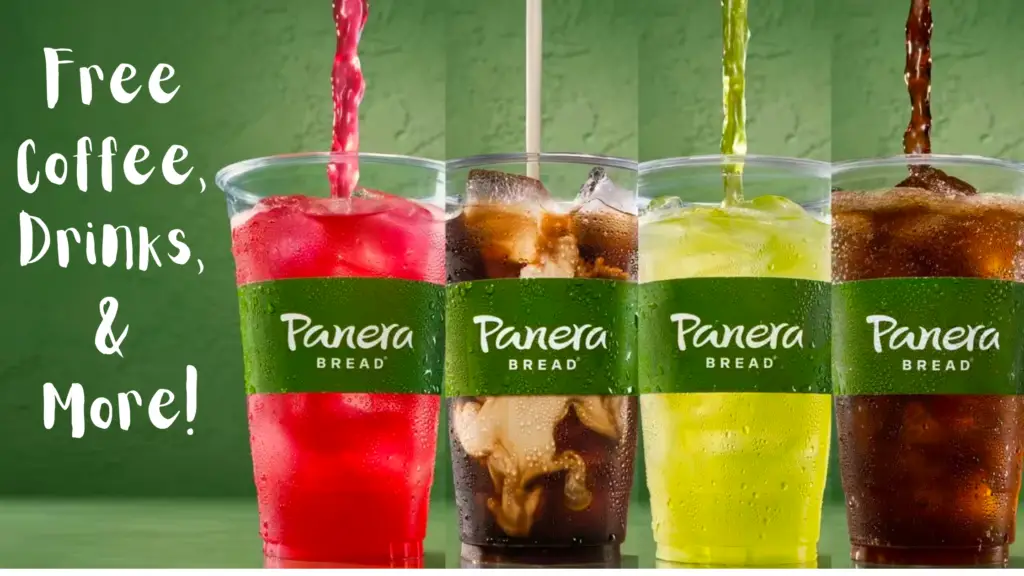 We all love the taste of Panera coffee and you can now enjoy it for free. Panera has this super cool offer that you should claim if you really love coffee or any other drinks.
Let's dig and see what is the offer all about and how to sign up and use it today.
Panera Two Months Free Coffee Offer
Panera is now offering two months of free unlimited self-serve drinks and that includes coffee too. So here is what you need to do to get his offer.
Sign-up for Unlimited Sip Club from Panera and you will get this sign-up offer. You have to sign up quickly as this offer is available only if you sign-up today.
You can enjoy coffee and other drinks such as lemonades, teas, and fountain beverages all without paying any delivery fee. Look at the table below for the monthly and annual membership plans and what the benefits you will enjoy as a member of this Unlimited Sip Club.
Bonus: Use code 3GUEST10 to get three months of free. Enter this promo code during sign-up.
Unlimited Sip Club
$11.99/mo(Billed Monthly)
$9.99/mo(Billed Annually at $119.99)
SAVE 17%
Charged Lemonades
YES
YES
Iced & Hot Coffees
YES
YES
Iced & Hot Teas
YES
YES
Fountain Beverages
YES
YES
Sip Club Saturday Offers**
YES
YES
$0 Delivery Fee
NO
YES
FREE Shutterfly Calendar
NO
YES
Two Months Free**
YES
NO
Below you can see the proof of getting this free coffee and rinks offer.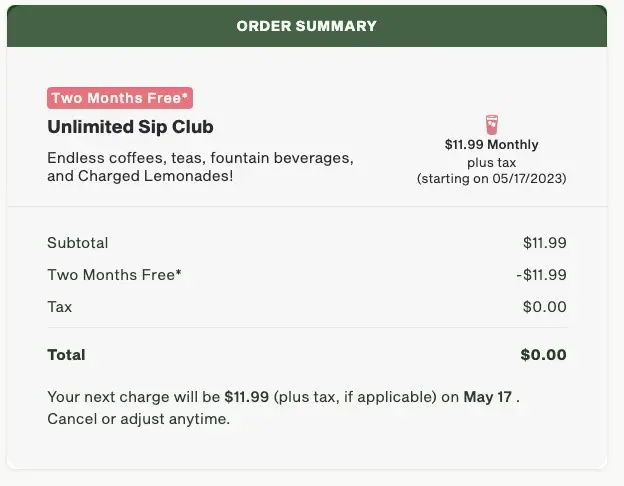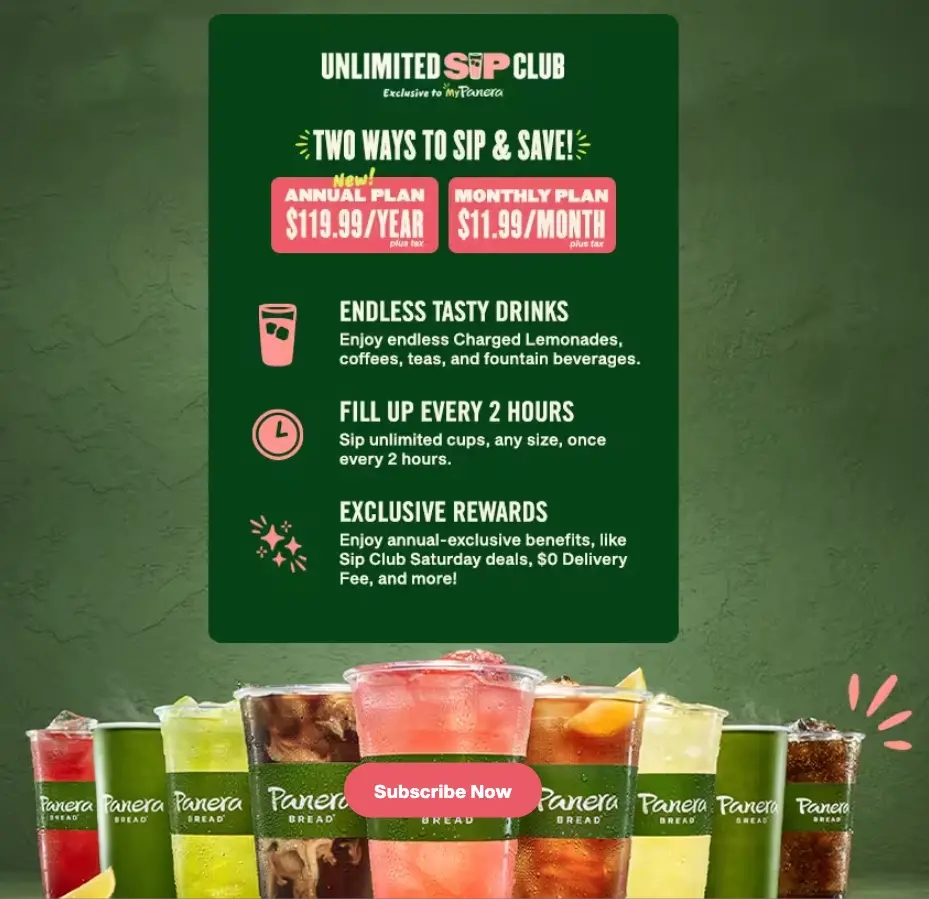 Frugal? Redeem free coffee without spending any money
You can sign up for a monthly subscription to the Unlimited Sip Club and then cancel it after two months. You will then enjoy two months of free drinks. I have not tried resubscribing to this club after canceling but it should work. Give it a try and see.
You can cancel your subscription immediately after you sign up. Once you have canceled it, you will see a confirmation message saying that it has been canceled. But your two-month free coffee and drinks offer will still be active, You can use it for 2 months.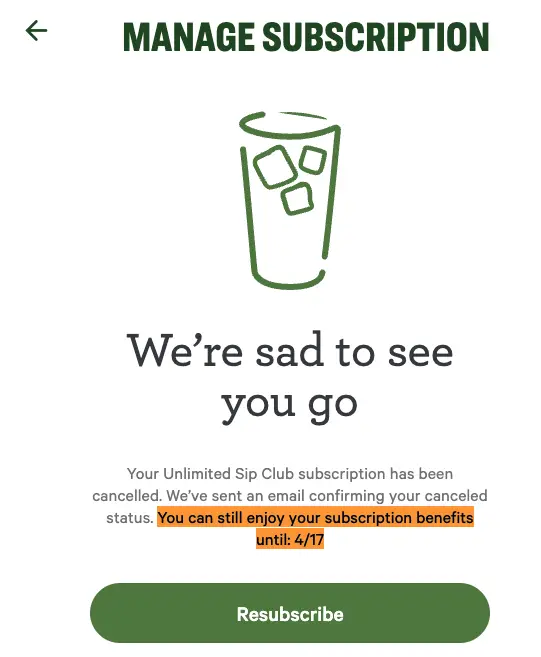 Free Coffee and lots of free stuff for club subscribers!
Apart from coffee, you can enjoy free self-serve drinks. Yes, any self-serve drinks once every two hours. That's like having one in the morning, lunch, and then in the evening! The refills are unlimited when you are at the Panera Bread cafe. This is so cool that you can refill any drink you want while you are there at the cafe.
Unlimited Sip Club FAQs
How do I sign up for an Unlimited Sip Club Subscription?
You can subscribe online at the Unlimited Sip Club sign-up page.
How to redeem the free coffee and drinks offer?
Go to the nearest Panera Bread store or go online to sign-up. You can also do this in the mobile app. Select the eligible drink and then when you check out the reward will automatically be applied.
How do I cancel my Unlimited Sip Club subscription?
Go to the Subscription section at www.PaneraBread.com/UnlimitedSipClub or visit the Panera Bread app to cancel your subscription. Contact Customer Care at 1-855-372-6372 if you have any trouble.
Conclusion
Getting free coffee for two months from Panera Bread is a great offer that you take advantage of. Simply cancel your subscription if you don't like this club after enjoying two free months. Come on. You will continue to enjoy the membership and you will for sure go for the annual subscription plan. That is my favorite too because you save 17% with an annual plan. Go ahead and enjoy the unlimited sips and spread this offer to your friends and family too.
READ: Join Poshmark today using the invite Code CASHBACKREVIEWS and get $10 Posh Credit!