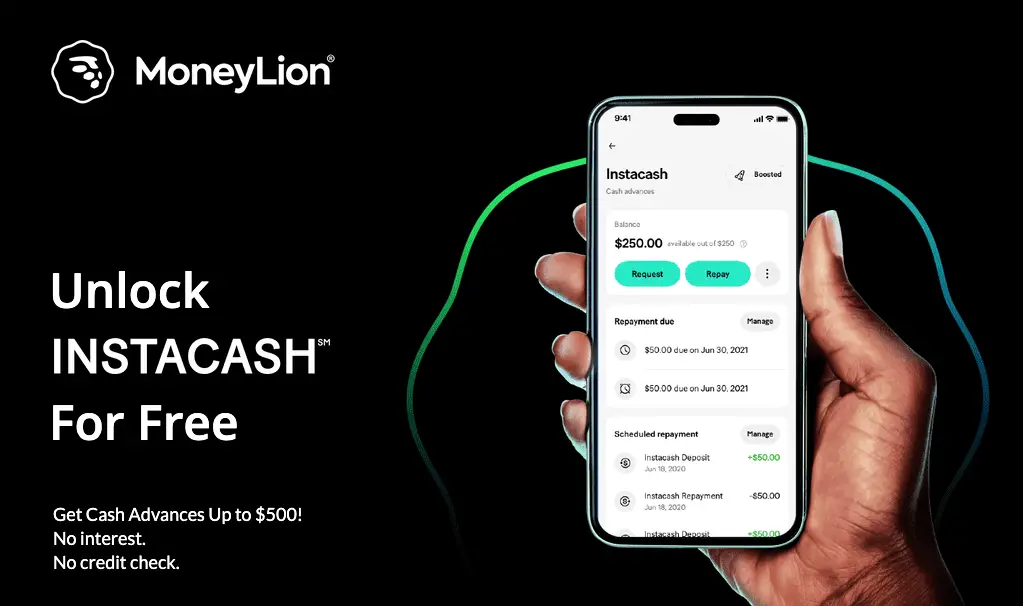 Sometimes unexpected expenses happen and you need to cover them. You need an easy way to borrow money to cover them and that is where the MoneyLion Instacash app comes to the rescue. Let me give a full review of Instacash and how it works.
Even when we follow many ways to save money on mundane purchases, sometimes unexpected expenses need a cash advance.
Instacash app review
Instacash app from money lion lets you borrow a portion of your expected income and you can repay it on your next payday. It is a very useful app when you need expected the cash to cover an expected expense.
You can get cash advances up to $500 with no interest and that is making your life easier with the Instagram app. 
You have been no interest in there are no monthly fees or credit checks. You can get free access to Instagram and whether you need to pay a bill or avoid a late fee for the gas tank or just treat yourself to a night out, you can use the cash to get free access to cash. 
Once you qualified for international you can get cash In Minutes in a few steps. 
If you are financially stressed and find difficulty managing your money when you're going through ups and downs this Instagram app really helps you out in such a situation financially. 
You can get the cash advance within 5 days or you can get a faster cash advance when you pay a fee. If you already have money online bank account you don't have to wait 5 days and you can get your cash at once even faster. 
MoneyLine Instacash has its own pros and cons. Let's see the pros and cons of this Instacash app.
Pros
There are no fees to borrow money
No credit check is needed to join Instacash
No interest for cash advances up to $500
You can get the cash advance anytime
There are no monthly fees
Cons
You need to link a bank account to the Instacash app in order to get the cash advance.
How do I get the Instacash app
MoneyLine Instacash is a free app that you can download from App Store. To get qualified for the interest-free cash advances you need to link a checking account to the cash app. If you have any source of income or any recurring deposit in your checking account and then that account qualifies for interest-free cash advances. One more thing is that your checking account should have been open for at least 2 months and should have a history of incoming deposits in transactions and a positive balance and should be active.
To qualify for Instagram:
You need to have a very fiber checking account that belongs to you
You're checking account should be active for at least 2 months
You should have a recurring deposit from any source of income
You should have a positive balance in that checking account
Your checking account should have transactions both deposit and withdrawal transactions.
How do Instacash cash advances work
once you link your checking account you're ready to get a cash advance. As a new user, you can begin getting a cash advance of $20 minimum. You have to wait 3 to 8 weeks to be eligible for the maximum amount of Instacash cash advances. After that time you can get cash advances of up to $500.
When you request a cash advance the one good thing is there is no credit check involved in the process. Another good thing is the cash advance that you take has no monthly fee required. The only thing that you need to pay is when you take care of other than you need it faster.
As soon as you download the app in the beginning you can unlock cash ones without $10 or more. If Instacash detects recurring deposits in your linked external checking account, you can unlock at least $50 and up to $500. You can unlock even more up to $700 when you become a MoneyLion Credit Builder Plus member. If you switch your direct deposit into MoneyLion's checking account RoarMoney, you can unlock up to $1,000.
How to use the Instacash app
Using Instacash is as follows:
Open the MoneyLion App and go to the Accounts tab.
Tap the Instacash button at the top.
Tap the Request button.
Choose the advance amount you want to receive from $5 or less to $100. You can also leave a Tip.
Select how quickly you would like the funds transferred to your account.
For fast delivery, you will be charged a Turbo Fee that will be shown to you within the App. This Turbo Fee cost varies depending on the disbursement amount you select.
Let's say you want to get a cash advance of $200 from your next paycheck. You can get a cash advance and an optional tip. If you really want this cash at once fast you have to pay a turbo fee of $4.99. So the total cost will be $5.99 to borrow $200. This is a pretty good rate compared to other forms of credit like credit cards and personal loans. 
Bottom line
MoneyLine's Instacash is a very useful app to get quick access to cash advances without worrying about a credit check or interest rates fees or monthly fees. Internet app is only good for those who have recurring deposits of cash but that is the only qualifying requirement to use this app you can take more cash as a personal loan but you have to pay interest on that loan. So you borrow more money than you can let the Instacash app and you have a longer time to pay it off.