Ibotta is a great cash-back app for saving money on everyday purchases. Sometimes this free app or the boss browser extension for cashback can give you some issues for which you need to contact customer service.  In this blog post, we will explore what are the options that you can use when it comes to contacting customer service off Ibotta.
Check out Upside which is similar to Ibotta but for gas cashback.
Ibotta customer service care team
If you are experiencing any problems with the Ibotta app, you can contact the care team. Their care team is named Carlotta which is an automated care chatbot. So what you need to do is go to the care border chatbot. To go there first go to the Help page. Then click on the icon at the bottom right as shown in the screenshot below.NOw, you can chat with the chatbot and get answers to FAQs and more.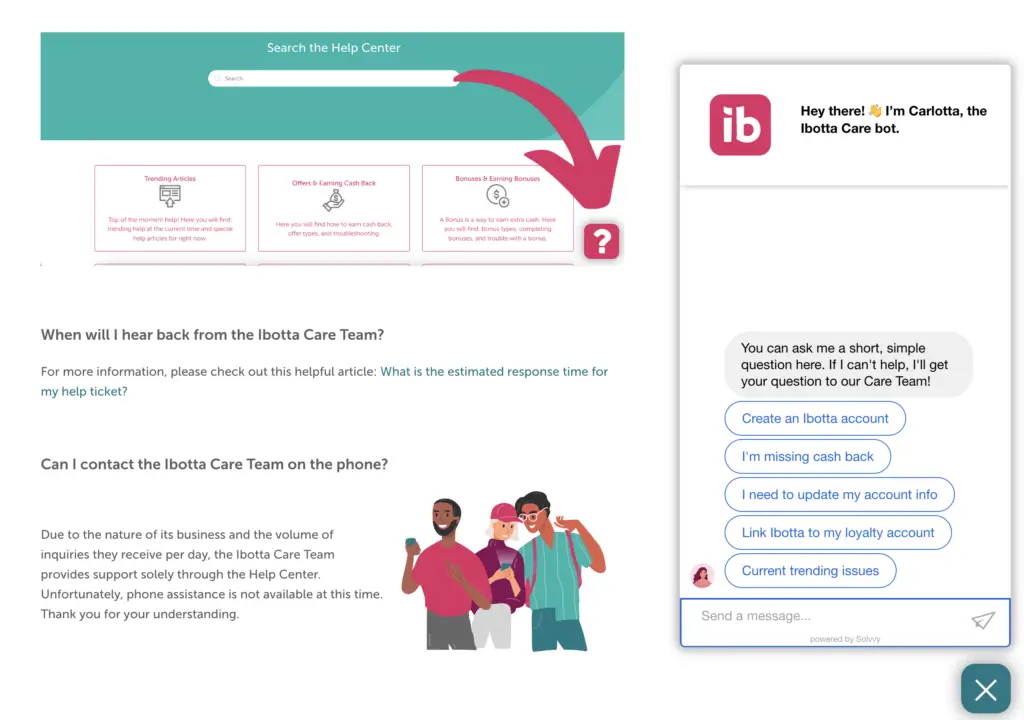 Contact Ibotta by phone
Ibotta has a customer care phone number and you can also contact them by email address. Ibotta's customer service phone number is 303-593-1633.  You can also contact them via email which is [email protected]
What is Ibotta's email address for support?
You can contact them at their email address which is [email protected].  This email address is not the actual customer service email address. I found that this email address is actually for contacting they are affiliate Department. If you had an affiliate and want to contact there a clear Department support team you can use this email address
is there any other way to contact Ibotta customer service?
Yes, I found that there is this Ibotta help page where you can go and submit a request to their media team or the legal team, or to the affiliate team. Just go to this page for contacting the Iota and sending them a message. Click on the send message button and it will open up a form where you can fill in your information and submit it. You have to provide your phone number and name and order our contact ID. You should also put your email and then specify whether it's a privacy inquiry or other legal inquiry.  And then type the subject of your message and the actual message body and then hit proceed. You have to check the box that says " I have read the terms of service and I agree to it".
Is there able to customer service form on their website?
Yes, you can submit your request.  Simply go to the submit a request page and fill in your email the subject in the description of your message and click submit button. You can also attach a picture of you any evidence or any picture that you would like to submit along with your request.  Once you click submit your message is sent to their team directly and you will receive an email acknowledgment.  You have to wait a day or two together a response.  If not you should follow up with your ticket number the next day or two. 
Reach customer service using the Ibotta app.
You can also use the  Ibotta app.  Follow the steps below to contact them where the Ibotta app
Open the airport app
Select the help option at the bottom of your screen
Then tap on the help center.
Now you see a submit a request form.
Fill out the form and send your request
This is one of the handy ways because you have the app and you can open it and submit it immediately.
Contacting Ibotta using the online request help page
You can also contact Ibotta customer service by using their help website which is help.ibata.com.  Once you go there you simply hit the submit the request at the top of the page. Click on the submitter request and you will see a form.  Login to your account and then you'll see the submitter request form.  In the form and hit submit and your request will be sent to customer service. 
Tips on contacting the other customer service
When you contact the I bought a customer service please be specific when you're certain questions.  When your questions are clear and you explain what's the issue and provide detailed information about the problem that you're facing it makes them easier to understand your issue.  This also makes your request to be processed effectively without any confusion.  Usually, it takes 48 hours to process your request and you will get a reply from the I bought our team member
Tracking your customer service requests
To track your previous help request you can always go to the Help Center Page and sign into your account.  Then you will see my activities section of the main menu located at the top right-hand corner.  Click on this to see your post request organized by the date when you submit it.  It will show you the status of your request.
Can I contact Ibotta any time of the day 24/7?
Yes, you can go to the help center and sign into your account to view the reply from customer service at any time.  If you forgot your password or having problems logging into your account you can always reach them by emailing [email protected].
Conclusion
There are many ways you can contact the Ibotta customer service team.  With their Innovative care chatbot, you can always chat or contact them via email 24/7.  One thing to remember when you contact them is to explain your problem clearly and be specific about what you want.  When you make your request specific and clear your request has a high chance of being processed quickly.  You there by the back-and-forth email or the chat conversation.. Thank you for reading this post.   Hope this post helps you contact Ibotta customer service and that your problem is submitted successfully.