Fetch Rewards is a great app for earning points for receipts.  In addition to uploading real receipts, Fetch rewards you for scanning your e-receipts from Walmart, Amazon, and so on.  In this post, I will show you how to link Walmart account to Fetch Rewards in the app.
How to link your Walmart account to fetch Rewards
Here is how you can link your Walmart account to watch in the app.  Simply follow the steps listed below and you can easily do this.
Open the Fetch Rewards app.
Click on your profile which is at the right bottom of the screen.
You will now see accounts with Walmart shown 
Tap on the "Connect" link next to Walmart.
In the next screen tap on I agree to terms of service and hit the continue button
Log in to your Walmart account by entering the email and the password.  Tap on the Continue button
Once you have successfully logged in it will show a message that your account has been successfully linked to the app
Now that you have linked to your Walmart account in the app you can scan the receipts right away.  You can also postpone this by tapping on the button I will scan later.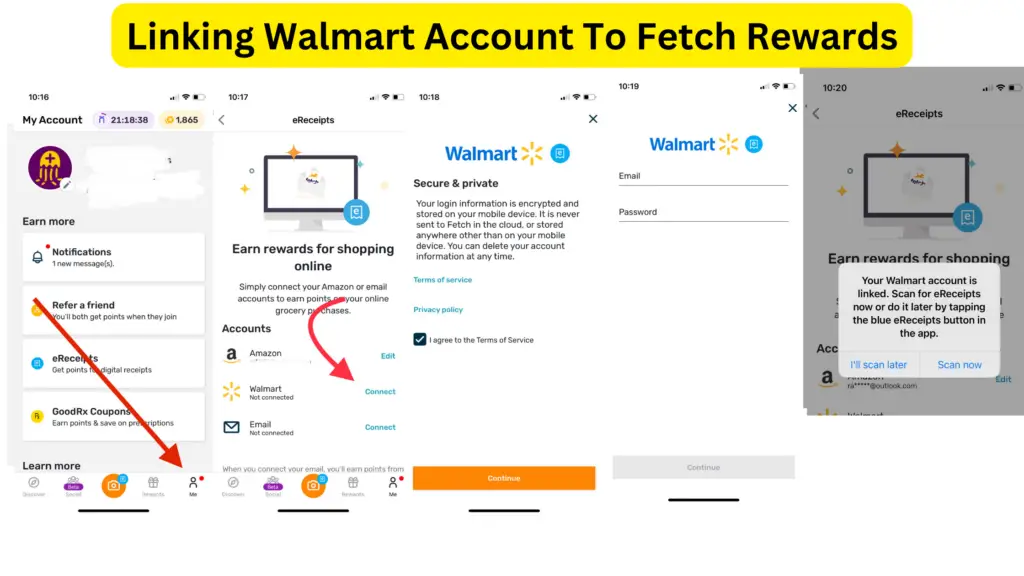 Once your account is linked in the app, you simply tap on the camera and then select either seat option.  That you want to start scanning all your seats from Walmart.  If it finds any receipt in the last 30 days,  it will scan it and reward you with points for you items that you have purchased. 
Fetch is not connecting to Walmart? Try these fixes!
There are a few reasons why Fetch might not be connecting to Walmart. Here are a few things you can try:
Make sure you are using the latest version of the Fetch Rewards app. You can check for updates by going to the App Store or Google Play Store and tapping on the Fetch app. If there is an update available, tap on "Update."
Check your internet connection. Make sure you are connected to a Wi-Fi network or have a strong cellular signal. If you are not connected to the internet, Fetch will not be able to connect to Walmart.
Restart your device. Sometimes a simple restart can fix minor problems. To restart your device, hold down the power button until you see the power off slider. Then, slide the power off slider to the right. Once your device is turned off, wait a few seconds before turning it back on.
Clear the Fetch app's cache and data. To clear the Fetch app's cache and data, follow these steps:

On Android, open the Settings app and tap on Apps.
Tap on Fetch and then tap on Storage.
Tap on Clear Cache and then tap on Clear Data.
On iOS, open the Settings app and tap on General.
Tap on iPhone Storage and then tap on Fetch.
Tap on Delete App and then tap on Delete.

Contact Fetch support. If you have tried all of the above and Fetch is still not connecting to Walmart, you can contact Fetch support for help. To contact Fetch support, go to the Fetch website and click on "Contact Us."
Conclusion
In this post, we learned how to link your Walmart account to fetch your Watts.  Now that you know how to link your Walmart account to Fetch, why not check my post on how to link your Amazon account to Fetch?  That way you can earn points for your Amazon purchases too.