In this Experian Boost reviews post, I will show you how Experian Boost works with detailed reviews. You will also learn how a credit score can have a good impact on your financial status. Sign-up is very easy and the boost happens in the background without any effort on your part. Just pay bills and see if your credit score improved over time with Experian Boost.
What is a Credit Score?
A credit score is a number anywhere from 300 to 850. Everyone is a consumer and has a credit score. A good credit score means you are a creditworthy consumer. Having a good credit score will help you save money and improve your financial outlook in your life. Credit scores are the same as the FICO score which lenders use to calculate your credit risk.
Based on your credit score you fall under one of the categories from bad to excellent credit score.
Excellent: 800 to 850
Very Good: 740 to 799
Good: 670 to 739
Fair: 580 to 669
Poor: 300 to 579
Why you should improve your Credit score?
Some of the benefits of having a good credit score are:
1) Get low interest rates.
When your credit score is good, you will get low interest rates on loans and credit cards. As a result, you will have the pay less on your credit or loan (car loan, home loan, etc…) which in turn helps you save money in the long run.
2) Eligibility for higher credit limits
Having a good credit score will make you eligible for higher credit card limits. You will also be eligible to get more loan money from banks because of this as your creditworthiness is high. This means you are more likely to pay back the money without any issues.
3) Easy approval
Apply for a new apartment and get approved easily! The credit score is one of the important items on the landlord's list when they check if you had no issues paying rent in the past. That gives them the green signal and lets you rent an apartment with quick approvals since you have a good credit score.
It helps to have a good credit score in the following situations:
Shopping for a personal loan
Buying or leasing a car
Shopping for a home loan or refinance
Shopping for a credit card.
4) No security deposit
When you have a good credit score, you are not required to pay a deposit when it comes to buying a new phone contract or signing any such contract. Same thing with utilities. You don't have to pay a security deposit for utilities if you have a good credit score.
Want more tips for saving money? Read my post: How to save money fast? Tips to grow your money
Experian Boost Reviews
From the hundreds of reviews out there for Experian Boost, you will find the best reviews here with all the pros and cons together with benefits.
Experian Boost is a free service that helps people who want to improve their credit scores. You might have a low credit score because you just started spending and have no credit history. Maybe you had financial setbacks and you want to rebuild your credit.
Is it worth it? Experian Boost can improve your credit score!
Now, you can use Experian Boost to boost your credit score. I will show you how. How can I sign up for this free Experian Boost?
Simply go to Experian's website and sign up for a free account. You can improve your credit score using the free Experian Boost product from Experian. You can also look for some Experian referral codes or coupon codes.
Once you sign up, Experian considers all your phone, utility, and Netflix bill payments toward your Experian credit score! It also scans your bank transactions and counts all your payments towards Experian credit score (not other credit score companies).
Don't worry about missed payments. One or two missed payments are not reported by Boost. The only caveat is that you should give permission for Experian Boost to connect to your bank account so that it can access and track your positive transactions to boost your score. This is worth it in my personal opinion because it is secure and you get the ease of Experian Boost to take care of following your positive transactions. It then confirms with you whether these transactions are indeed your payments. Once you confirm, it updates your FICO score as soon as near real-time!
Experian Boost offers the following benefits:
Increases your FICO® Score
Free Experian Credit Report and FICO® Score
Experian Credit Monitoring and Alerts
Credit Cards and Loans Matched for You
Report and Score Refreshed Every 30 Days on Sign In
Free Dark Web Surveillance Report
FICO Score Monitoring with Experian Data
With all these features that come to you for free, Experian Boost is certainly a product worth trying. After all, improving your credit should be a no-hassle and quick just like this. After reading the Experian boost reviews, you will see that it is worth getting started today sign-up for this free service, and seeing your credit score improve significantly.
How is Experian Boost different from others?
Unlike Credit Karma which provides credit score and credit monitoring and others for free, it does not help you improve your credit score as quickly and seamlessly as Experion Boost. Try this product today and see your credit score improve in no time. If you like these Experian Boost reviews, search my blog for other money-saving tips and reviews.
How to lift a credit freeze for free?
If you need to lift or remove a credit freeze, follow the steps below.
Step 1: Go to the Experian Freeze center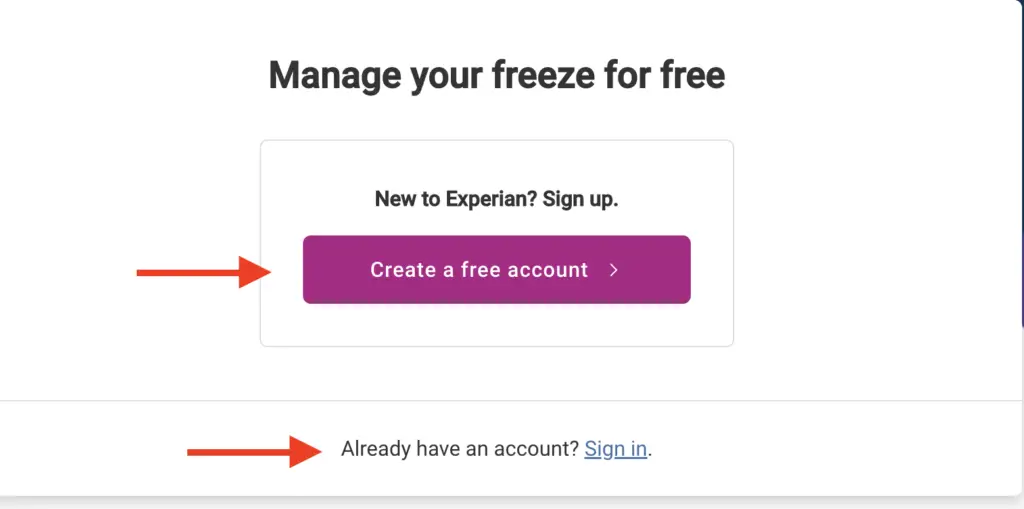 Step 2: Log in to your account. If you don't yet have an account online, click the "Create a free account button" to sign up.
Step 3: After you log in, toggle the freeze option that is shown on the screen. This will lift the credit freeze.
This is only a temporary freeze because you have to specify a freeze end date when you remove the credit freeze. To permanently remove the credit freeze, you have a write a letter to them or contact their customer support.
Conclusion on Experian Boost reviews
If you have a low or average credit score, Experian Boost will help you boost that to a good or better credit score. It takes a few weeks or months in the beginning but going from low/average to a good credit score is the first step. All along the way, you will also learn how to spend money wisely and how not to miss any payments. Hope you find this review helpful.