If you are using Upside Gas App, you might be unable to log in or facing some difficulty in using the app or claiming a cashback reward, or having trouble with the Upside login. No problem. You can resolve your Upside login and account problems by simply contacting their customer service on their site There you can find the Upside contact details.
Let's look at the many other ways you can get Upside support for things like Login Issues, etc… If you don't have to log in to their website or in your app, you can simply submit a ticket here. Read more for other options you can try.
Upside Login Issues
If you have Upside login issues, make sure your email account is not locked. Most users shouldn't get their accounts locked. Before contacting their customer service you can do a simple check as listed below. Your account might have been locked due to one of the following reasons.
Use different email addresses to log in to your Upside app. For example, you might have your email, and your spouse's email all in the same smartphone Upside app. Do not use the Upside app with more than 1 account. Use a separate phone for each account. Using multiple email addresses in the same app will trigger a fraud alert and your account might be locked automatically.
Make sure your account is not stolen by someone else. Request a password reset in the app and change your password. Here is how you can it.
If both of the scenarios do not apply to you, contact Upside via email. You should get a response in 3 days max.
Quick links for Upside login issues
Here are the contact number, email, and website to report Upside login issues.
Support Email: [email protected]
Customer Service Phone Number: They don't offer phone support
Open Ticket: https://support.upside.com/hc/en-us/requests/new
Want even more savings? You should try this app especially for saving on diesel (up to 60 cents per gallon cash back!!)
Join today and get $10 in free diesel
How to sign in to the Upside app login screen?
If you are a new user, once you download the Upside app and then you need to sign up. Simply use your Apple ID to sign up. It is safer since your email ID is kept private. You can read more about this here before heading to their customer service for login issues. You can also sign in using your Gmail or FaceBook.
As shown below you will see the buttons for login. Click on the Google button if you want to sign in using Gmail for example.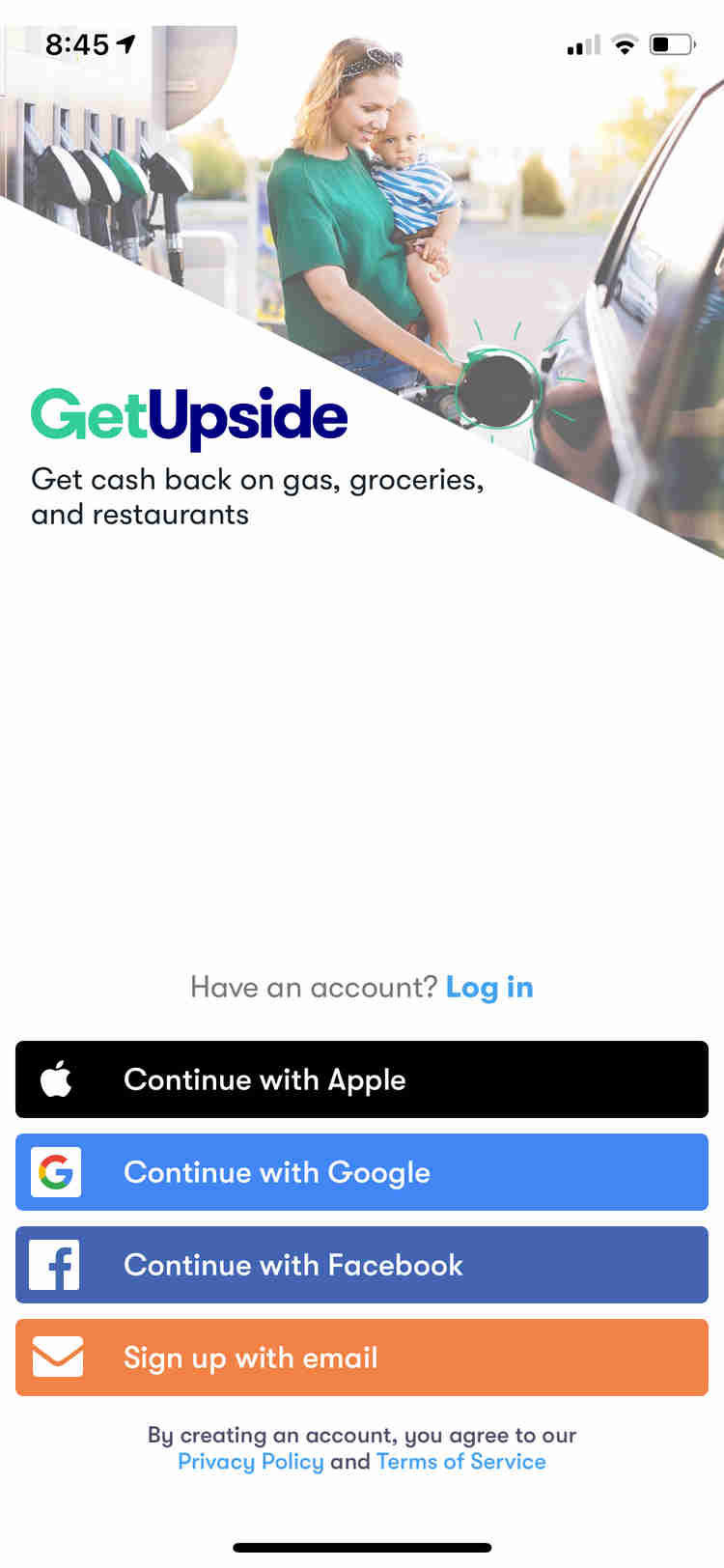 How Do I Contact Upside Customer Service?
If your Upside app is not working or you are having problems receiving payments, don't panic. Is the Get Upside app down and crashing? Wondering whether the Upside is down? Help is here.
The following are options to contact Upside.
Option 1:
Use their Facebook messenger system. You can visit their Facebook page and then click Send Message to contact Upside support.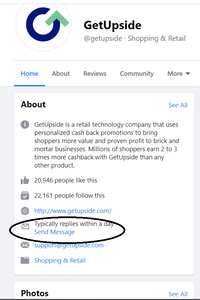 Option 2: Contact Upside through email
Email them for Login and other issues. Again it is on their Facebook page.
To contact Upside customer service, use their email address which is [email protected].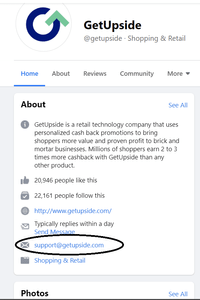 Option 3 (My personal best): Contact customer service on your Upside app
First, open the Upside app and go to the main menu. Then, click on Help and you can now start a conversation with customer service. This option is this very useful since it is like a chat where you know you will get a reply. This way, when you do get a reply, the app will show a dot indicating that you have received a response from customer service. More details on how these works are provided here.
Option 4:
The final option to resolve any login issues or anything else, you can try is to click here to go to the Upside website where you can fill out a form. Attach a screenshot of your app to show the issue or concern you have. This is good if you have to upload a screenshot to show proof. You will get a response in the email within 1 or 2 days.
Upside Customer Service FAQs
Let's see the Get Upside FAQ by the users of this app. One of the popular FAQs asked by users is that they cannot find Upside's phone number which is not listed on their Facebook page. No worries – there are other ways to contact their customer support as explained above at the start of this post.
I logged in and my Upside money's gone! Who to contact?
You can read the answer from Upside here. This is very rare apart from the login issue that most people see.
Upside app, is not opening, and how you can fix it.
If you Upside app is not opening, you can try one of the following to fix it.
Uninstall and reinstall the app
Restart your smartphone
Wait for the next version of the app to be available in the app store.
Report it to the developers in the app store. Write a review and they might fix it for your specific phone (Android or iOS)
If nothing else works, just uninstall and install a similar app like Mudflap (this app is good for diesel only)
Your last bet is Upside customer support. Read this post to find several ways to contact them.
Is Upside legitimate?
The answer is yes. This Upside app is indeed legitimate although you might have log-in issues that make you think that way. I have earned thousands of dollars over the past years in cash back on gas. Read here for my complete review of this app here. Also, check out the Upside Vs GasBuddy comparison here.
How long will it take for Upside support to respond?
In my personal experience, it typically takes anywhere from 1 to 3 days for Upside customer service to respond. To get a faster response, I have found that their messaging system is faster with a response time of 1 to 2 days max. I sometimes send a message in the late evenings or at night for better response times. Not sure why – maybe their customer support is on the other side of the world. Until then your issues might have to wait to be resolved.
Be patient because they are faster these days when it comes to their response time. Whether it is login issues or payment issues, the issues usually get resolved in a day or two.
Is there an Upside customer service phone number?
According to their website, they don't provide customer service by phone. It is really disappointing to not have a phone number but hey who is calling these days when you have a messenger or a chat on your phone?
You can always use their email or in-app chat service to contact customer service.
READ: Upside Latest Promo Codes
Check out their participating locations and make sure you give them the right address of the pump where you redeemed the cashback and the approximate time. Read my post for quick help.
Conclusion on Customer Service At Upside
Whichever you find it easily, try that way to contact Upside support. Hope your login issue and any Upside app-related issue is resolved. This is because one way or the other you will get your issues resolved by trying on the options listed in this post. Just send them additional info like a copy of the receipt or screenshot of the app on your phone, etc that helps speed up their investigation for example, and resolve the issue sooner. You can read their FAQ page here to get more answers to your questions. Use Upside promo code and get a 20¢/gal bonus!